Hartford Greater Together Community Fund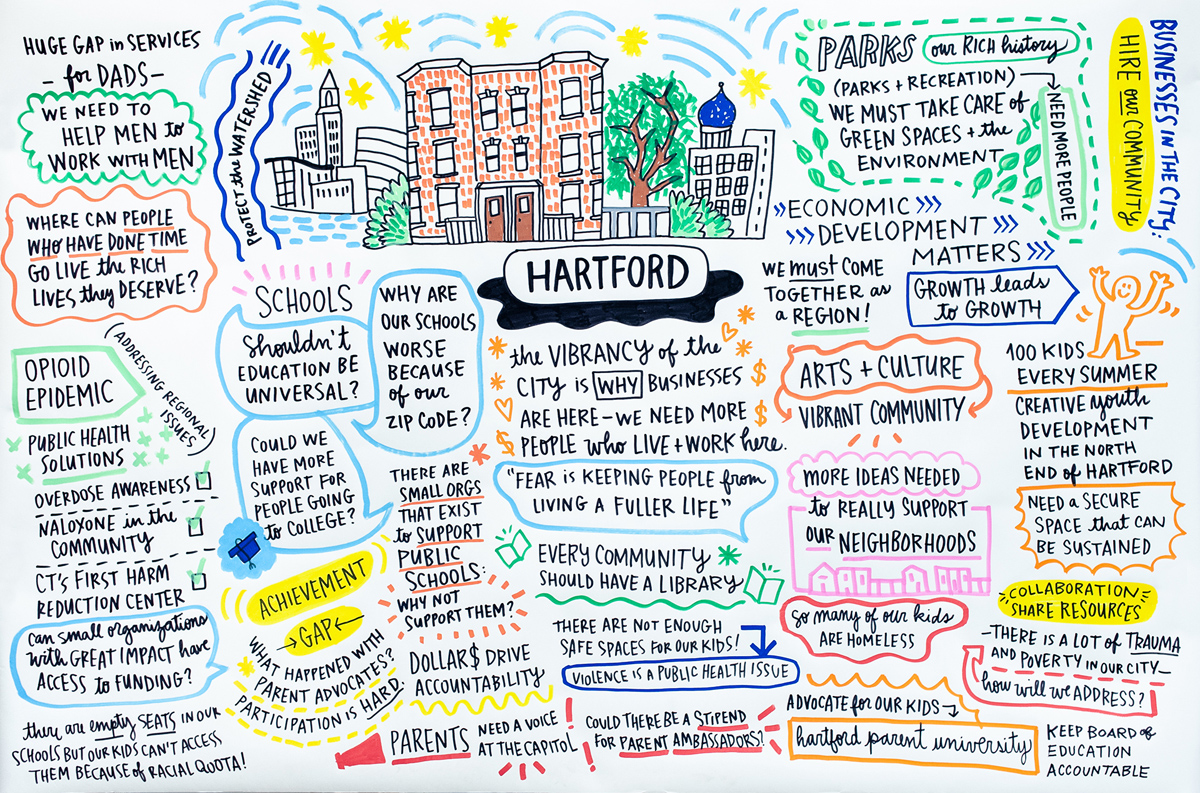 In 2019, the Hartford Foundation for Public Giving established $100,000 Greater Together Community Funds for each of the 29 towns in the Foundation's region, which includes the City of Hartford.
The purpose of the Greater Together Community Funds is to support residents in taking ownership of the needs in their towns, encourage broad and inclusive civic engagement, and anchor the Hartford Foundation in each town. In 2020, Hartford's Greater Together Community Fund Advisory Committee was created.
---
Open Call for Project Proposals
The Hartford Greater Together Community Fund Advisory Committee is pleased to release its open call for project proposals for 2022. The Committee will award grants of $500 to $5,000 to eligible 501(c)(3) organizations. All projects must benefit underserved residents of Hartford. To enhance strategic impact, we are encouraging collaborative projects among eligible organizations.
How to Submit: Please download and complete the application here and email with required attachments to hartfordgreater2gether@gmail.com.
Project proposals will be accepted until 11:59 p.m. on October 5, 2022.
For further details or questions, please email: hartfordgreater2gether@gmail.com.
---
Second Round Grant Awards
In November 2021, the Hartford Greater Together Community Fund made grants to five community organizations. Eligible organizations had to be based in Hartford and had to submit a proposal in one of three categories below. Read the press release to learn more.
Health Care
Hartford Health Initiative, $4,000, to support its Care Coordination Network, which connects residents in North Hartford to preventative care such as primary and dental care. Service is provided through a network of community health services. The program includes recruitment, intake, coordination of care and follow-up.
Childcare
The Hartford Catholic Worker, $4,000, for its weekend backpack program. This program provides children with adequate food and good nutrition outside of school days; on Fridays, the program offers children backpacks filled with food.
Lawyers For Children America, $2,000, to support its work to reduce abuse and neglect of children in Hartford. Lawyers for Children America recruits volunteer lawyers to provide pro bono services on behalf of these children. The funds will go to help service a caseload of 200 children in Hartford, making it possible for them to live in a safe, nurturing environment.
Active City, $500, to support Active City's sports programs for Hartford youth, such as Saturday Hoopsters, Hartford Soccer League and Jumpstart Spring Sports, providing childcare assistance for busy families and youth-oriented positive physical outlets.
Criminal Justice
The RiseUp Group, Inc., $500, to help cover the costs for the creation an "Anti-Violence Mural." The RiseUp Group, Inc is partnering with Posh Paint's "Art from the Heart" youth program. Fifteen youth from the program will participate to create a large-scale public art mural.
In July, the fund made its inaugural grants to eight community organizations. Grants ranged from $500 to $5,000 and supported projects that addressed food insecurity, education, or housing. Click here to see further details about these grants.
---
Advisory Committee Members
The role of the Advisory Committee is to design and lead an inclusive process to identify the needs in Hartford and manage a grantmaking process aimed to ensure that the Greater Together Community Fund can have the greatest impact for the benefit of Hartford residents.
The current Advisory Committee members are:
David Barrett, Tamar Birckhead, Talia Clarke, Merlyn Herrera Duran, Shannon Kula, Lara Langer, Tyree McMillan, Greg Secord, Zachery Rubin
Questions? Contact the advisory committee at hartfordgreater2gether@gmail.com.
---
Click here to read the Advisory Committee Conflict of Interest Policy
For media inquiries, please contact Chris Senecal at csenecal@hfpg.org