Hartford Greater Together Community Fund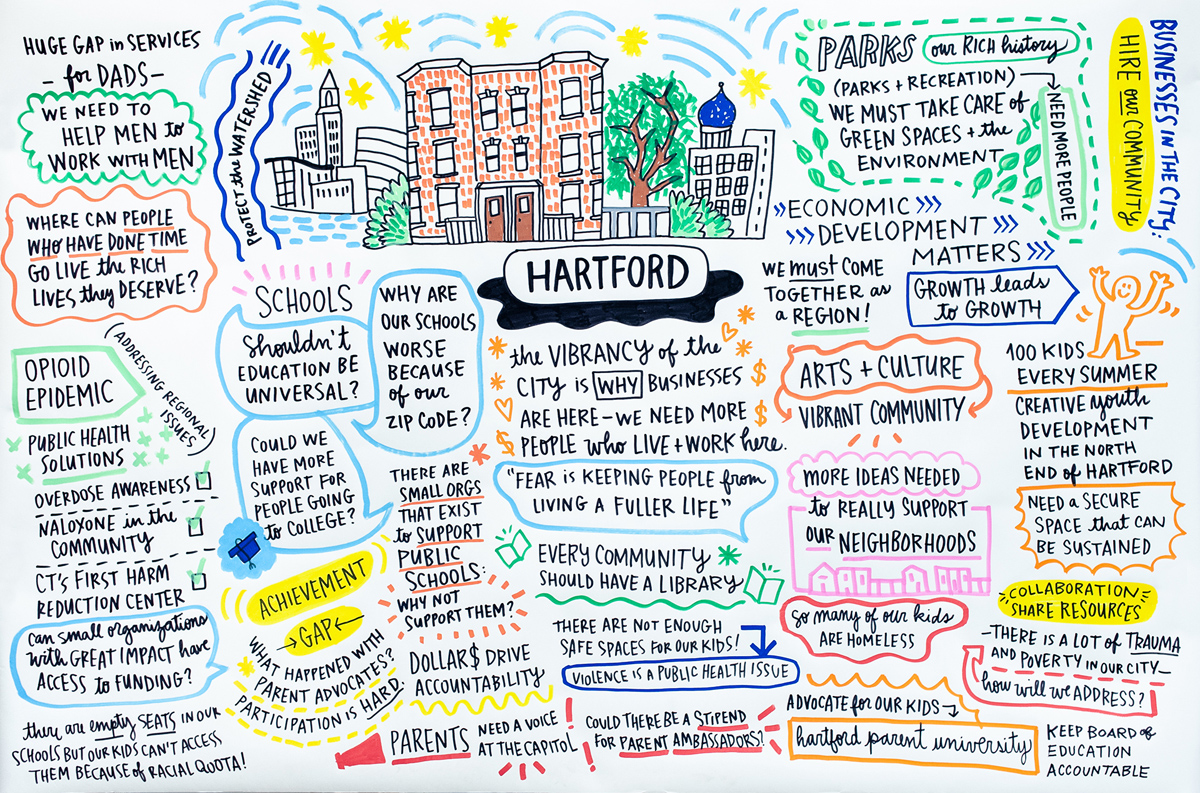 In 2019, the Hartford Foundation for Public Giving established $100,000 Greater Together Community Funds for each of the 29 towns in the Foundation's region, which includes the City of Hartford.
The purpose of the Greater Together Community Funds is to support residents in taking ownership of the needs in their towns, encourage broad and inclusive civic engagement, and anchor the Hartford Foundation in each town. In 2020, Hartford's Greater Together Community Fund Advisory Committee was created.
---
Open Call for Project Proposals
The Hartford Advisory Committee is now accepting second round applications. The Hartford Advisory Committee will award grants of $500 to $5,000 to eligible 501(c)(3) Hartford organizations who operate in the areas of Health, Criminal Justice, or Child Care. In each cycle, up to $25,000 will be awarded in total. All projects must benefit the residents of Hartford.
The submission deadline for applications in this round is October 1.

Frequently Asked Questions
For additional questions, contact the advisory committee at hartfordgreater2gether@gmail.com.
---
First Round Grant Awards
In July, 2021, the Hartford Greater Together Community Fund made inaugural grants to eight community organizations to address pressing needs in Hartford. Eligible organizations had to be based in Hartford and had to submit a proposal in one of three categories below. Read the press release to learn more.
Food Insecurity
The Hartford Catholic Worker, $3,500 to provide food assistance to families in the north end of Hartford.
Gifts of Love, $2,500 to support the organization's Hartford facility, which includes a food pantry, clothes closet, linen closet, and household and furniture items.
La Boduegita de la Gente, $3,500 to provide assistance for rent, bills and food to those in need.
Education
Housing
Make The Road Connecticut, $5,000 to help distribute federal dollars targeted for rent relief for undocumented community members.
---
Advisory Committee Members
The role of the Advisory Committee is to design and lead an inclusive process to identify the needs in your community, and design a grantmaking process aimed to ensure that the Greater Together Community Funds can have the greatest impact for the benefit of town residents.
The Advisory Committee members for your town are:
David Barrett, Talia Clarke, Hasion Gaston, Merlyn Herrera Duran, Lara Langer, Tyree McMillan, Renato Muguerz, Devonn Smith
Click here to read the Advisory Committee Conflict of Interest Policy
For media inquiries, please contact Chris Senecal at csenecal@hfpg.org
---