Hartford Greater Together Community Fund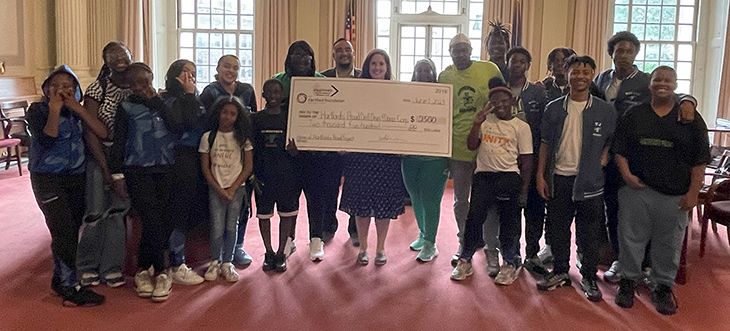 Advisory Committee Chair Lara Langer presents a check to members of Hartford's Proud Drill Drum and Dance Corp. for equipment for its new studio/practice space.
In 2019, the Hartford Foundation for Public Giving established $100,000 Greater Together Community Funds for each of the 29 towns in the Foundation's region, which includes the City of Hartford.
The purpose of the Greater Together Community Funds is to support residents in taking ownership of the needs in their towns, encourage broad and inclusive civic engagement, and anchor the Hartford Foundation in each town. In 2020, Hartford's Greater Together Community Fund Advisory Committee was created.
So far, the Committee has awarded 22 grants totaling $62,450 to address a wide variety of issues in Hartford.
2022 Grant Awards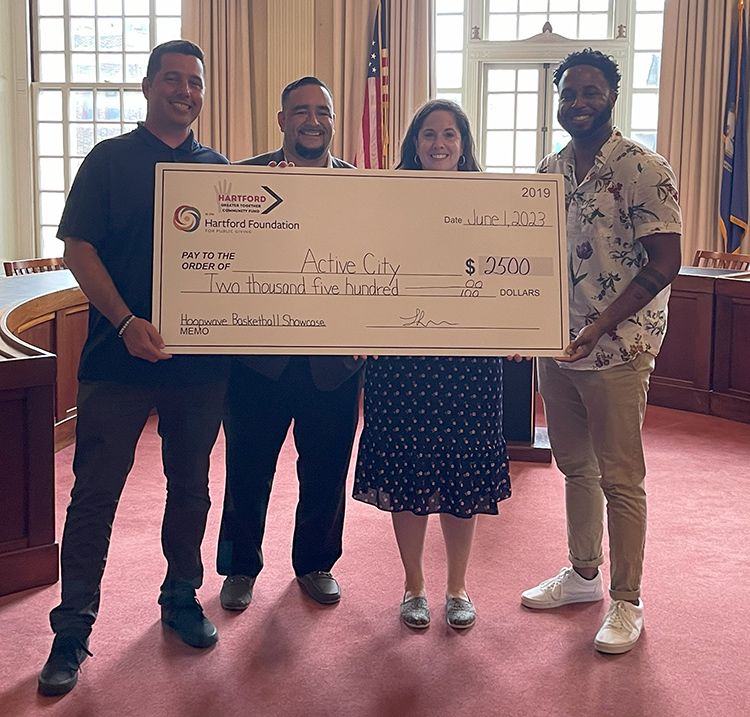 Advisory Committee Chair Lara Langer presents a check to Active City leaders to support their annual Hoopwave basketball showcase.
In December 2022, the Hartford Greater Together Community Fund made grants to nine community organizations. Eligible organizations had to be based in Hartford.
Grantees were:
Active City, Inc.
To expand its annual basketball showcase
$2,500
ActUp Theater, Inc.
To support youth and their families attending a community theater production in Hartford
$2,250
Hartford's Proud Drill, Drum & Dance Corp.
To purchase equipment for a new studio/practice space
$2,500
Keney Park Sustainability Project, Inc.
To support Wellness Pop-Ups
$4,500
Literacy Volunteers of Greater Hartford
To support the Career Pathways program
$5,000
McDonough Middle School
To support the Bundle Up program to supply warm clothing to families at McDonough Middle School, a part of the Catholic Charities Archdiocese of Hartford
$3,000
The Police Athletic and Activities League of Hartford, Inc.
To support PAL activities
$2,500
Theta Alpha Sigma Alumnae Chapter of Sigma Gamma Rho Sorority, Inc.
To support community baby showers geared to improving pregnancy outcomes in high-risk communities
$3,000
West Indian Independence Celebrations
To support the Youth Caribbean Costume Workshop
$1,200
Read the press release to learn more about the 2022 cycle of grants.
---
2021 Awards
These grants were awarded to support local non-profits that are serving Hartford residents to address critical needs in housing security, food security, childcare, health care, job readiness, literacy, and other critical issues – understanding that these non-profits are the backbone of grassroots efforts to better Hartford.

To illustrate the impact of these grants, three organizations offered success stories and testimonials:
Read the press release to learn more about the second cycle of grants.
Click here to see further details about the inaugural grants.
---
Advisory Committee Members
The role of the Advisory Committee is to design and lead an inclusive process to identify the needs in Hartford and manage a grantmaking process aimed to ensure that the Greater Together Community Fund can have the greatest impact for the benefit of Hartford residents.
The current Advisory Committee members are:
David Barrett, Kyra Brown, Tammy Freeberg, Merlyn Herrera Duran, Anna Kistoo, Lara Langer, Jennika Lebron, Samantha Rajotte, and Greg Secord
Questions? Contact the advisory committee at hartfordgreater2gether@gmail.com.
---
Click here to read the Advisory Committee Conflict of Interest Policy
For media inquiries, please contact Chris Senecal at csenecal@hfpg.org