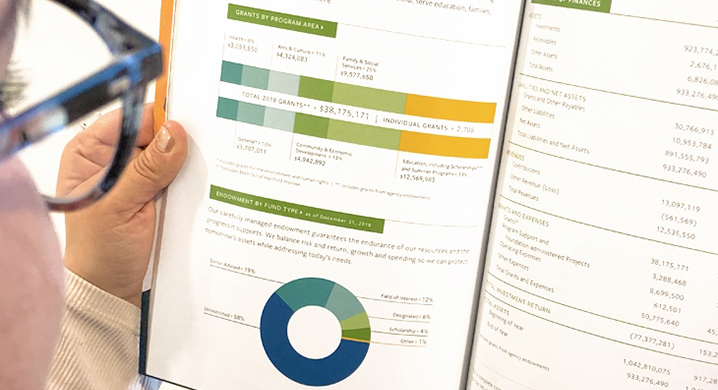 Responsible financial stewardship for the change you believe in
The Hartford Foundation for Public Giving is the oldest and largest community foundation in Connecticut. Aided by a substantial endowment of $1.06 billion* that has grown steadily over time, we supported the Greater Hartford region with $54.4 million* dollars of grant funding in 2022 for a total of $948.5 million* since 1925.
We are your philanthropic partner and are committed to transparency in all aspects of our work. Our expert staff and investment consultants run a balanced portfolio and aim to achieve long-term investment results that preserve the future spending power of the endowment.
We have earned our leadership position both regionally and nationally by upholding our commitment to aligning Greater Hartford's community needs with the impact our donors demand.
*as of December 31, 2022
Our Financial Policies, Practices and Performance
The Foundation's spending policy and investment strategy are designed to work together to provide the financial stability required to fulfill our mission. They are intended to avoid significant fluctuations in the level of funding available for current grantmaking and provide for investment growth to offset the impact of inflation on future grantmaking.
We are committed to transparency and invite you to explore our financial policies, practices and performance.
An explanation of the Hartford Foundation's investment policy and our spending policy, designed to preserve the inflation-adjusted value of the portfolio over time.
Details about our endowment portfolios, investment philosophy and managers, and asset allocation, with a review of the investment performance of the Hartford Foundation's endowment portfolio, along with our audited financial statements.
The Foundation's Form 990 and past financial statements are available for public review.