HFPG Impact! Greater Hartford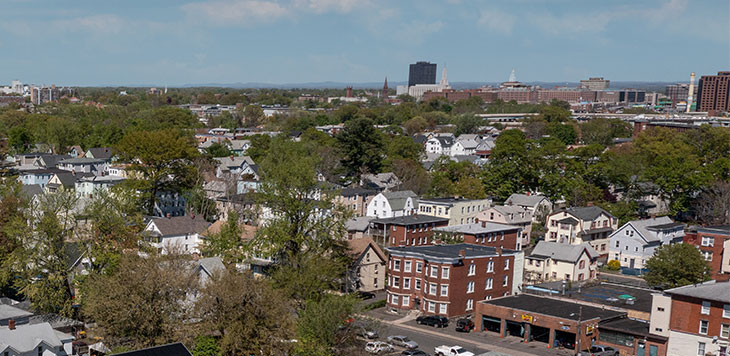 Our Impact Investing
As we manage our current capacity, we are temporarily pausing all new activities and inquiries to HFPG Impact! We remain committed to our impact investing work as a vehicle for enhancing community prosperity and affecting transformational change. We look forward to sharing updated information as the year progresses.

​​​​​​​HFPG Impact! Greater Hartford is designed to catalyze community and economic development in ways that lift up all residents and maximize the region's inclusive economic growth and quality of life.
As a wholly owned subsidiary of the Hartford Foundation, HFPG Impact! puts a greater portion of the Foundation's assets to work for the 29 towns it serves and provides the Foundation extensive flexibility, through partnerships or on its own, to make investments beyond the scope and range of the Foundation's traditional grantmaking. The Foundation envisions that HFPG Impact! can bring "patient capital" to areas that traditional capital tends to overlook.
Through HFPG Impact! the Foundation will seek opportunities to invest in projects throughout the region that have the potential to create inclusive community prosperity and transformative change. Investments may be to companies, organizations, or funds and may take the form of debt, equity or guarantees. Terms will be negotiated on a deal by deal basis.
We are interested in investments that:
Have demonstrated potential to create inclusive community prosperity and transformative change
Address an identified community need
Are led by an investee with ties to the region
Have been developed with inclusive community input and buy-in
Align with Hartford Foundation mission and values
Hinge on Hartford Foundation leadership
Offer a financial return
Include other sources of funding
Click here to see more detail on how we are reviewing and scoring potential investments in our HFPG Impact! Screening Tool.
If you have questions about HFPG Impact! Greater Hartford, or would like to begin a conversation about a potential investment, the process starts with a conversation. Please contact Erika Frank at efrank@hfpg.org or 860-548-1888. More information about the process for HFPG Impact! consideration is detailed below.
HFPG Impact! Process and Timing
Inquiry
Timing: One week
All inquiries regarding HPFG Impact! should contact Erika Frank at (860) 548-1888 or efrank@hfpg.org for a conversation to determine initial eligibility.
Pre-Application
Timing: Once pre-application is received, one-two months
A pre-application may be invited and submitted. Foundation staff complete due diligence on community impact and financial return based on HFPG Impact! guiding principles and screening tool.
Committee Review
Timing: Committee meets quarterly
The HFPG Impact! committee, composed of board members and external advisors will review all proposals.
Full Due Diligence
Timing: Up to two months
Includes full financial and legal review and negotiation.
Board Approval and Closing
Timing: Up to two weeks
The HFPG Impact! Committee makes recommendations to the Foundation's full Board of Directors.
Monitoring for Financial and Community Impact
Timing: Ongoing
Reports are submitted quarterly and monitored by Foundation staff and the HFPG Impact! Committee.