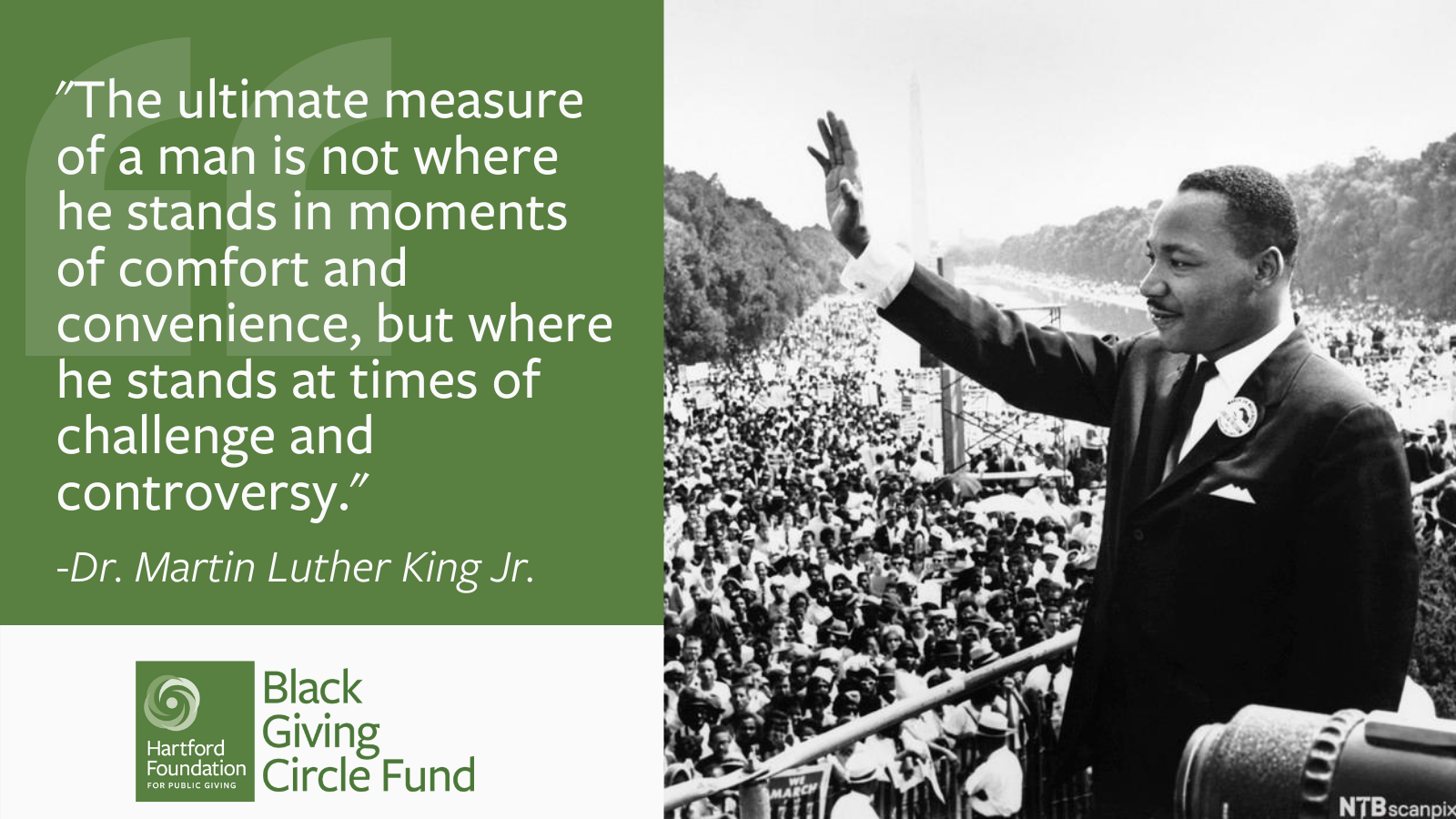 Be a part of a powerful and positive force for good in our region.
Interested in learning about critical issues facing Greater Hartford's Black community, awarding grants to help tackle those issues, and meeting new people? The Black Giving Circle Fund provides all of those opportunities.
MISSION
To create sustainable change in the Black community by leveraging philanthropic efforts of donors and celebrating Black philanthropy.
In September 2014, the community came together to celebrate Black philanthropy in Greater Hartford. Many passion-filled community discussions followed, reflecting a desire to affect change through collaborative giving. From these discussions a permanent endowed fund, the Black Giving Circle Fund, was established on June 1, 2015.
How it works:
Black Giving Circle fund members attend three meetings each year.


At the first two meetings, members learn about a pressing issue that they have chosen and hear about promising programs that are addressing that issue in our community.


Members review grant applications from area nonprofits.


At the final meeting, members vote on which programs to fund.


Members make a contribution to the fund on a yearly basis.


Membership runs from January 1 through December 31 of each year. You can join at any time. An annual minimum contribution of $365 is required to vote at the grantmaking meeting. Contributions are tax deductible.
BLACK GIVING CIRCLE TOPICS:
2019: Martial arts, meditation and mindfulness program for Hartford youth
2018: Grants to Local Organizations to Support Black Youth
2017: Financial Education for Children and Youth
2016: Literacy proficiency for Black children, birth through third grade (inaugural grant year)
JOIN THE BLACK GIVING CIRCLE TODAY.
Are you ready to join people from across the region who share the values of thoughtful giving?
Join the Black Giving Circle Fund online or print this form and mail in with your check (make checks payable to HFPG Inc., and notate in the memo Black Giving Circle Fund and the year of membership). Member information will be sent to you shortly.
---
Black Philanthropy: 5th Anniversary Series
20/20 Vision: Black Philanthropy in Social Justice
On July 8, 2020, in celebration of our 5th Anniversary, the Black Giving Circle presented an online event featuring Pulitzer Prize-winning reporter Nikole Hannah-Jones of the 1619 Project and LaTosha Brown of Black Votes Matter. Click here to read a recap and watch video clips.
---
Black Philanthropy in Action: Moving toward a more equitable and just society
On September 30, 2020, the Black Giving Circle presented the second discussion in our Black Philanthropy series, featuring panelists Jelani Cobb of The New Yorker, Valaida Fullwood of New Generation of African American Philanthropists and Leah Wright Rigueur, professor at Brandeis and Harvard Kennedy School. Click here to watch a recording of the event.