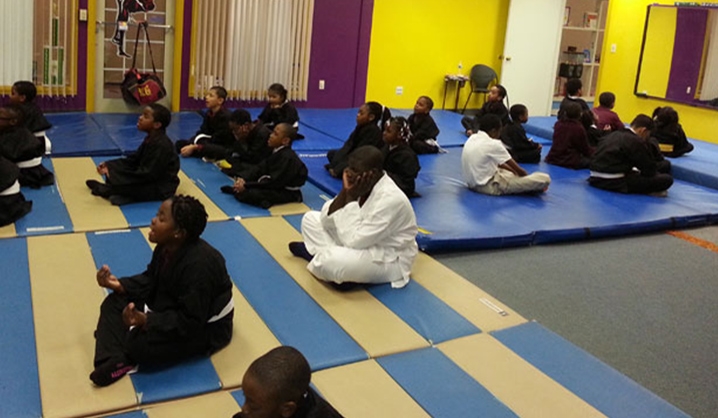 GForce Youth Enrichment Corp. Receives Grant from Black Giving Circle at Hartford Foundation
Funds Will Support Martial Arts, Meditation and Mindfulness Program for Hartford Youth
After going to a movie at the Wintonbury Mall in Bloomfield, high school freshman Rachael Lambert noticed a martial arts studio. She has always been interested in studying martial arts to learn about self-defense. When Rachael began studying at the GForcestudio, she also learned about the benefits of meditation and mindfulness. Students are introduced to the meditative aspects of martial arts, and learn how to link this to their everyday lives. With the support of her teacher and mentor Floyd Wilson, she learned she was stronger than she ever realized.
After four years of training with Floyd Wilson at GForcestudio, Rachael earned her black belt, something she counts as one of her greatest accomplishments. She continued to practice martial arts and meditation to maintain her skills even after relocating to Florida to attend college. She looked forward to coming back to the studio to help other students on their black belt journey.
"When I look back at my life, I am so grateful for the ten years that Floyd Wilson invested in me," said Lambert, who is graduating this month with a Bachelor of Science degree. "Even when attending college Mr. Wilson would call and check up on me and always took in an interest in my life and offered encouragement. He has been like a second father to me. He has instilled many truths in me that I will carry throughout my adult life and I thank him for that. I am grateful for the opportunity to support other young people at the studio, as you never know how a kind word can change to a child or a teenager."
Now up to 28 Hartford youth will have the opportunity to receive this type of training and support thanks to a $20,000 grant from the Black Giving Circle Fund at the Hartford Foundation for Public Giving. The grant will be used to fund the Gforce 3M (Math/Mindfulness/ Martial Arts) afterschool enrichment program. It will provide students, aged four to eleven, with martial arts uniforms and transportation from Hartford to Gforcestudio for extensive martial arts and meditation training and as well as activities to build their math skills. The program's focus on meditation and mindfulness will provide students with the skills they need to resolve complex issues they might face. The 3M program emphasizes the importance of character, self-esteem, self-discipline, manners and mindfulness techniques that are reinforced during meditation sessions. The program's focus on martial arts also enhances students' physical fitness to reduce the likelihood of childhood obesity many children in Hartford now experience.
"We are truly grateful to receive this generous support from the Black Giving Circle Fund at the Hartford Foundation," said Gforce founder and executive director Floyd Wilson. "When the seeds of Meditation/Mindfulness are planted within a child, a positive force of good is the result."
The mission of the Black Giving Circle Fund is "to create sustainable change in the Black community by leveraging the philanthropic efforts of donors and celebrating Black philanthropy." Membership to the Black Giving Circle Fund is open to everyone. Donations from members (at least $365 annually per membership) are pooled together in a dedicated endowed fund at the Hartford Foundation. Members of the fund examine issues facing Greater Hartford's Black community and, collectively, recommend grants to nonprofit organizations that work to address them.
For more information, or to join the Black Giving Circle Fund, visit hfpg.org/blackgivingcircle or call Chari Anderson at 860-548-1888.
The Hartford Foundation for Public Giving is the community foundation for Hartford and 28 surrounding communities. Made possible by the gifts of generous individuals, families and organizations, the Foundation has awarded grants of more than $750 million since its founding in 1925. For more information about the Hartford Foundation for Public Giving, visit www.hfpg.org or call 860-548-1888.