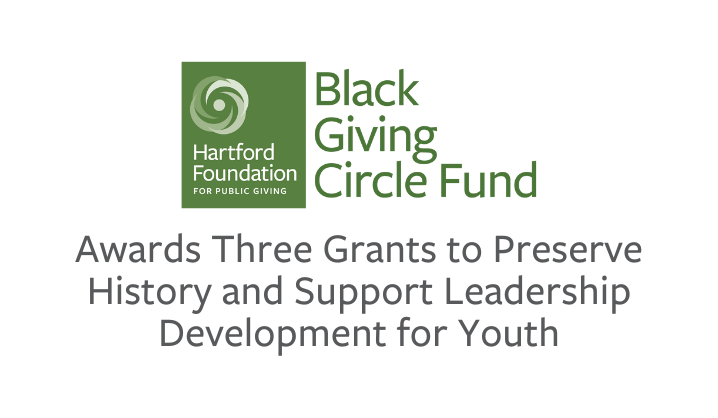 Black Giving Circle Fund Awards Three Grants to Preserve History and Support Leadership Development for Youth
New England Air Museum, Amistad Center and Girls With Impact Receive Support
Last week, members of the Black Giving Circle Fund at the Hartford Foundation for Public Giving met to review and vote on applications from local nonprofits for a 2022 grant from the Fund. After considering a wide variety of programs aimed at supporting Greater Hartford's Black community, the members chose three proposals: one to provide career training and coaching for young Black women, a program using art to engage and develop youth, and a project to educate students about the challenges and successes of the Tuskegee Airman.
The Black Giving Circle Fund awarded a $10,000 grant to the New England Air Museum to support the creation of a permanent exhibit called The Tuskegee Airmen: Their Untold Stories! Working with the children of Tuskegee Airmen, the museum will tell their fathers' stories and detail the hardships they endured. The exhibit will also highlight the efforts of three women, without whose involvement, the Tuskegee Program might never have started. The exhibit will display the racism, segregation, and obstacles they overcame to fly in the war as well as the bigotry they experienced when they returned home. The Black Giving Circle funding will support outreach to local schools and provide students with opportunities to learn about how the airmen persevered despite the number of obstacles they faced.
The members awarded a second $10,000 grant to The Amistad Center for Art and Culture to support "The Amistad Center Teen Arts Advocates," a newly formed cohort of up to 25 young adults aged 14-18. Participants will gather at the Center's Hartford location one Saturday each month for one year to explore the ever changing art exhibits and take advantage of a variety of personal development opportunities. These activities include public speaking exercises and using art as a tool for advocacy (perhaps mural work). Exposure to new experiences is incredibly important and this cohort will participate in field trips to regional arts institutions such as the New Britain Museum of American Art, The Bushnell, art galleries and studios in New Haven - with an eye toward strengthening their social advocacy skills and language.
Black Giving Circle members awarded a third $10,000 grant to Girls With Impact, Inc. to support its "Advancing Black Women in Hartford" program to train under-resourced women of color and change their futures. The Fund's support will underwrite five young Black women, ages 14-24, from Hartford. This effort will leverage existing partners, including Our Piece of the Pie (OPP) and Hartford Public Schools and includes participation in a 10-week Business and Leadership Academy where the cohort will work with an MBA instructor to learn concepts from problem solving and design thinking to marketing and finance. Students will then participate in Girls With Impact's Impact Pathways program where they can select from among four pathways to leverage their learning including: college, career, entrepreneurship, and Future Ready (a program specifically designed for 14–16 year-olds).
"We are proud to announce this year's awardees," said Black Giving Circle Fund Steering Committee Chair, Chris Cloud. "These grantees represent the creativity and diversity of programming aimed at improving the lives of the African American community in Greater Hartford that we are excited to support. The membership of the Black Giving Circle deserves credit for their thoughtful process and final decision to select these well deserving community organizations."
The mission of Black Giving Circle Fund is "to create sustainable change in the Black community by leveraging the philanthropic efforts of donors and celebrating Black philanthropy." Membership to the Black Giving Circle Fund is open to everyone. Donations from members (at least $365 annually per membership) are pooled together in a dedicated endowed fund at the Hartford Foundation. Members of the fund examine issues facing Greater Hartford's Black community and, collectively, recommend grants to nonprofit organizations that work to address them.
For more information, or to join the Black Giving Circle Fund, visit hfpg.org/blackgivingcircle or call Chari Anderson at 860-548-1888.
The Hartford Foundation for Public Giving is the community foundation for Hartford and 28 surrounding towns. Through partnerships, the Foundation seeks to strengthen communities in Greater Hartford by putting philanthropy in action to dismantle structural racism and achieve equity in social and economic mobility. Made possible by the gifts of generous individuals, families and organizations, the Foundation has awarded grants of more than $894 million since its founding in 1925. For more information, visit www.hfpg.org or call 860-548-1888.