Farmington Greater Together Community Fund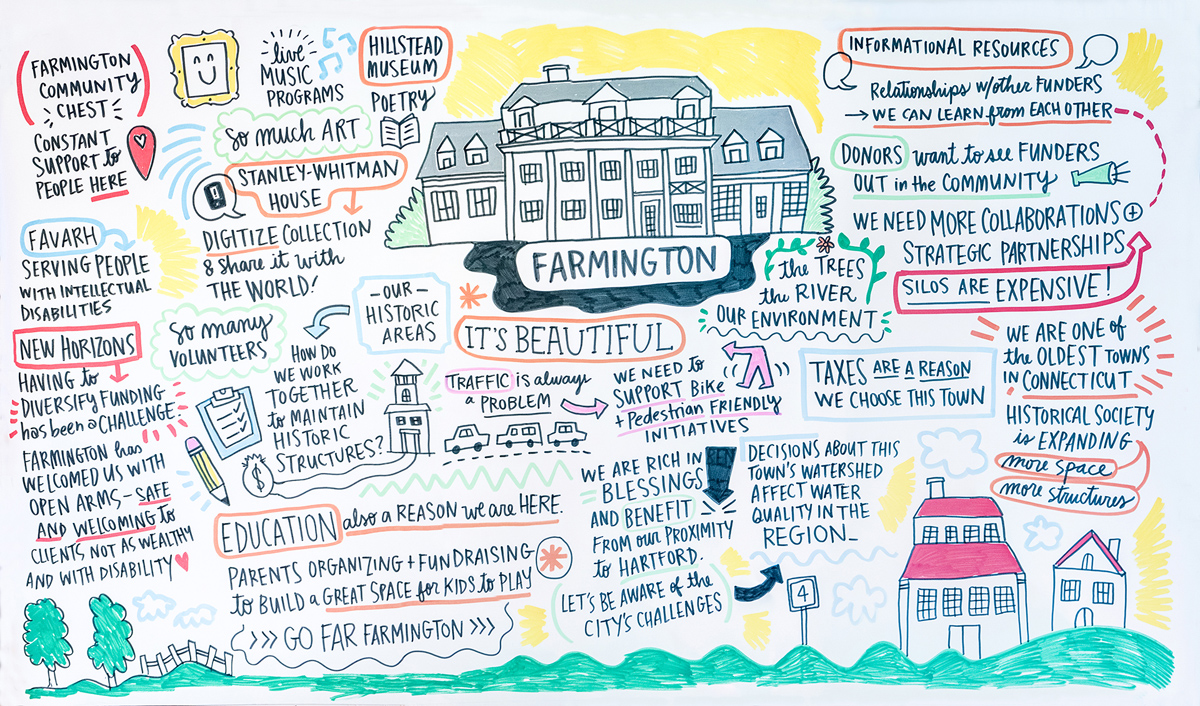 The Hartford Foundation for Public Giving has established a $100,000 Greater Together Community Fund for the Town of Farmington.
The purpose of the Greater Together Community Funds is to:
support the community in taking ownership around the needs in their towns
encourage broad and inclusive civic engagement and
anchor the Hartford Foundation in each town.
---
Grant Awards
In December 2022, the Farmington Greater Together Community Fund Advisory Committee announced the recipients of its second annual grants. The amount of funding awarded totaled over $31,000, to ten organizations that do work to benefit the residents of Farmington.
The 2022 grants were awarded to:
Interval House - $5,000 – to support Farmington victims of domestic violence.
Reach Out and Read - $3,500 – to provide literacy materials and training for Farmington pediatricians.
Operation Fuel - $3,500 – to provide energy assistance to Farmington families.​​​​​​
Farmington Land Trust - $5,000 – to purchase tools and resources to augment the development of programming for exposure to the outdoors and environmental education.​​​​​​​
The Family Center (DBA) Imagine Nation, A Museum Early Learning Center (in partnership with the Farmington Public Library) - $2,786 – to underwrite STEAM (Science, Technology, Engineering, Arts, and Math) outreach lab workshops at the Farmington Public Library for children ages 2-8.
Farmington Food Pantry - $2,500 to purchase fresh food from a local farm for distribution at the food pantry.​​​​​​​
Greystone Foundation - $2,500 – to provide short-term financial assistance to individuals and families who have unexpected events disruptive to household finances.
Invent the Summer - $1,860 - to purchase video equipment to support kid-run STEM summer challenges.​​​​​​​
Special Olympics Connecticut - $1,000 – to support budget-relieving aspects of Special Olympics Farmington Valley local program​​​​​​​.
Farmington Rotary Club Foundation - $3,625 – to offset the cost for educational programming about bees in Farmington Public Schools.
---
Advisory Committee Members
The role of the Advisory Committee is to design and lead an inclusive process to identify the needs in your community, and design a grantmaking process aimed to ensure that the Community Funds can have the greatest impact for the benefit of town residents.
The Advisory Committee members for your town are:
Audrey Antony, Brian Beisel, Sarah Burns, Emily Kaliney, Neha Kochar, Meghan Naujoks, Maggie Petruzella, Edward Preneta, Guhan Sivakumar, Mary Lou Wadsworth, Liz Wilson
Click here to read the Advisory Committee Conflict of Interest Policy
Please contact the Advisory Committee at FarmingtonCTCommunityFund@gmail.com.
For media inquiries, please contact Chris Senecal at csenecal@hfpg.org.
---