Farmington Greater Together Community Fund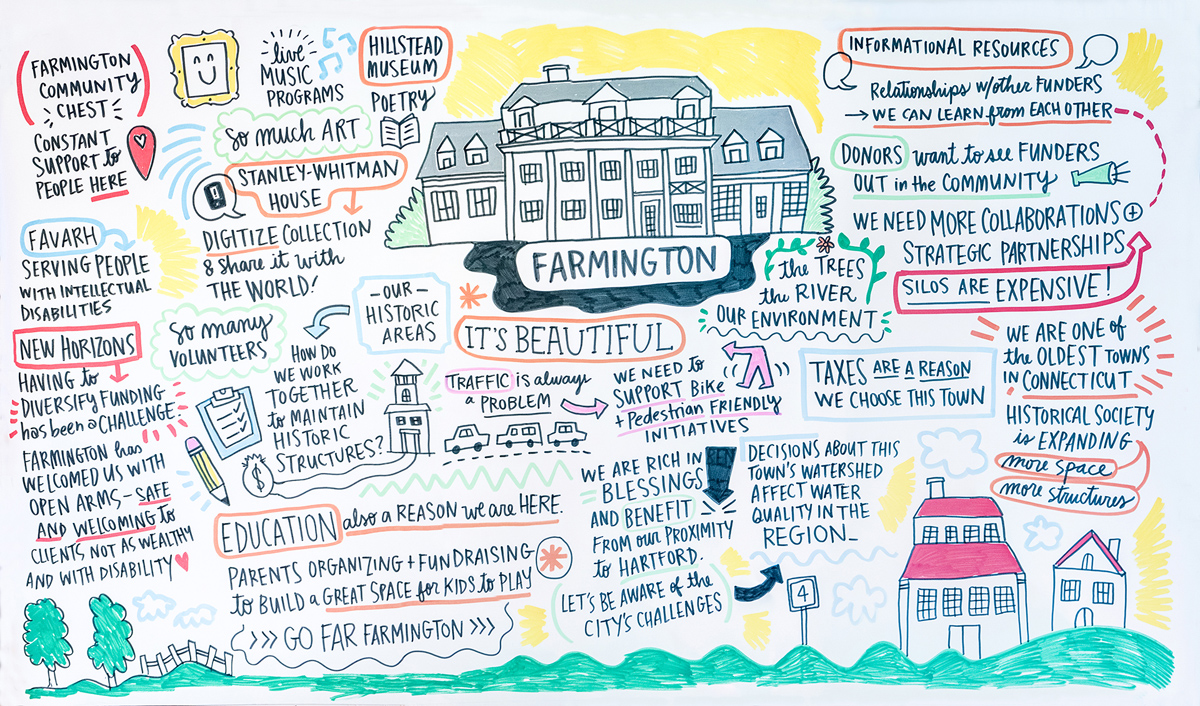 The Hartford Foundation for Public Giving has established a $100,000 Greater Together Community Fund for the Town of Farmington.
The purpose of the Greater Together Community Funds is to:
support the community in taking ownership around the needs in their towns
encourage broad and inclusive civic engagement and
anchor the Hartford Foundation in each town.
---
Announcing Call For Grant Applications
Farmington's Greater Together Community Fund Advisory Committee is pleased to announce the availability of funding for projects directly benefiting the Farmington community.
Project proposals must demonstrate the opportunity for all town residents to benefit without discrimination based on race, religion, or any other protected class. The minimum request for any proposal is $500 and the maximum request shall not exceed $7,500. A final report will be requested upon completion of the project.
Applications will be accepted until Friday, September 15, 2023. Each applying organization may only submit one proposal.
Eligibility
Organizations must be classified as a 501(c)(3) or use a fiscal agent/sponsor.

509(a)(3) charities and private foundations are not eligible.

Non-profit organizations that are not classified as a 501(c)(3) must use a fiscal agent/sponsor.

A fiscal agent/sponsor is an organization that receives, disburses and accounts for grant funds on behalf of another organization.
Towns may serve as a fiscal agent/sponsor.

Religious organizations can apply for projects that benefit the broader community, but not for projects that are religious in nature.
For-profit businesses are not allowed to apply under any circumstances.
For more information, see the Farmington Greater Together Community Fund Request for Applications.
You can apply by completing an online form or by downloading, completing, and emailing the application to FarmingtonCTCommunityFund@gmail.com.
Click here for the online application form.
Click here for the downloadable application form.
Key Dates
7/13/2023: Grant applications available
7/31/2023: 4:00-6:00 p.m Grant Information Session at the Farmington Library (Johnston Room, Main Library) to discuss the grant process and answer any questions from prospective applicants.
9/15/2023: Grant applications due
10/16/2023-11/1/2023: Grant applicants notified of decisions and funds distributed to recipients
Questions?
Please contact the Advisory Committee at FarmingtonCTTogetherFund@gmail.com.
Please read the FAQ for answers to frequently asked questions about the Farmington GTCF grant process
Grant Awards
In December 2022, the Farmington Greater Together Community Fund Advisory Committee announced the recipients of its second annual grants. The amount of funding awarded totaled over $31,000, to ten organizations that do work to benefit the residents of Farmington.
The 2022 grants were awarded to:
Interval House - $5,000 – to support Farmington victims of domestic violence.
Reach Out and Read - $3,500 – to provide literacy materials and training for Farmington pediatricians.
Operation Fuel - $3,500 – to provide energy assistance to Farmington families.​​​​​​
Farmington Land Trust - $5,000 – to purchase tools and resources to augment the development of programming for exposure to the outdoors and environmental education.​​​​​​​
The Family Center (DBA) Imagine Nation, A Museum Early Learning Center (in partnership with the Farmington Public Library) - $2,786 – to underwrite STEAM (Science, Technology, Engineering, Arts, and Math) outreach lab workshops at the Farmington Public Library for children ages 2-8.
Farmington Food Pantry - $2,500 to purchase fresh food from a local farm for distribution at the food pantry.​​​​​​​
Greystone Foundation - $2,500 – to provide short-term financial assistance to individuals and families who have unexpected events disruptive to household finances.
Invent the Summer - $1,860 - to purchase video equipment to support kid-run STEM summer challenges.​​​​​​​
Special Olympics Connecticut - $1,000 – to support budget-relieving aspects of Special Olympics Farmington Valley local program​​​​​​​.
Farmington Rotary Club Foundation - $3,625 – to offset the cost for educational programming about bees in Farmington Public Schools.
---
Advisory Committee Members
The role of the Advisory Committee is to design and lead an inclusive process to identify the needs in your community, and design a grantmaking process aimed to ensure that the Community Funds can have the greatest impact for the benefit of town residents.
The Advisory Committee members for your town are:
Audrey Antony, Brian Beisel, Sarah Burns, Emily Kaliney, Neha Kochar, Meghan Naujoks, Maggie Petruzella, Edward Preneta, Guhan Sivakumar, Mary Lou Wadsworth, Liz Wilson
Click here to read the Advisory Committee Conflict of Interest Policy
Please contact the Advisory Committee at FarmingtonCTCommunityFund@gmail.com.
For media inquiries, please contact Chris Senecal at csenecal@hfpg.org.
---