Farmington Greater Together Community Fund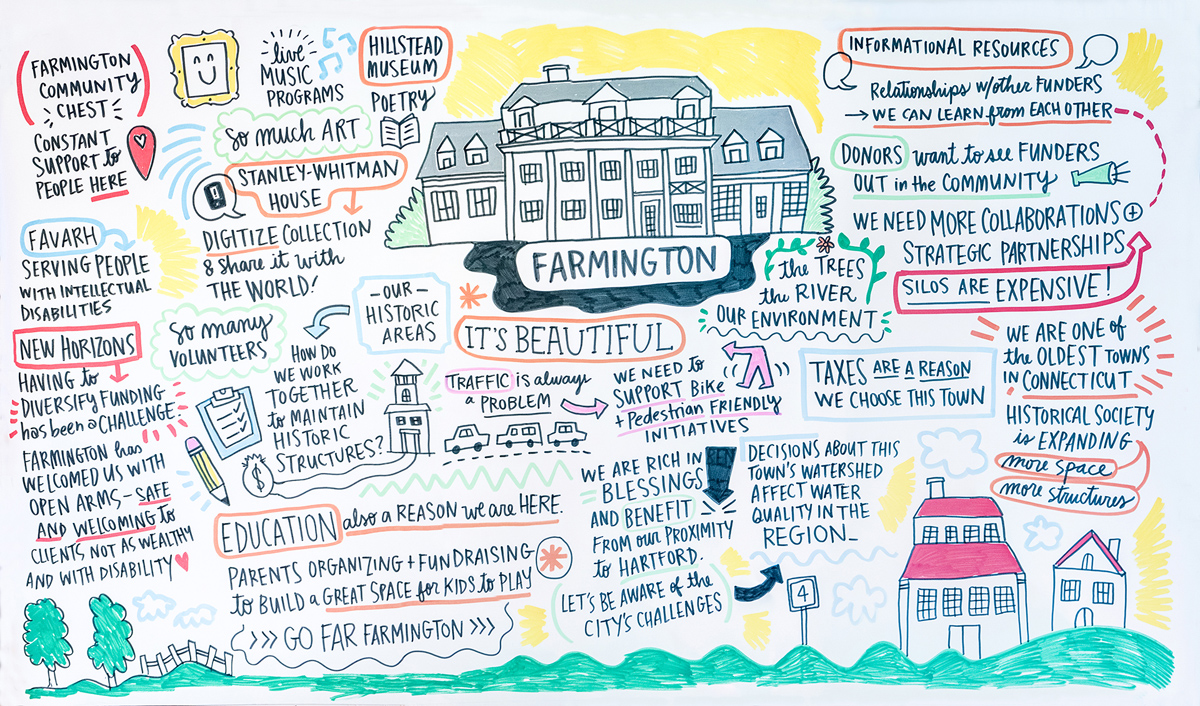 The Hartford Foundation for Public Giving has established a $100,000 Greater Together Community Fund for the Town of Farmington.
The purpose of the Greater Together Community Funds is to:
support the community in taking ownership around the needs in their towns
encourage broad and inclusive civic engagement and
anchor the Hartford Foundation in each town.
---
Announcing Call for Grant Applications
Farmington's Greater Together Community Fund Advisory Committee is pleased to announce the availability of funding for projects directly benefiting the Farmington community.
Project proposals must demonstrate the opportunity for all town residents to benefit without discrimination based on race, religion, or any other protected class. The minimum request for any proposal is $250 and the maximum request shall not exceed $5,000. A final report will be requested upon completion of the project.
Applications will be accepted until Friday, September 3, 2021. Each applying organization may only submit one proposal.
Eligibility
Organizations must be classified as a 501(c)(3).

509(a)(3) charities and private foundations are not eligible.

Organizations that are not classified as a 501(c)(3) may use a fiscal agent/sponsor.

A fiscal agent/sponsor is an organization that receives, disburses and accounts for grant funds on behalf of another organization.
Towns may serve as a fiscal agent/sponsor.

Religious organizations can apply for projects that benefit the broader community, but not for projects that are religious in nature.
For more information, see the Farmington Greater Together Community Fund Request for Applications.

Budget Form
(to be submitted in conjunction
with the application)
Key Dates
7/6/2021 Grant applications available
9/3/2021 Grant applications due
10/1/2021 - 10/15/2021 Grant applicants notified of decisions and funds distributed to recipients
Questions?
Please contact the Advisory Committee at FarmingtonCTCommunityFund@gmail.com. ​​​​​​
---
Advisory Committee Members
The role of the Advisory Committee is to design and lead an inclusive process to identify the needs in your community, and design a grantmaking process aimed to ensure that the Community Funds can have the greatest impact for the benefit of town residents.
The Advisory Committee members for your town are:
Rafeena Bacchus Lee, Brian Beisel, Noora Brown, Sarah Burns, A.M. Portia Corbett, Andrew Garza, Sara Loughman, Samantha Rajotte, Sandra Rodriguez, Edmund Takata
Click here to read the Advisory Committee Conflict of Interest Policy
For media inquiries, please contact Chris Senecal at csenecal@hfpg.org.
---