Windsor Locks Greater Together Community Fund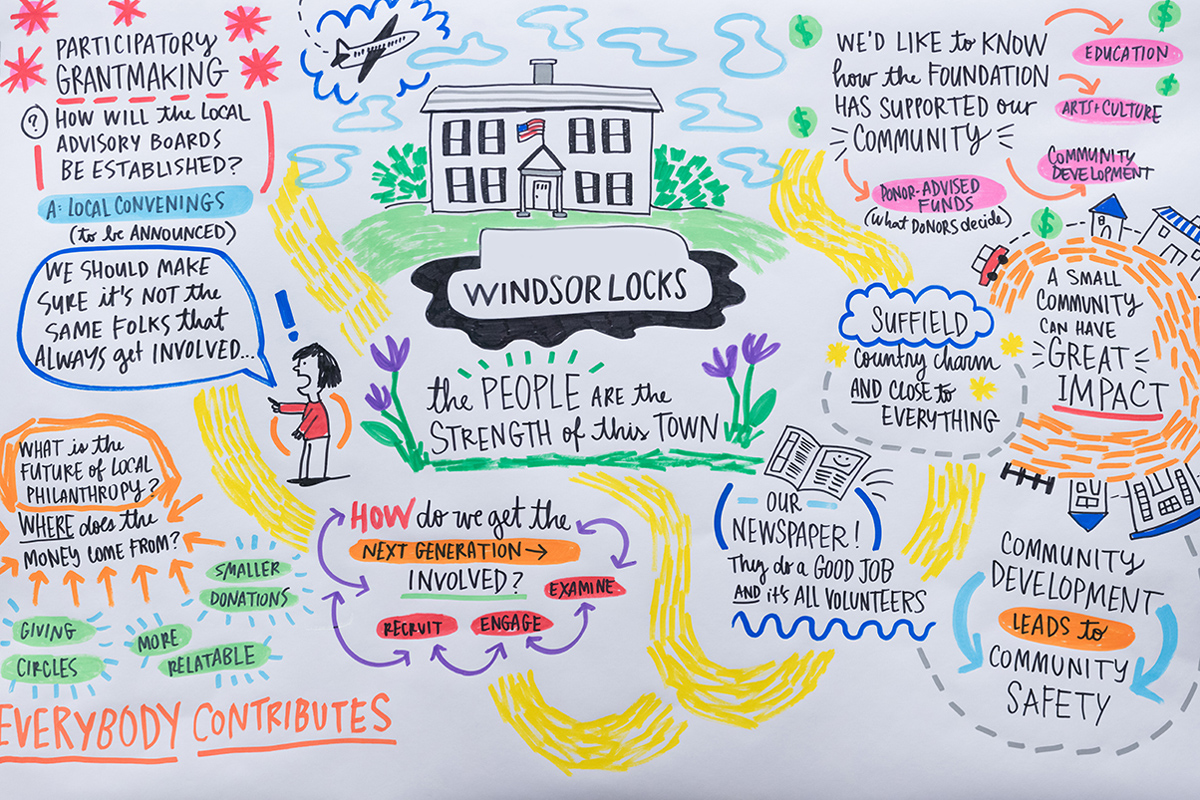 The Hartford Foundation for Public Giving has established a $100,000 Greater Together Community Fund for the Town of Windsor Locks. In 2022, the Foundation added $50,000 to the Fund to continue to support community needs.
The purpose of the Greater Together Community Funds is to:
support the community in taking ownership around the needs in their towns
encourage broad and inclusive civic engagement and
anchor the Hartford Foundation in each town.
Your town has formed an advisory committee to manage a participatory process to identify your town's needs and allocate community funds.
---
Call for Committee Members
We are looking for passionate volunteers to serve on the Windsor Locks Advisory Committee to the Hartford Foundation of Public Giving!
The Windsor Locks Advisory Committee was formed in 2021 and has already fully funded five grants totaling over $15,000 to organizations including the Windsor Locks Public Library, Lions Club, Special Olympics, UR Community Cares, and Operation Fuel.
We are now seeking new members to join the committee in steering the second grant cycle and helping to decide how community funds will be used. We are dedicated to creating a group that is inclusive, representative, and reflective of all residents of the community.
Members must be over 14 years of age, not an elected official, and residents of Windsor Locks. Members are expected to attend one Zoom meeting per month, and should be willing to work on committee projects between meetings.
The deadline for applications is May 31, 2023.
Apply online here or download an application.
Please contact the Windsor Locks Advisory Committee at windsorlockscommunityfund@gmail.com with any questions.
---
Advisory Committee Members
The role of the Advisory Committee is to design and lead an inclusive process to identify the needs in your community, and design a grantmaking process aimed to ensure that the Community Funds can have the greatest impact for the benefit of town residents.
The Advisory Committee members for your town are:
Bridgett Diene (Chair), Rodrigue Djikeuchi, Ingrid Magallanes, Michael Mannheim (Secretary)
For more information about the advisory committee, please review the Advisory Committee FAQ.
Click here to read the Advisory Committee Conflict of Interest Policy
For media inquiries, please contact Chris Senecal at csenecal@hfpg.org.
---