Simsbury Greater Together Community Fund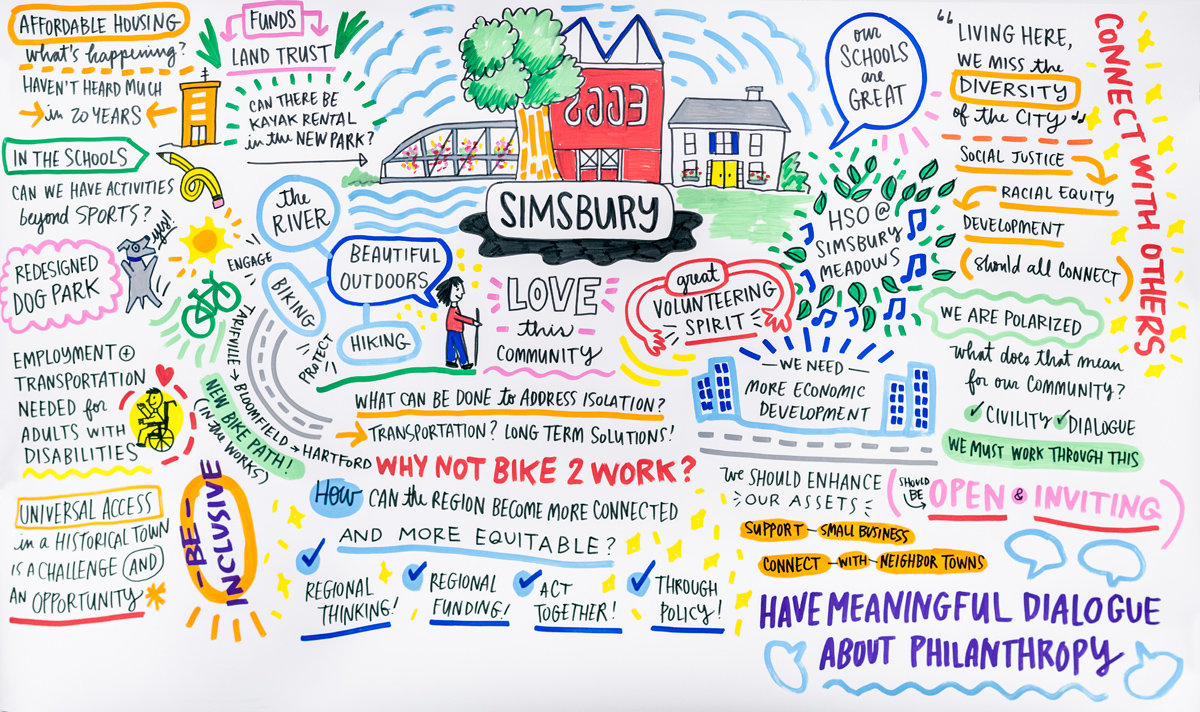 The Hartford Foundation for Public Giving has established a $100,000 Greater Together Community Fund for the Town of Simsbury.
The purpose of the Greater Together Community Funds is to:
support the community in taking ownership around the needs in their towns
encourage broad and inclusive civic engagement and
anchor the Hartford Foundation in each town.
Your town has formed an advisory committee to manage a participatory process to identify your town's needs and allocate community funds.
---
Open Call for Letters of Interest
In May 2021, the Simsbury Greater Together Community Fund advisory committee announced an open call for Letters of Interest for projects directly benefiting the Simsbury community for 2021. Letter of Interest were accepted until June 30, 2021.
Through this call, the advisory committee invited Letters of Interest (LOI) for funding available to programs that will improve or enhance the quality of life of Simsbury or otherwise contribute to solving a direct need of the Simsbury community. The geographic area served is restricted to Simsbury, CT. Partnerships or collaborative efforts are encouraged. Please read more details about this open call here.
The advisory committee will review Letters of Interest and invite final applicants to complete a formal application.

For questions, contact the committee at Simsburycommunityfund@gmail.com.
---
Advisory Committee Members
The role of the Advisory Committee is to design and lead an inclusive process to identify the needs in your community, and design a grantmaking process aimed to ensure that the Greater Together Community Funds can have the greatest impact for the benefit of town residents.
The Advisory Committe members for your town are:
Josefina Casabal, Michael Duff, Veronica Grossman, Paul Henault, Jocelyn Kahn Hart Lovelace, Akash Kaza, Meredith McCormick, Brad Mead, Caroline Meckel, Christine Peterson, Dane Peterson, Meena Rajesh, Tammy Woychowski
Click here to read the Advisory Committee Conflict of Interest Policy
For media inquiries, please contact Chris Senecal at csenecal@hfpg.org.
---