Manchester Greater Together Community Fund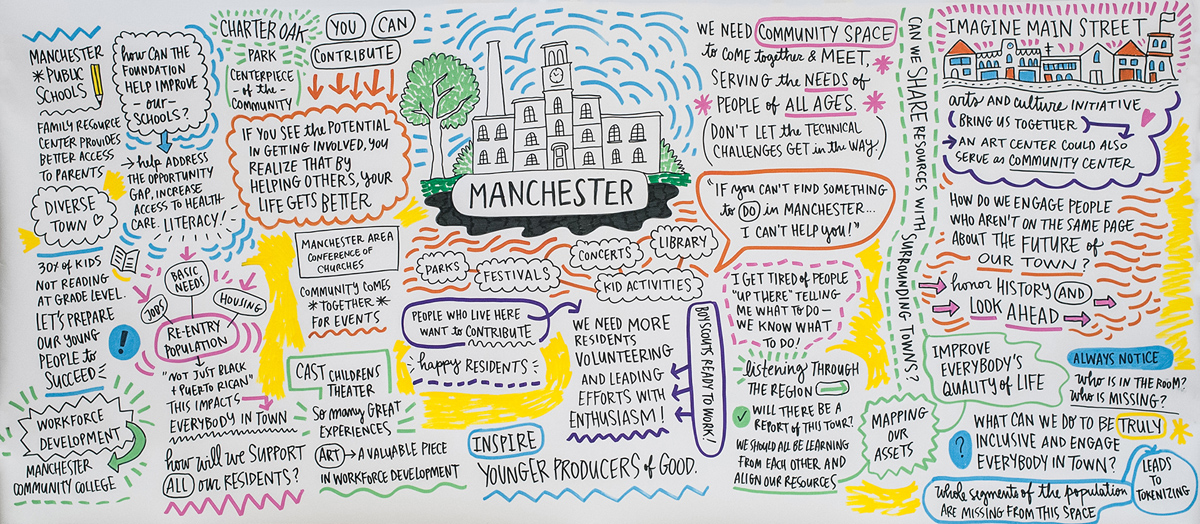 In 2019, the Hartford Foundation for Public Giving established a $100,000 Greater Together Community Fund for the Town of Manchester. The Hartford Foundation's Board of Directors approved additional funding for 2022, contributing an additional $50,000 to the Manchester Greater Together Community Fund.
The purpose of the Greater Together Community Funds is to:
support the community in taking ownership around the needs in their towns
encourage broad and inclusive civic engagement and
anchor the Hartford Foundation in each town.
Your town has formed an advisory committee to manage a participatory process to identify your town's needs and allocate community funds.
---
Interested in joining the Advisory Committee?
The deadline is for applications is February 15, 2023.
---
Inaugural Grant Awards
A grant reporting form is available for organizations that have completed projects.
---
Advisory Committee Members
The role of the Advisory Committee is to design and lead an inclusive process to identify the needs in your community, and design a grantmaking process aimed to ensure that the Community Funds can have the greatest impact for the benefit of town residents.
The Advisory Committee members for your town are:
Bambi Mroz, Shea Riley, Debbie Streeter, Sounthaly Thammavong
Click here to read the Advisory Committee Conflict of Interest Policy
For more information about the Advisory Committee, please review the FAQ.
For media inquiries, please contact Chris Senecal at csenecal@hfpg.org.
---