East Granby Greater Together Community Fund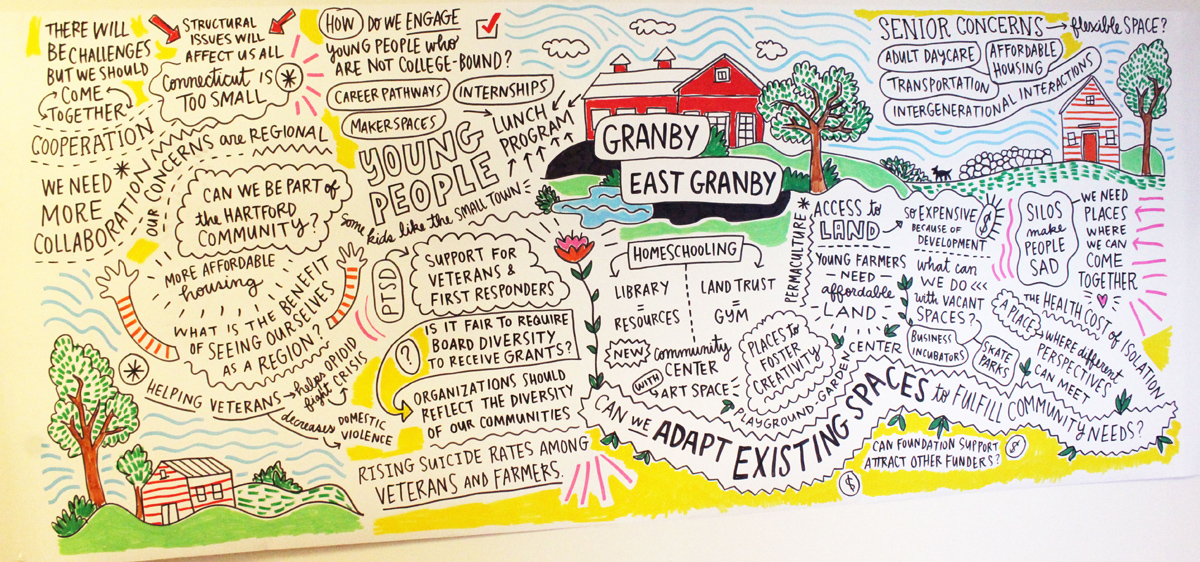 In 2019, the Hartford Foundation for Public Giving established a $100,000 Greater Together Community Fund for the Town of East Granby. The Hartford Foundation's Board of Directors approved additional funding for 2022, contributing an additional $50,000 to the East Granby Greater Together Community Fund.
ANNOUNCING CALL FOR GRANT APPLICATIONS

The East Granby Greater Together Community Fund is pleased to announce the availability of funding from the Hartford Foundation for Public Giving for projects directly benefiting the East Granby community. The purpose of East Granby's Community Fund is to support residents in taking ownership around the needs in their towns and encourage broad and inclusive civic engagement.

Guidelines:
The minimum amount of a grant request is $250. The maximum amount of a grant request is $25,000. Deadline to apply - October 6th 2023
Upon completion of the project, a final report shall be provided. Information about the final report (photos, write up, invitation to grant event, etc.) will be shared when the grant is awarded.
Eligibility Criteria:
The project/program proposed must directly benefit the residents of East Granby.
Any nonprofit registered as a 501c3 organization, the town itself, or state/federal municipalities that serve the residents of East Granby are eligible to apply.
Organizations must be classified as a 501c3 or have a fiscal sponsorship through a registered organization. Our town may serve as a fiscal sponsor to an organization who is not a registered 501c3. If you need help finding a fiscal sponsor, please contact the advisory committee at eastgranbygreatertogether@gmail.com.
509a3 charities and private foundations are not eligible.
Grants need to be for future projects. Money cannot be requested to refund past projects.
Process:
Applications can be completed as Google Docs, Word documents, or as a PDF. DEADLINE TO APPLY - October 6th 2023

Click here for application

Please answer the application questions and submit a budget outline for this proposal.

Please email completed applications to East Granby Greater Together at: Eastgranbygreatertogether@gmail.com.

Applications can also be submitted via mail to: Jennifer Kovaleski, East Granby Greater Together, 73 Old County Road, East Granby, CT 06026.
---
Grant Awards
The East Granby Community Fund made the following grant awards to benefit the East Granby community:
The East Granby Greater Together Community Fund made inaugural grants to three community organizations in 2021:
---
Advisory Committee Members
The role of the Advisory Committee is to design and lead an inclusive process to identify the needs in your community, and design a grantmaking process aimed to ensure that the Greater Together Community Funds can have the greatest impact for the benefit of town residents.
The Advisory Committee members for your town are:
Tom Carroll, Richard Galluccio, Merry Kimberley, Jennifer Kovaleski, Hansika Lenkala, James Lindberg, Shreyas Lenkala, Jennifer Russell, Joanna Taczanowsky, Alicia Van Neil
For more information about the advisory committee, please review the Advisory Committee FAQ.
Click here to read the Advisory Committee Conflict of Interest Policy.
For media inquiries, please contact Chris Senecal at csenecal@hfpg.org.