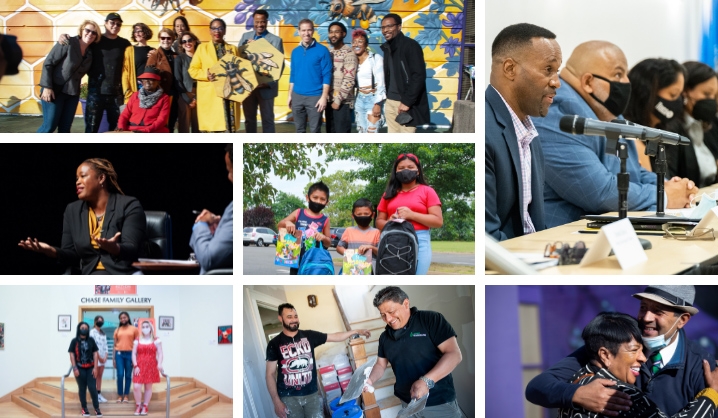 2021 Year in Review: A Test of Our Community's Resilience
At the end of 2020, our community was reeling from the dual pandemics of COVID-19 and systemic racism. Last year upended and challenged everything we thought about our organization, our work and our role in the Hartford region.
Where 2020 tested our flexibility, 2021 tested our resilience. Throughout this past year, the Hartford Foundation for Public Giving remained steadfast in our commitment to address systemic racism by listening to residents and creating new opportunities for nonprofits to connect and partner with the Foundation.
Here are some of the initiatives from the past year that brought us closer to that goal.
---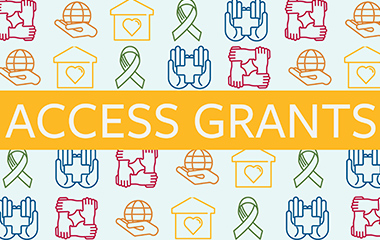 In March, we announced our Access Grants, an effort that identifies nonprofits working in alignment with our strategic priority of dismantling structural racism. Through two rounds of funding in July and October, the Foundation awarded more than $1.1 million to 33 nonprofits in Hartford and surrounding towns.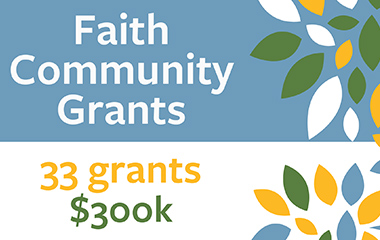 In June, we awarded 33 grants totaling $300,000 to faith-based organizations that have been helping residents disproportionately affected by COVID-19. Their work addresses the needs of their congregants and the broader community, and advances social and racial justice. This new approach came about after we met with faith leaders in 2020.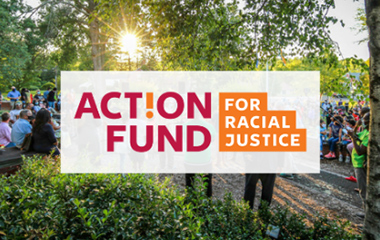 This summer, we launched the Action Fund for Racial Justice to award grants to nonprofits that are working to dismantle barriers to opportunity for communities of color, rebuild more equitable systems, or support those adversely affected by structural racism. Over the past seven months, generous donors have committed more than $500,000 to the Fund, a large portion of which has already been invested in the community.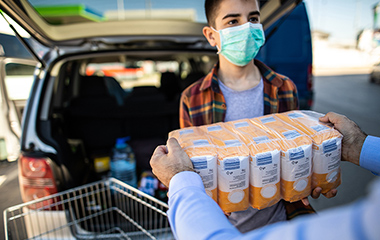 The Foundation's COVID-19 Response Fund awarded more than 250 grants, distributing more than $9.6 million between March 2020 and February 2021. Throughout the past year, the Fund continued to address urgent needs in the region by making proactive, targeted, and deeper investments related to the ongoing public health and economic crises.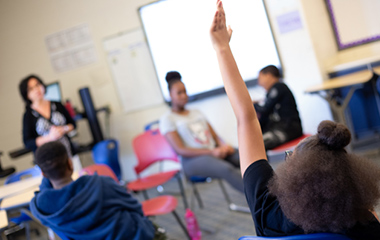 In August, we partnered with the City of Hartford and Dalio Education to invest $9.85 million to support opportunity youth, individuals aged 16 to 24 who are currently disengaged from school or work. Three vital organizations, COMPASS Youth Collaborative, Our Piece of the Pie, and Roca, Inc., will provide individualized, trauma-informed, high-touch support to the young people they specialize in working with.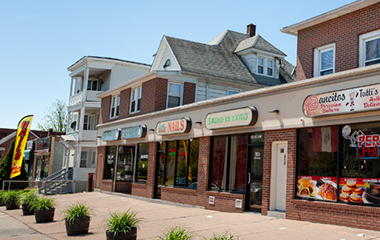 Over the summer, we collaborated with the City of Hartford, Capital for Change, and several technical assistance providers to offer a third round of the Small Business Emergency Assistance Grant Program, which provided $930,000 to Hartford small businesses. This follows more than $2 million awarded in 2020, with more than 70% of grants going to minority or women owned small businesses in Hartford.
---
In 2021, the Greater Together Community Funds in several towns made inaugural grants to local nonprofits. These funds were designed to support residents in our 29 towns in taking ownership of the unique needs in their communities, while encouraging inclusive civic engagement. To date, 19 town committees have awarded a combined 114 grants, totaling more than $418,000. We recently announced a new $1.45 million investment into the Community Funds to ensure that town committees can continue to make grants in perpetuity.
---
The Foundation recognizes the power of public policy to increase the impact of our work. To this end, we offered written and in-person testimony on 37 pieces of legislation brought before the Connecticut General Assembly during the 2021 session, a record level of activity for our organization.
---
This is a small selection of the many grants awarded and initiatives undertaken in 2021 to help advance our strategic priorities of dismantling structural racism and increasing social and economic mobility for Black and Latinx residents.
In 2022, we look forward to reconnecting with donors and community partners in safe and meaningful ways. Merriam-Webster defines resilience as "an ability to recover from or adjust easily after misfortune or change." While few people would use the word "easily" to describe 2021, thanks to the generosity of our donors and the commitment of our community partners, we have remained focused on our strategic commitment to dismantle systemic racism in order to improve the quality of life for everyone in Greater Hartford. That commitment will not waver in 2022, and we invite you to join us on this journey.
---
A year-end video message from Hartford Foundation President Jay Williams: