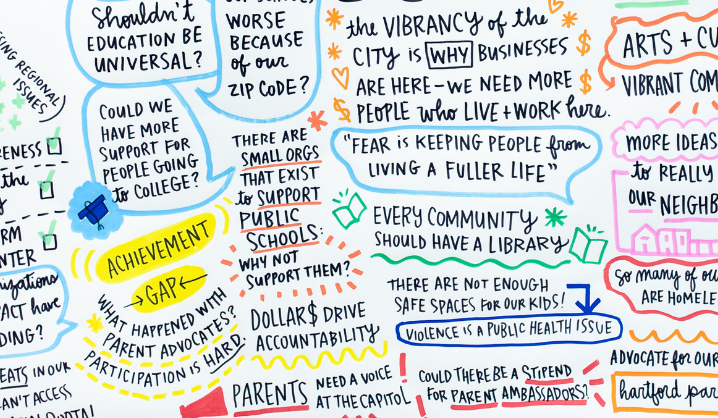 Hartford Foundation Announces $1.45 Million Investment in Greater Together Community Funds Effort
In 2019, the Hartford Foundation for Public Giving launched one of the most ambitious participatory grantmaking programs in the nation. The $2.9 million, Greater Together Community Funds initiative established 29 $100,000 community funds, one for each town in the Foundation's region. Each town originally received $50,000 for grantmaking, and $50,000 for endowment, allowing a percentage of those dollars to be available annually for grantmaking, following the Hartford Foundation's spending policy. In response to the success of the Community Funds initiative, the Hartford Foundation's Board of Directors has approved an additional $1.45 million for 2022, providing each town's Fund with $50,000, with $30,000 immediately available for grantmaking and $20,000 being invested in the Community Funds' endowments.
The Community Funds initiative has garnered national attention from the philanthropic sector. Now, two years after the funds were first established, 19 Greater Together Community Fund advisory committees (Andover, Avon, Bloomfield, Bolton, East Granby, Ellington, Farmington, Glastonbury, Hartford, Hebron, Marlborough, Newington, Simsbury, Somers, South Windsor, Suffield, Tolland, West Hartford, and Wethersfield) have made 114 grants totaling $418,687. The initiative is designed to support residents in taking ownership of the needs in their towns, encourage broad and inclusive civic engagement, and anchor the Foundation in each of the towns its serves.
"The Greater Together Community Funds initiative was first created to engage and empower community residents who are best equipped to respond to the needs their town's face by providing them with resources to support projects that respond to these needs," said Hartford Foundation President Jay Williams. "We knew that by setting up an initiative rooted in inclusion, participatory decision making and led by community residents, the work would be both rewarding and challenging. While COVID made the work even more challenging, it is a credit to the residents of our region and our dedicated staff that the majority of our Community Funds have successfully supported a wide array of programs to benefit their communities. The Board of Directors has recognized this work by allocating additional funding to allow our Community Funds to make further contributions to the towns they serve."
Each Greater Together Community Fund is administered by an advisory committee of town residents that must be inclusive and reflective of the residents of that community. The advisory committees each design a grantmaking process aimed to ensure that their Community Fund has the greatest benefit for town residents. Hartford Foundation staff provide guidance on topics such as inclusive group practices, participatory decision making and grantmaking.
To learn more about the Greater Together Community Funds or to donate to any one of the town community funds, log onto www.hfpg.org/communityfunds.
The Hartford Foundation for Public Giving is the community foundation for Hartford and 28 surrounding towns. Through partnerships, the Foundation seeks to strengthen communities in Greater Hartford by putting philanthropy in action to dismantle structural racism and achieve equity in social and economic mobility. Made possible by the gifts of generous individuals, families and organizations, the Foundation has awarded grants of more than $849 million since its founding in 1925. For more information, visit www.hfpg.org or call 860-548-1888.