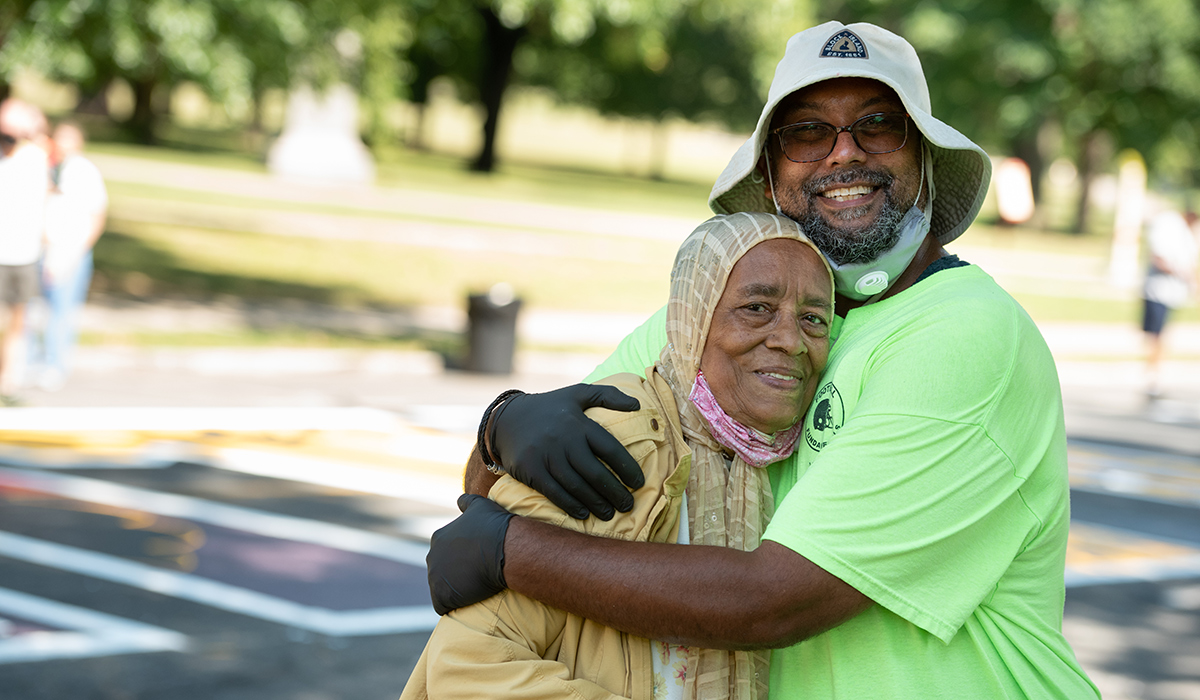 To create a vibrant region, we must take steps to dismantle structural racism.
In Greater Hartford and across the country, Black and Latine communities as well as other communities of color face persistent disparities, which create barriers to health, wellbeing and wealth building. These disparities didn't happen by accident. They are the result of decades of systemic factors and disinvestment in our communities, many of which are still woven into the fabric of our institutions.
To achieve our mission and create a truly vibrant region, we must take significant steps to dismantle structural racism and advance equity in social and economic mobility in Greater Hartford's Black and Latine communities.
While dismantling structural racism requires a long-term commitment, the time to act is now. We know it won't be easy, but working together, we can achieve greater equity in our region.
What does it mean to Dismantle Structural Racism?
Shifting power: Change the makeup of who benefits from opportunity and who makes decisions about practice, policy and allocation of resources.
Building equity: Support and lead efforts to change organizational and systemic policies and practice to advance racial and ethnic equity.
Influencing attitudes and beliefs: Support and lead awareness, education, training and movement building to address individual, organizational and systemic biases.
What can be done to advance equity in economic and social mobility?
Support strategic outcomes that contribute to residents' efforts to reach their potential, with a focus on Black and Latine residents, including efforts to:
Increase the number of Hartford residents living in higher opportunity neighborhoods.
Improve the physical and emotional wellbeing of residents.
Increase employment opportunities for residents of color.
Increase civic engagement, participation and awareness.
Increase equity and inclusion in the arts sector.
The Foundation's understanding of these issues and how they impact Greater Hartford is informed by the perspectives of Greater Hartford residents and our various partners and continues to evolve as we learn.
---

What makes this work so urgent?
greater hartford is home to vast inequality:
1 in 5 Black and Latinx children in our region live in poverty, compared to 1 in 100 white children, according to 2019 data.
The region's median income for white households ($84k) is twice that of Latinx households ($42k) and more than 1.5 times that of Black households ($50k), based on 2017 data.
Only 46% of Hartford residents say they feel safe walking around their neighborhood at night. In the inner ring suburbs, that number is 69%, and in the outer ring suburbs, it's 81%.
55% of Black residents in Connecticut say they are just getting by or finding it difficult to get by financially, compared to 24% of all residents.
COVID-19 exposed and exacerbated these disparities:
37% of Latinx residents report that at least one resident of their household lost their job during the COVID-19 pandemic, twice the rate of white residents.
1 in 5 Black residents of our region lost a family member of friend to COVID-19. Black residents are nearly twice as likely to have lost a loved one or friend to COVID-19 compared to white residents.
27% of Latinx residents and 22% of Black residents of Connecticut experienced food insecurity at some point in 2020, compared to 9% of white residents.
An inclusive community is a healthy community. More inclusive communities offer diverse perspectives, creativity and innovation, greater economic potential, a stronger workforce and improved wellbeing for residents. For nearly 100 years, the Hartford Foundation has strived to create a more equitable Greater Hartford, one where every resident's contributions are valued and all residents have the same opportunity to succeed. By achieving greater racial, geographic, and economic inclusion, Greater Hartford can reach its full potential.
---
How can we address these disparities and advance equity?
By listening and engaging with the community, and considering all available research and information, we have identified five outcome areas for our work. Each outcome area focuses on the people and places facing the greatest disparities, and contributes to our overall effort to dismantle structural racism.
Our outcome areas
---
What else are we doing?
The work of dismantling structural racism and reducing persistent disparities requires that we go beyond traditional grantmaking and use all the tools at our disposal. Here are some of the ways that we try to demonstrate community leadership and contribute to positive and lasting change in the region.
---
We need your help.
Dismantling structural racism is generational work that will require cooperation from everyone in our community. Here's how you can help us in this effort.
Nonprofits
Donors
---
Join us!
Follow us on social media:
Subscribe to our newsletter:
Sign up for our monthly newsletter to stay informed about our work.
Greater Together Community Funds:
We created 29 community funds, one for each of the towns in our region. Each fund is managing by an advisory committee made up of town residents. Learn about your town's fund and how you can get involved.