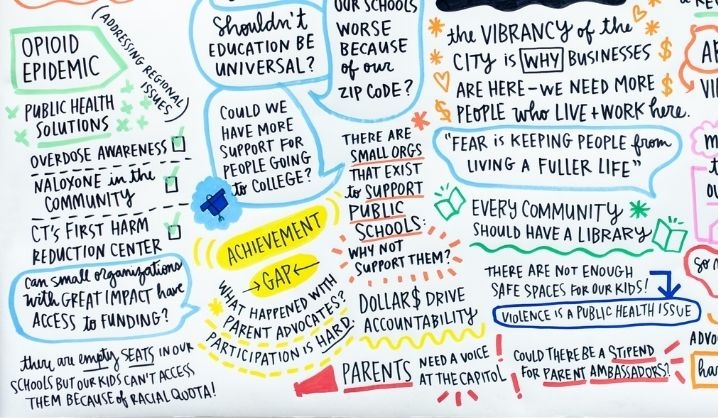 Hartford Foundation Announces Inaugural Grants from Greater Together Community Funds
Ellington, Glastonbury and South Windsor Residents Select Local Projects to Support Town Needs
In 2019, the Hartford Foundation for Public Giving launched one of the most ambitious participatory grantmaking programs in the nation. The $2.9 million, Greater Together Community Funds initiative established 29 $100,000 community funds, one for each town in the Foundation's region. Half of each fund is immediately available for grantmaking, while the other half of the fund is endowed, allowing a percentage of those dollars to be available annually for grantmaking, following the Hartford Foundation's spending policy. The Community Funds initiative is designed to support residents in taking ownership of the needs in their towns, encourage broad and inclusive civic engagement, and anchor the Foundation in each of the towns its serves.
Each Greater Together Community Fund is administered by an advisory committee of town residents that must be inclusive and reflective of all of the residents of that community. Each advisory committee is created through an extensive outreach process where a selection committee made up of local residents and stakeholders identify and choose members. The advisory committees identify the greatest needs in their communities and design a grantmaking process aimed to ensure that the Greater Together Community Funds can have the greatest impact for the benefit of town residents. Hartford Foundation staff provide guidance on topics such as inclusive group practices, participatory decision making and grantmaking.
After more than a year of intensive community outreach and engagement, including responding to the challenges created by COVID, the Community Funds advisory committees in Ellington, Glastonbury and South Windsor have made their inaugural grants to local nonprofits to address pressing issues in their communities.
"When the Hartford Foundation began developing the Greater Together Community Funds initiative, it was based on the recognition that community residents are keenly aware of the needs their town's face, and that they should be supported and empowered to select projects that respond to these needs," said Hartford Foundation President Jay Williams. "We knew that by setting up an initiative rooted in inclusion, participatory decision making and led by community residents, the work would be both rewarding and challenging. This was true even before the impact of COVID; however, the hard work, dedication and enthusiasm of our town residents to benefit their respective communities is evidenced by the array of grants the committees in Ellington, Glastonbury and South Windsor have awarded."
Across the 19 grants awarded in three towns, amounts range from $500 to $7,500. Grant awards cover topics such as education, environment, health and food security, the arts and public safety. Funded projects reach students, English Language Learners, senior citizens, low-income working families, and residents of all abilities. Since each town is unique, projects reflect the specific needs of each town.
These grants include:
Ellington
Ellington High School (EHS) has received a $1,750 grant to support the High School Compost Project.
Ellington Volunteer Ambulance Corps, Inc. has received a $4,125 grant to support English As Second Language Emergency Services Training for ESL students in Ellington and surrounding communities.
Friends of Hall Memorial Library has received a $5,000 grant to support a consultant to examine diverse library service opportunities.
The Ellington Historical Society Inc. has received a $2,500 grant to support renovations and repairs to the Nellie McKnight Museum and property.
The Ellington Volunteer Fire Department Incorporated has received a $7,500 grant to support training the public how to properly use fire extinguishers.
Town of Ellington has received a $3,125 grant to support the high school's 'Safe Grad' event, an all-night, substance free event for all Ellington graduating seniors.
UR Community Cares, Inc. has received a $1,000 grant to support its Community Deeds Program which offers support for older residents and adults with physical disabilities.
"We are proud to successfully grant six community organizations, $25,000 in total," said Aaron Foster and Sandra Andrews, co-chairs of the Ellington Community Fund. "Our Ellington Community Fund committee worked hard over the last year setting up these grants and crossing the finish line to get them distributed."
Glastonbury
Community Health Resources, Inc. has received a $6,000 grant for behavioral health services for children and teens.
Glastonbury Links Together (Congregation Kol Haverim Inc., sponsoring organization) has received a $15,000 grant to support the creation of a free choice food bank in Glastonbury.
Historical Society of Glastonbury has received a $1,700 grant to support accessibility to an exhibit on the Wangunk Tribe.
Resonate (Irvine Lights, sponsoring organization) has received a $500 grant to support music opportunities for students in Glastonbury with financial hardship.
Talk-Truth in Action With Love & Kindness has received a $1,000 to support the creation of pollinator pathways designed to connect pollinator species..
UR Community Cares, Inc. has received a $3,000 grant to support a home based service program, focused on older adult residents as well as residents with physical disabilities.
"Our first round of grants seeks to benefit Glastonbury as a whole," said Kennedy Hudner, chair of the Glastonbury Community Fund's Advisory Committee. "All of the awarded projects demonstrate that they either fill a pressing need and/or can significantly impact our community."
South Windsor
"As a high school student, this experience of being on the South Windsor committee has been so amazing," said," Sivani Arvapalli, co-chair of the South Windsor Community Funds Advisory Committee. "We are such a beautifully diverse group with so many different ideas and all of us working together to help change our community and directly seeing the impact we are making is incredible. I am so thankful for our group and I can't wait to keep working with our board."
"I thoroughly enjoyed the whole process, from the formation of our South Windsor committee, to working together to form a team, and through the review of so many interesting project applications," said Rick Love, co-chair of the South Windsor Community Funds Advisory Committee. "For a new program in town I think we've been able to provide funding to several groups that help to make South Windsor a great community."
To learn more about the Greater Together Community Fund or to donate to any one of the town community funds, log onto www.hfpg.org/communityfunds.
The Hartford Foundation for Public Giving is the community foundation for Hartford and 28 surrounding towns. Through partnerships, the Foundation seeks to strengthen communities in Greater Hartford by putting philanthropy in action to dismantle structural racism and achieve equity
in social and economic mobility. Made possible by the gifts of generous individuals, families and organizations, the Foundation has awarded grants of more than $849 million since its founding in 1925. For more information, visit www.hfpg.org or call 860-548-1888.