Hartford Foundation Access Grants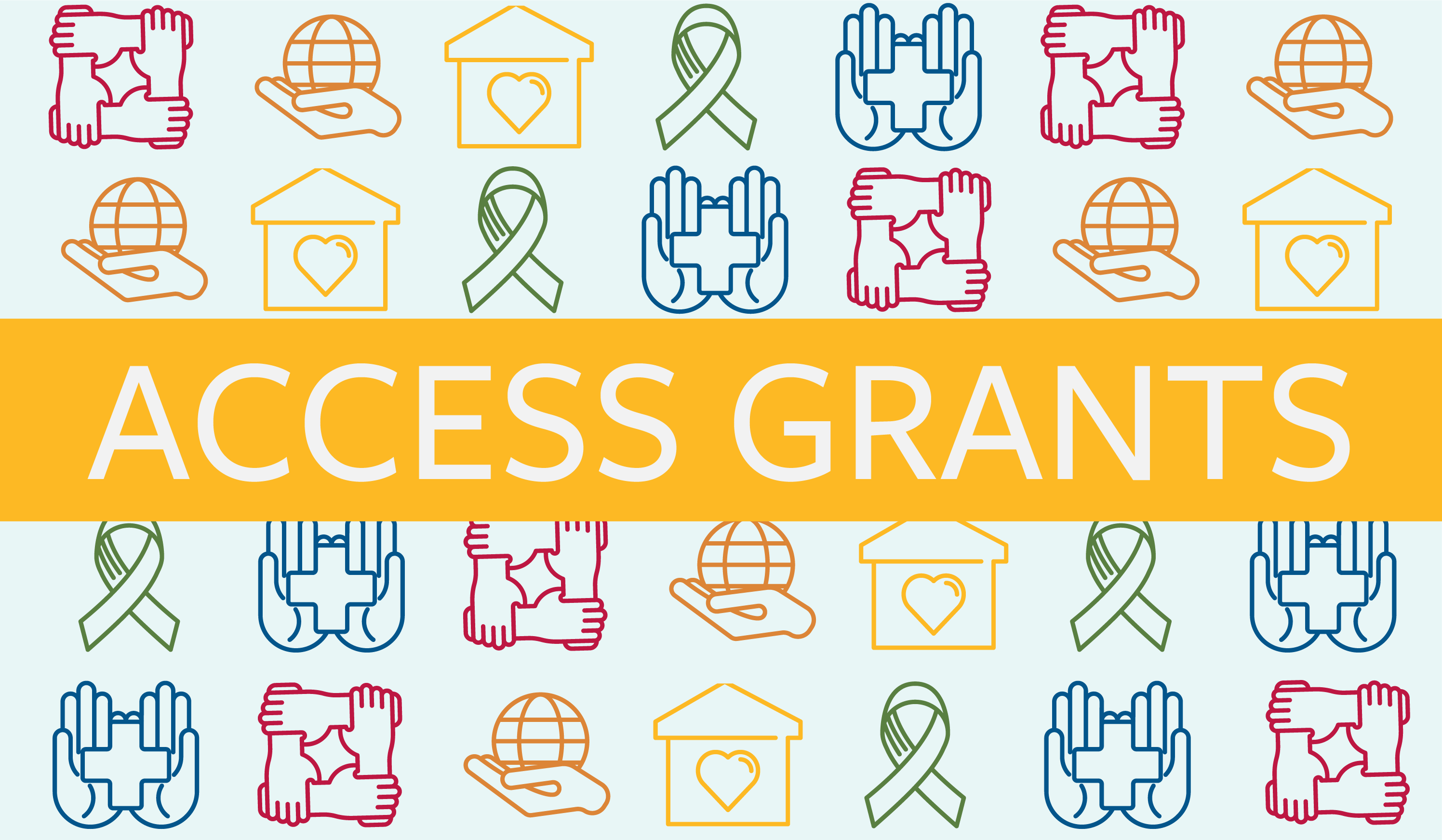 Access Grants from the Hartford Foundation
The deadline for 2023 Access Grants applications has passed. Looking ahead, the Hartford Foundation will be working to provide a new funding opportunity beginning in 2024 that supports organizations, issues and strategies that we may not be currently funding. Please check back in 2024 for more information, or sign up for our Grant Opportunities notification list to receive emails about Access Grants and other future opportunities.
---
Does your organization have a mission or project idea that contributes to the goal of dismantling structural racism in Greater Hartford?
As part of our mission, the Hartford Foundation is taking significant steps to dismantle structural racism and advance equity in social and economic mobility in Greater Hartford's Black and Latine communities.
Access Grants are one way the Foundation is advancing this vision, providing awards of up to $50,000 to nonprofits and community organizations:
whose work is most aligned with the Foundation's strategic priorities,
who may introduce new projects and approaches to advance this mission,
and who are not already receiving a multi-year project grant or core support from the Foundation.
Organizations with projects to help dismantle structural racism in Greater Hartford are encouraged to learn more and submit a proposal. Applicants who have never received a grant from the Foundation, or do not currently have an open grant of $10,000 or more with the Foundation, as well as organizations that are BIPOC-led will be prioritized for support.
Access Grants
Who is eligible?
All nonprofits, or community groups with a fiscal sponsor, that have served Greater Hartford for at least a year and have a mission or proposed project that could be an effective strategy or approach to dismantle structural racism, including by advancing equitable social and economic mobility, are eligible to apply. The Foundation looks forward to learning how our community nonprofit partners believe their work may be contributing to the dismantling of structural racism. We welcome new approaches to advance our outcome areas, as well as new ideas that may fall outside or cut across these outcome areas, but still contribute to this broader vision. Organizations currently receiving multi-year project grants or core support funding from the Foundation are ineligible to apply. Please contact your Community Impact Officer on your current grant if your are unsure about eligibility for an Access Grant.
The Foundation has outlined criteria to assess and prioritize requests for Access Grants. Please review this before applying. If your request does not fit, please view our other grant opportunities or contact the Foundation to see what other opportunities may be available. You may direct general questions at any time to: applications@hfpg.org. Atención disponible (via email) en español también.
If you are looking for support to undertake diversity, equity, and inclusion work within your organization, consider contacting our Nonprofit Support Program: nsp@hfpg.org.
What types of grants are available?
Requests of up to $50,000 over a period of one year will be considered. Grant award size would be in alignment with the size and scope of the work, the agency's capacity to implement the work, and its expected impact. Requests may support new projects or existing efforts, including operating support for organizations who have a mission that is dedicated to dismantling structural racism.
What do we mean by "dismantle structural racism?"
In Greater Hartford and across the country, Black and Latine communities as well as other communities of color face persistent disparities, which create barriers to health, wellbeing and wealth building. These disparities are the result of decades of systemic factors, many of which are still woven into the fabric of our institutions. Our efforts to dismantle structural racism are aimed at shifting power, building equity, influencing attitudes and beliefs, and supporting strategic outcomes that contribute to residents' efforts to reach their potential, with a focus on Black and Latine residents.
What is the timeline for applications?
The deadline for Access Grant applications has passed. The Hartford Foundation will be working to offer a new funding opportunity beginning in 2024 that supports organizations, issues and strategies that we may not currently be funding.
How to apply
Applications for Access Grants are closed. Check back in 2024 for more information, or sign up for our Grant Opportunity notification list to receive information on Access Grants and future opportunities

Frequently Asked Questions
Why is the Foundation prioritizing support to BIPOC-led nonprofits?
Advancing the Foundation's vision of dismantling structural racism and advancing equitable social and economic mobility must include nonprofits led by people with lived experiences of racism. We prioritize BIPOC-led work because our goals require new perspectives and leaders with credibility to engage the people and communities that are most impacted by racism and historical inequity.
Research has shown that BIPOC-led organizations have faced historical disinvestment due to structural racism and funder bias. Currently, BIPOC-led organizations are less likely to be awarded grant funds, contributing to these organizations having budgets 24% smaller than white-led organizations and BIPOC leaders facing greater restrictions from funders regarding how to spend those funds than groups with white leaders.1 The historical disinvestment in BIPOC-led work suggests foundations and individual donors determine it to be a "riskier" investment. Data show that racial bias exists even when comparing funding between nonprofits that have similar focus areas, but leaders from different backgrounds. For example, among nonprofits focused on improving outcomes of Black men, funding to nonprofits with Black leaders was 45% lower than at nonprofits led by white people.2
The Foundation seeks to address this disinvestment and overcome this funder bias by evolving our grantmaking practices to engage and support BIPOC-led organizations at the front lines of addressing inequities experienced in communities of color.
________
1 Nonprofits Led by People of Color Win Less Grant Money With More Strings (Study) (philanthropy.com). See the whole report at Racial Equity In Philanthropy | Bridgespan. See also Savage, B., Dorsey, C., Kim, P., Daniels, C., & Sakaue, L. (2020). Overcoming the Racial Bias in Philanthropic Funding. Stanford Social Innovation Review. https://doi.org/10.48558/7WB9-K440
2 Racial Equity and Philanthropy: Disparities in Funding for Leaders of Color Leave Impact on the Tabl | Bridgespan
Can a grant cover capital expenses for a current project that fits the criteria of the Access Grants?
Yes, all types of requests are "on the table." It's about making the case for why the funds can have an impact in terms of racial and social mobility equity.
Can an organization apply for a grant without a 501(c)(3) tax designation or fiscal sponsor?
The Foundation's grantmaking policies restrict our grantmaking to registered nonprofit, IRS designated 501(c)(3) organizations. Neighborhood associations or community groups interested in seeking support should work with a registered nonprofit organization willing to serve as a fiscal sponsor.
Could funds from Access Grants be used to provide assistance to employers to address hiring barriers?
The Hartford Foundation is unable to provide funding directly to for-profit employers. However, we are interested in supporting the ecosystem for employment efforts and small businesses, for example, when such support would create greater opportunity for adults with barriers to employment. We can only make grants to support those efforts through nonprofits.
Is there a minimum budget size requirement to be eligible for a grant?
No. There is no specific minimum budget size; however, we do require that organizations have existed and have a track record of work and outcomes for at least one year in order to apply.
Is there a preference for supporting programs/projects versus operating support?
No. We are agnostic as to the type of philanthropic tool or the kind of structure of the grant. We are interested to hear the impact that the organization expects to have, how it plans to contribute to dismantling structural racism, promote equitable social and economic mobility as well as the support needed from the Foundation. If flexible support is needed to support this overall mission, we would like to hear that.
Is there a maximum and a minimum grant request?
Requests of up to $50,000 will be considered. The minimum grant request has not yet been explored.
Is virtual programming acceptable?
Yes. Organizations that understand the need for virtual programming and consideration of the current CDC social distancing and other guidelines would be viewed positively. We expect everyone who applies has considered the current health guidelines that we are facing. While we are hopeful that programming will be open and able to be done face-to-face in the not-so-distant future, we are also realistic of what is possible right now and are supportive of keeping people safe. We would encourage organizations to build flexibility into their proposed activities and be able to adapt.
Is there a particular content area of interest for this grant opportunity?
No. All nonprofits serving Greater Hartford that can make a case that the work they are requesting support for might contribute to dismantling structural racism and promoting equitable social and economic mobility are eligible. We welcome a range of different project ideas or types of work and are excited to see what ideas the community has that can contribute to this common goal.
Would a grant proposal receive more points if there is collaboration among agencies?
The rubric doesn't specifically score collaboration, but the rubric does address the consideration of whether applicants consider other stakeholders or service providers, and how the request is fulfilling a gap or is coordinating with other available services. Collaboration is a good way of showing that a conscious effort towards looking at the full "ecosystem" has been made.
What is the Foundation's vision of social and/or economic mobility impact?
We strive to contribute to the dismantling of structural racism and to promote equitable economic and social mobility. This means looking at and attempting to address the needs of Greater Hartford residents facing the greatest disadvantages, the greatest barriers, or the least access across a number of different factors, whether that means access to high quality education, healthcare, stable housing, employment, safety issues, or tables at which decisions are made.
We are working to support efforts that would remove barriers to access and promote more equitable access. Access Grants invite organizations to think about the work that they are doing, the community that they are serving, the needs of their community and barriers they may face to access opportunities and share with the Foundation your organization's ideas on how to make an even greater impact in the community.
Would requests in furtherance of making materials more accessible be appropriate for this opportunity?
Yes. If organization believes there is a project idea that creates greater access to their services (translation and interpretation services, etc.) and therefore contributes to dismantling structural racism and promoting equitable social and economic mobility, we would be open to learning about it.
What percentage of Greater Hartford area beneficiaries should be served by this grant opportunity?
We are prioritizing requests that would serve Greater Hartford 100%. Organizations need to be serving at least 25% of Greater Hartford residents to receive any "points" in our rubric. Even in this case, the budget request would need to be proportional to services or impact in Greater Hartford.
Would scholarship requests to a private school be eligible?
This is unlikely. While it may have a deep impact on a small number of individuals, the scope of the impact would be very limited. With Access Grant funds, we hope to have a broader scale impact, particularly given the limited resources.
Would consideration be given to a grant that educates the Greater Hartford area about a certain faith/cultural focus as part of a cultural center?
The Hartford Foundation has a restriction on supporting sectarian efforts, particularly proselytizing, so we could not support a request that would be seen as proselytizing. However, if an organization believes that they have a proposal that will contribute to dismantling structural racism and promoting equitable social and economic mobility, please feel free to apply or reach out to have an additional conversation.
Some organizations may want to focus internally first to see their own areas for improvement within DEI in order to better position themselves to work for equity in their community. Would Access Grants offer assistance for this area of focus?
This sort of request for "internal DEI work" could be considered for Access Grants but it might be better supported through a request to our Nonprofit Support Program. In addition to funding the work itself, NSP can provide guidance in selecting a consultant or identifying other supports.