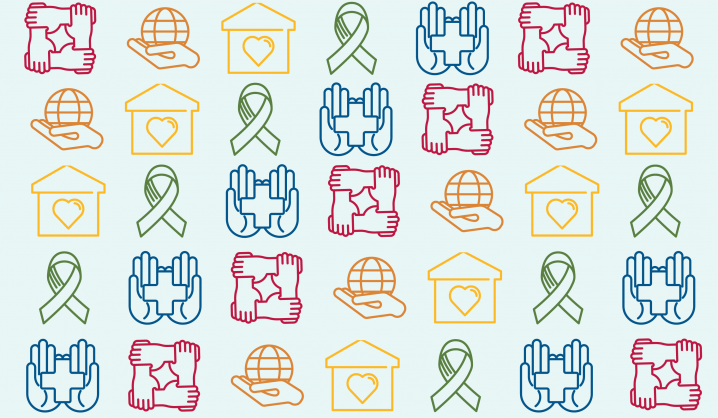 Hartford Foundation Announces More Than $600,000 in Grants to Support Efforts to Dismantle Systemic Racism and Achieve Equity in Social and Economic Mobility
In March, the Hartford Foundation for Public Giving launched its Access Grants opportunity to identify nonprofits aligned with its strategic priorities to dismantle structural racism and increase social and economic mobility for Black and Latinx residents of Greater Hartford. After announcing the first round of grants in July, the Foundation has approved a second round of Access Grants, totaling more than $607,000 to 17 organizations. Over the two rounds of funding, the Foundation has awarded more than $1.1 million to 33 nonprofits.
"The Hartford Foundation's Access Grants offer a new way for our organization to engage and support nonprofit partners in the effort to break down decades of structural racism and provide new opportunities to enhance Black and Latinx residents' social and economic mobility," said Hartford Foundation Director of Community Impact Grantmaking Megan Burke. "Through these grants, we aim to respond to nonprofits who may be new to the Hartford Foundation or not as familiar with Foundation procedures, with a focus on organizations with leadership and staff that are reflective of the community and that are serving and having deep relationships in communities of color or other traditionally marginalized communities. "
The Access Grants were augmented by dollars from the Foundation's Action Fund for Racial Justice which was created in June to engage donors in supporting local organizations on the frontlines of advancing racial justice. To date, the Action Fund has contributed more than $170,000 to supplement the Foundation's endowment dollars for a wide variety of grants that support inclusive socio-economic mobility, youth development and employment, community college persistence and completion, and the Greater Hartford arts sector.
Foundation staff reviewed nearly 80 Access Grant requests of up to $50,000 each, for work to be carried out over a period of one year. Grant award size is based on the scope of the proposal, the agency's capacity to implement the work, and its expected impact. These proposals support both new projects and existing efforts, including operating support for organizations with a mission that is dedicated to dismantling structural racism. While initial grant awards cover a one-year period, work to dismantle racism and advance equitable economic and social mobility will require sustained efforts, beyond one year. As such, Access Grant recipients that can demonstrate progress towards and the potential for impact during and beyond the grant period will be considered for continued support in subsequent years.
| | | |
| --- | --- | --- |
| Organization Name | Project Description | Grant |
| | Black Business Alliance Main Street & Beyond provides technical assistance, assessment services, action planning, and access to micro-grants to address technology and marketing improvements to scale 10-25 black-owned businesses in CT (at least 40% in Hartford). | $40,000 |
| Connecticut Women's Education and Legal Fund | Women of Color First: Increase access to justice by educating women on their rights, and more effectively responding to the urgent legal and systemic advocacy needs of the community. Engage 10-15 women of color to develop 2022 legislative agenda; empower 200 women of color to successfully understand and navigate civil legal and social justice systems to advance economic well-being and social mobility; empower clients to action on their legal situation. | $50,000 |
| | GALLOP Mental Health Recruitment, Mentoring and Training program- creating a pipeline for recruiting and training licensed clinicians in culturally competent equine-assisted behavioral and mental health interventions to meet the growing need of BIPOC youth, young adults, and families. Program will train and certify 20 BIPOC CT State licensed Mental Health Professionals (MHP) to practice Equine Assisted Psychotherapy (EAP) along with 15 experienced horse professionals to become Horse Specialists that will work alongside the MHP in delivering (EAP). | $25,000 |
| Educators for Excellence, Connecticut Chapter | Equitable School Funding: Organize and develop leadership among teachers to advocate for the full implementation of Senate Bill 948: "An Act Addressing Education Funding and Racial Equity in Connecticut". Expedite the phase-in process of the bill to coincide with the federal support expiring in 2024 (rather than extending phase-in until 2028, as currently proposed) | $22,000 |
| | Dismantling Structural Racism in Avon, CT: Strategic Planning & Community Dialogues to raise community awareness through facilitation of educational opportunities and community dialogues around race-related issues. Outcomes will include development of strategic plan with goals and metrics for measuring progress against goals, and workplan, including funding plan. Primary goal is to develop a foundation to have dialogue about structural racism in community, change hearts, minds, and beliefs among those who participate as well as overall community building. | $18,090 |
| | Facility renovations and improvements at Hartford location needed to expand and improve services. Client progress will be compiled and evaluated using client data entry system software. Charity Tracker keeps data on all services and the demographics of the people served. | $16,298 |
| | HartBeat Ensemble's Anti-Racism Forum Theatre Project: Teaching educators to using performing arts to model the dismantling of structural racism through their behavior, curriculum, and problem-solving in the classroom. | $50,000 |
| | Hartford Decides Year Six: Develop a more expansive and inclusive outreach process to engage Hartford residents in a participatory budgeting process that inspires democratic action. Effort will increase engagement of residents as measured by unique events held, number of participants at each and the number of conversations with residents at public events. Effort culminates in 2-5 capital improvement projects being selected for funding in line with the interests of Hartford residents. | $30,000 |
| | Care Coordination Project: Connect residents in North Hartford to preventative care such as primary and dental care through care coordination network to create a culture of health in North Hartford. Effort will increase the number of residents connected to care; the number of residents who have completed their initial appointment; and the number of residents still connected to care at the 1-year mark. | $50,000 |
| | Career Pathways: Prepare low-literate adults with language, digital, and professional skills needed to enter the workforce. Goals include 100 low-skilled, unemployed adults completing career readiness training; 40 will be employed; 35 will enroll in job training programs or college, 20 will complete food service job training/servsafe certification. | $50,000 |
| | Programs that aim to financially support marginalized Hartford residents, train/skill build for civic engagement, and create access to life sustaining care and support. Effort will create connections between Hartford residents; build partnerships with CBOs and sustain a network of community care. | $50,000 |
| | Develop a framework for Culturally Responsive-Sustaining Education (CS-RE) for PK-12 and college-level educators in the Greater Hartford region to better serve BIPOC youth, and youth from other historically excluded groups. Co-authors and contributors, especially youth and families who have been historically marginalized will be empowered to share their wisdom and lived experiences beyond the grant period. | $50,000 |
| | Leaders for Equitable & Appropriate Distribution of Educational Resources (LEADER): Online (bilingual) school finance certificate program developed and piloted for Greater Hartford residents. After completion of 6-module program, participants will be able to: demonstrate understanding of how education funding in Connecticut works; integrate history of school finance in Connecticut with segregation & systemic racism; understand role of the Sheff vs. O'Neill ruling & its impact on school choice in Hartford region; and increase civic engagement around issues of equity within state and school finance policy. | $50,000 |
| | Blue Hills Avenue Social Justice Collaborative: creation of a faith-based collaborative to involve Hartford residents in actively addressing the city's social justice challenges. Collaborative will promote full active and equal participation in social justice causes identified and shaped by mutual values and community needs across 10 churches in Hartford; An average of 15 parishioners from each church will receive social justice training. | $30,450 |
| | Amistad on the Go: Bring elements of the Amistad Center's collection of more than 7000 pieces of art and artifacts that tell the African American story directly into the Greater Hartford community. Effort intended to create a deeper connection with the community that surrounds the museum in downtown Hartford by being physically present in neighborhoods; increase awareness of the Center in outlying suburbs; increase cultural pride and connection in African Diasporic communities. | $30,000 |
| | Build capacity for community engagement around education equity and elevate youth voices to inform solutions by developing a Sheff Movement Student Activist Committee and a Community-Based Advocacy Team. Work will strengthen the voices of the youth and provide a platform to express their desire for an equitable and fully integrated school system. Project will create updated district-wide tools and strategies to expand school-based climate surveys and school-based racial equity projects throughout the region. | $35,000 |
| Voce, Inc. | Voices of Hartford 2021-2022 Choral Program: Providing young BIPOC musicians with the training, resources, performance opportunities & access they need to realize their talents and to participate meaningfully in Greater Hartford's art workforce. Program will recruit 12 male singers from Hartford to participate in 2021-2022 choir; produce a community concert and participate in other neighborhood and city-wide events. Voce intends to track whether choir members complete high school/ continue to music or performance related higher ed. | $10,310 |
For more information, contact Tara Sundie at 860-548-1888 or tsundie@hfpg.org or go to hfpg.org/nonprofits/access-grants.
The Hartford Foundation for Public Giving is the community foundation for Hartford and 28 surrounding towns. Through partnerships, the Foundation seeks to strengthen communities in Greater Hartford by putting philanthropy in action to dismantle structural racism and achieve equity in social and economic mobility. Made possible by the gifts of generous individuals, families and organizations, the Foundation has awarded grants of more than $849 million since its founding in 1925. For more information, visit www.hfpg.org or call 860-548-1888.