Catalyst Endowment Fund 2023 | Preventing Homelessness: Investing in Housing Access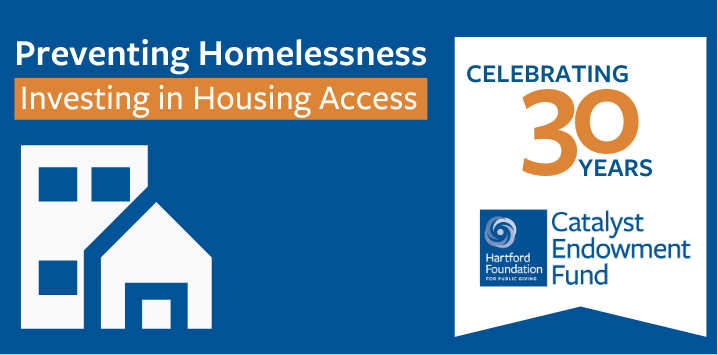 It's time to invest in housing access.
Increasing costs of rent across the region have made access to safe, affordable housing a challenge for many Greater Hartford residents. Over the past year, more than 80,000 calls have been received by Hartford's 2-1-1 information and referral service from people searching for housing or housing assistance. Of these calls, 45% needed assistance with shelter placement. Likewise, the number of unhoused people in Connecticut rose last year for the first time in more than a decade. We recognize that communities of color face systemic inequities that pose a significant barrier to housing access. The need to invest in homelessness prevention is clear. This year, we'll hear from experts, explore solutions, and ultimately take action toward our goal of ensuring housing for all.
Visit the Catalyst Endowment Fund homepage for more information about the fund.
JOIN THE CATALYST ENDOWMENT FUND TODAY.
Are you ready to join people from across the region who share the values of thoughtful giving? Join Catalyst online or print this form to mail in with your check. Member information will be sent to you shortly.
2023 Timeline
Education Session: March 21, 2023 │5:30-8:00 PM
The Catalyst Endowment Fund hosted the first educational session of 2023 at the Mark Twain House & Museum. The event kicked off with a special presentation to celebrate the fund's 30th year of catalytic grantmaking; view the Catalyst Endowment Fund's 30th Anniversary Video below.
Attendees also heard from keynote speaker, Brandon McGee, Deputy Commissioner of the Department of Housing, around the fund's 2023 topic of preventing homelessness.
RELATED ARTICLES AND REPORTS
Hispanics celebrate their 'Orgullo y Poder' while addressing housing insecurity in CT (Connecticut Public, May 20, 2023)

Inventory Crisis Creates Housing Shortage (CT News Junkie, May 16, 2023)

Tracking housing affordability under 8-30g's 4 categories is unworkable (CT Mirror, May 16, 2023)

Homelessness among CT students is on the rise. Here's why.(CT Insider, April 19, 2023)

CT students experiencing homelessness could increase, data show (CT Mirror, February 13, 2023)

CT to receive $18 million federal grant to address homelessness (CT Mirror, February 3, 2023)