Wethersfield Greater Together Community Fund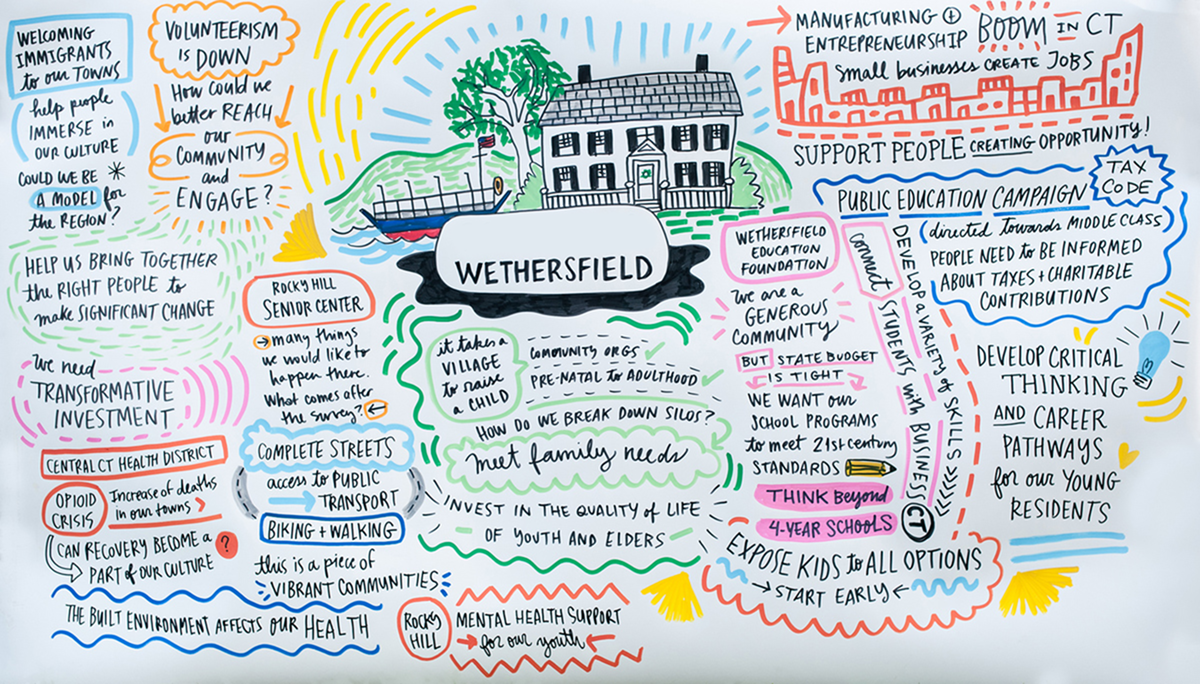 The Hartford Foundation for Public Giving has established a $100,000 Greater Together Community Fund for the Town of Wethersfield.
The purpose of the Greater Together Community Funds program is to:
support the community in taking ownership around the needs in their towns
encourage broad and inclusive civic engagement and
anchor the Hartford Foundation in each town.
Your town has formed an advisory committee to manage a participatory process to identify your town's needs and allocate community funds.
---
Call for Grant Applications
The Wethersfield Community Fund is pleased to announce a competitive grant opportunity offering a total of up to $30,000 for one or more nonprofits proposing projects to benefit the residents of Wethersfield.
Eligibility
Any nonprofit registered as a 501c3 organization that serves the residents of Wethersfield is eligible to apply. Groups of town residents may prepare an application in partnership with a registered nonprofit that has agreed to serve as a fiscal agent for the proposed project. Nonprofits do not need to be based in Wethersfield. The Town of Wethersfield may also serve as a fiscal agent for applicants. If a group of town residents has an idea for a project and needs help identifying a fiscal agent, please email the Advisory Committee at WethersfieldAdvisoryFund@gmail.com.
Individuals and for profit businesses are not eligible to apply. Civic organizations that do not have a 501c3 IRS designation are not eligible to apply.
Download the Request for Proposals to learn more.
How to Submit: Please download the application and submit your completed application with budget to WethersfieldAdvisoryFund@gmail.com no later than Wednesday, June 2, 2021.
Key Dates
Release of Request for Applications: April 16th, 2021
Information session/FAQ video: TBD
Applications Due: June 2nd, 2021
Grant recipients announced: July 1st, 2021
Expected Grant Start Date: August 2021
---
Background Information
The advisory committee administered a survey from January 24th to March 1st, 2021. Based on the information provided from the survey, the committee was able to detemine the greatest areas of concern for Wethersfield residents were:
Support Services, including but not limited to: food assistance, energy assistance, at-risk youth programs, support for victims of domestic violence, support for disabled, elderly, or low-income residents
Mental Health Services
Public Safety
Diversity and Equity
Food Insecurity
Affordable Childcare
Economic Development
Learn more about the Wethersfield Greater Together Community Fund Prioritization Survey Outcomes and view the demographic results.
---
Advisory Committee Members
The role of the Advisory Committee is to design and lead an inclusive process to identify the needs in your community, and design a grantmaking process aimed to ensure that the Greater Together Community Funds can have the greatest impact for the benefit of town residents.
The Advisory Committee members for your town are:
Melanie Borgen, John Camilliere, Debra Cohen, Tara Costanzo, Sean Dunn, Jennifer Glick, Hannah Granfield, Christina Morales, Wilda Moya, Venkata Natarajan, Bonnie Smith, Kevin Tedesco, Sue Tenorio, Christine Traczyk, Emily Zambrello
Click here to read the Advisory Committee Conflict of Interest Policy
For media inquiries, please contact Chris Senecal at csenecal@hfpg.org.
---