West Hartford Greater Together Community Fund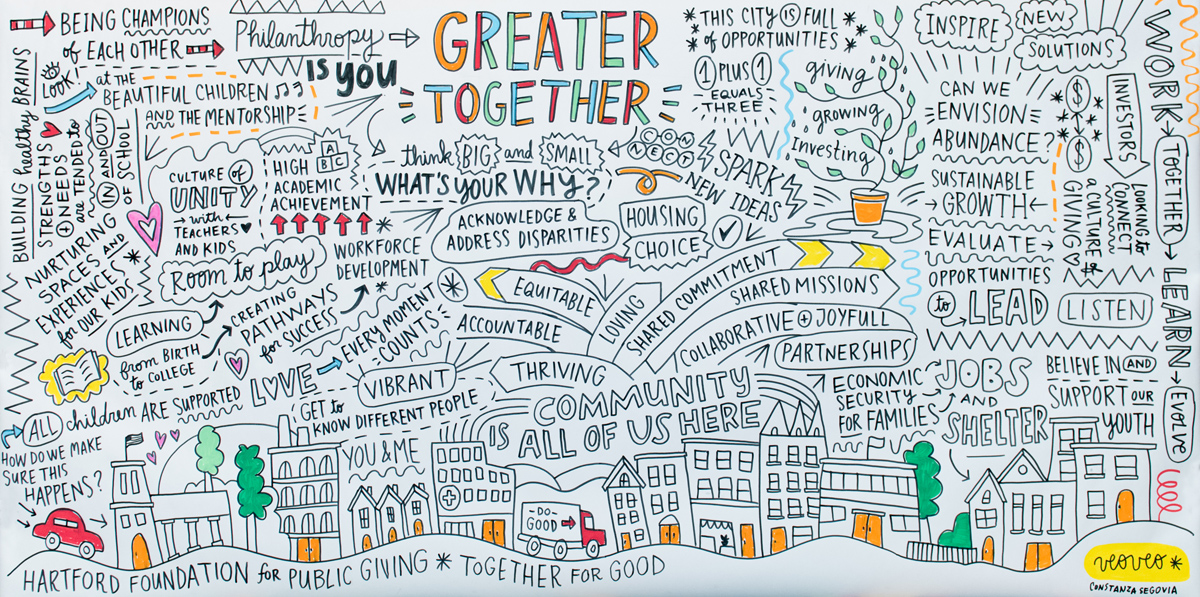 The Hartford Foundation for Public Giving has established a $100,000 Greater Together Community Fund for the Town of West Hartford.
The purpose of the Greater Together Community Funds program is to:
support the community in taking ownership around the needs in their towns
encourage broad and inclusive civic engagement and
anchor the Hartford Foundation in each town.
Your town has formed an advisory committee to manage a participatory process to identify your town's needs and allocate community funds.
---
West Hartford Greater Together Community Fund Announces Inaugural Grant Awards
In 2021, the West Hartford Greater Together Community Fund Advisory Committee awarded seven grants, in amounts ranging from $1,850 to $5,500, to help fund programs or projects that will "improve or enhance the quality of life in West Hartford or otherwise contribute to address a direct need" of the West Hartford Community. A total of $25,000 was awarded to the following organizations:
Autism Families Connecticut ($1,850) – to support Friday Night Teen Socials by providing supplies and materials for virtual teen nights.
Bridge Family Center ($3,000) – to support the West Hartford Teen Center garden project; add a raised bed, create rainwater catch and irrigation system and build a greenhouse; gift card to teens who support program; free produce distribution.
Copper Beach ($3,950) – to fund hiring of BIPOC facilitators to develop a podcast focusing on daily mindfulness practices to support BIPOC communities.
Golden Door: A Center for Immigrants ($3,700) – for the Building Bridges Book Club, an intercultural book club that meets at the West Hartford Public Library. Participants will receive English language learning support, while building relationships, sharing cultures and exchanging thoughts. The program is accessible to all West Hartford immigrants.
Noah Webster House ($2,000) – to purchase benches for Unity Green to support comfortable viewing of the Witness Stones project.
West Hartford African American Social and Cultural Organization ($5,000) – to purchase and install a commemorative plaque in honor of Lemuel Haynes, the first ordained black minister in the United States.
West Hartford Fellowship Housing ($5,500)- to support expansion of an existing nutritional program to encourage healthy choices to seniors 62+.
---
Advisory Committee Members
The role of the Advisory Committee is to design and lead an inclusive process to identify the needs in your community, and design a grantmaking process aimed to ensure that the Greater Together Community Funds can have the greatest impact for the benefit of town residents.
The Advisory Committee members for your town are:
Esam Boreaey, Michael Corrente, Ana Davis, John Decina, Tracy Wu Fastenberg, Mike Fournier, Bre Lamoureaux, Justine Mitsock, Danielle Moghadam, Obi Nwafor, Evan Piccioli, Penny Smith, Wanda Williams-McCormack,
For more information about the advisory committee, please review the Advisory Committee FAQ.
Click here to read the Advisory Committee Conflict of Interest Policy.
For media inquiries, please contact Chris Senecal at csenecal@hfpg.org.
---