West Hartford Greater Together Community Fund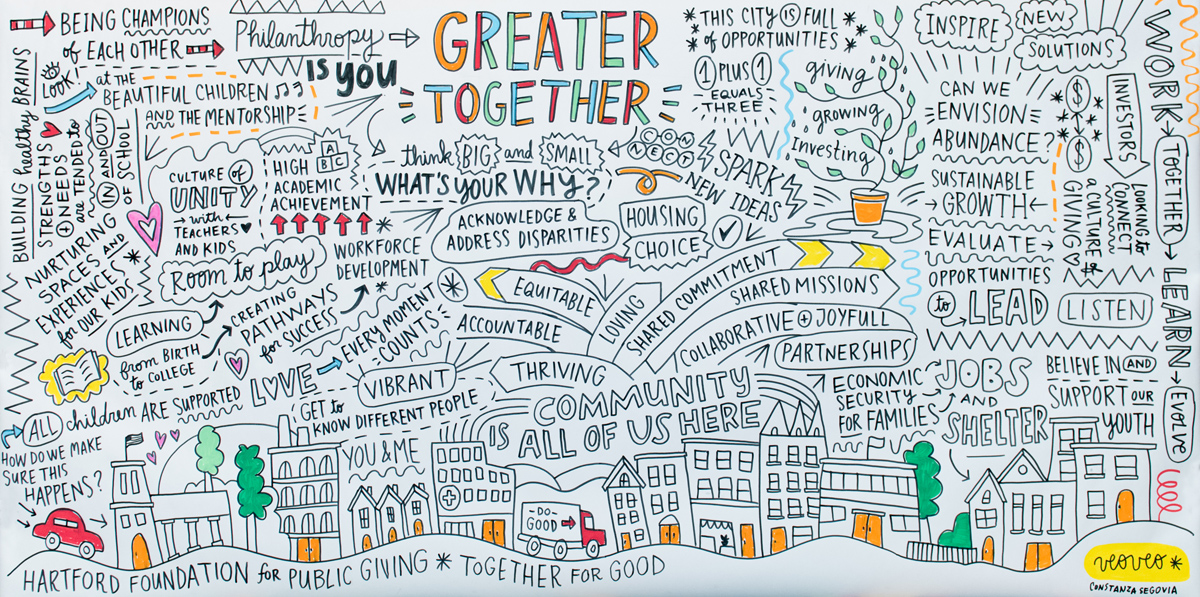 The Hartford Foundation for Public Giving has established a $100,000 Greater Together Community Fund for the Town of West Hartford.
The purpose of the Greater Together Community Funds program is to:
support the community in taking ownership around the needs in their towns
encourage broad and inclusive civic engagement and
anchor the Hartford Foundation in each town.
Your town has formed an advisory committee to manage a participatory process to identify your town's needs and allocate community funds.
Questions about the West Hartford Greater Together Community Fund? Email westhartfordcommunityfund@gmail.com
---
West Hartford Greater Together Community Fund Grant Awards
View West Hartford's Second Round Grant Awards (2022)
In 2022, the West Hartford Greater Together Community Fund made a second round of grant awards to ten organizations, each for $5,000, to fund programs or projects that will "improve or enhance the quality of life in West Hartford or otherwise contribute to address a direct need" of the West Hartford community.
Autism Families CONNECTicut - to support Friday Night Teen Socials for autistic teens in the community who feel disconnected from fun and friendship, giving the opportunity to meet and connect with friends, build social skills with peers, and have fun.
Children's Reading Partners - to support its core program of offering volunteer literacy support to students, educators and families in West Hartford.
Connecticut Alliance for Victims of Violence and Their Families, Inc. (CT-ALIVE) - subsidize the cost of the Never Going Back to Abuse Project in West Hartford, providing critical support to those who have experienced domestic violence, sexual assault, child abuse, and more through workshops and mentoring sessions.
Dignity Grows, Inc. - support 500 West Hartford residents through its Hope in a Bag program to help address Period Poverty and hygiene inequity. Totes including menstrual and comprehensive hygiene items are respectfully distributed through local social service agencies.
Golden Door: A Center for Immigrants - Building Bridges Book Club, open to all West Hartford immigrants in partnership with West Hartford Public Library. Participants will receive English language learning support, build relationships, share cultures and exchange thoughts.
Jewish Teen Learning Connection (JT Connect) - Summer of Service, a weeklong immersive social- action camp offering 7th - 12th graders the chance to explore needs in our local community through volunteer projects, develop leadership skills, and build relationships.
Seniors Job Bank, Inc. - the creation of Next Path Center serving West Hartford residents aged 50 and over who are looking to re-enter the workforce, change careers, or explore an interest through a new job.
Voices of Hope - traveling Trunks of Hope available to schools and community organizations. They will be filled with artifacts from the life of a West Hartford resident who is a genocide survivor accompanied by lessons plans, class materials, and more.
Volunteers in Psychotherapy - provide ninety (90) heavily discounted therapy sessions to West Hartford residents who, in return, will provide 360 hours of volunteer work to local organizations of their choice in a unique model to provide private, affordable, accessible mental health care.
West Hartford Parent Community Equity, Diversity, and Inclusion Groups (WH EDI) - Building Community Connections and Belonging for West Hartford Families of Color program providing social events and educational programs focused on the needs of families of color whose dependents attend WHPS.
View West Hartford's Inaugural Grant Awards (2021)
In 2021, the West Hartford Greater Together Community Fund awarded seven grants totaling $25,000 to local organizations committed to improving the quality of life for West Hartford residents.
Autism Families Connecticut to provide supplies in support of Friday Night Teen Socials 2021-2022
Copper Beech Institute, Inc. to support hiring BIPOC facilitators to broaden the impact of mindfulness programming
Golden Door of Greater Hartford, Inc. to support the Building Bridges book club and language class
Noah Webster House to support purchasing benches for the Witness Stones
The Bridge Family Center, Inc. to support enhancements to the teen center garden
West Hartford African American Social & Cultural Organization (Sponsored Org: Beta Iota Boule Foundation, Inc.) to support the creation of the Lemuel Haynes Memorial
West Hartford Fellowship Housing, Inc to support expansion of an existing nutritional program to encourage healthy choices to seniors 62+
---
Advisory Committee Members
The role of the Advisory Committee is to design and lead an inclusive process to identify the needs in your community, and design a grantmaking process aimed to ensure that the Greater Together Community Funds can have the greatest impact for the benefit of town residents.
The Advisory Committee members for your town are:
Esam Boreaey, Michael Corrente, Ana Davis, John Decina, Tracy Wu Fastenberg, Mike Fournier, Bre Lamoureaux, Justine Mitsock, Obi Nwafor, Evan Piccioli, Penny Smith, Wanda Williams-McCormack
For more information about the advisory committee, please review the Advisory Committee FAQ.
Click here to read the Advisory Committee Conflict of Interest Policy.
For media inquiries, please contact Chris Senecal at csenecal@hfpg.org.
---