Tolland Greater Together Community Fund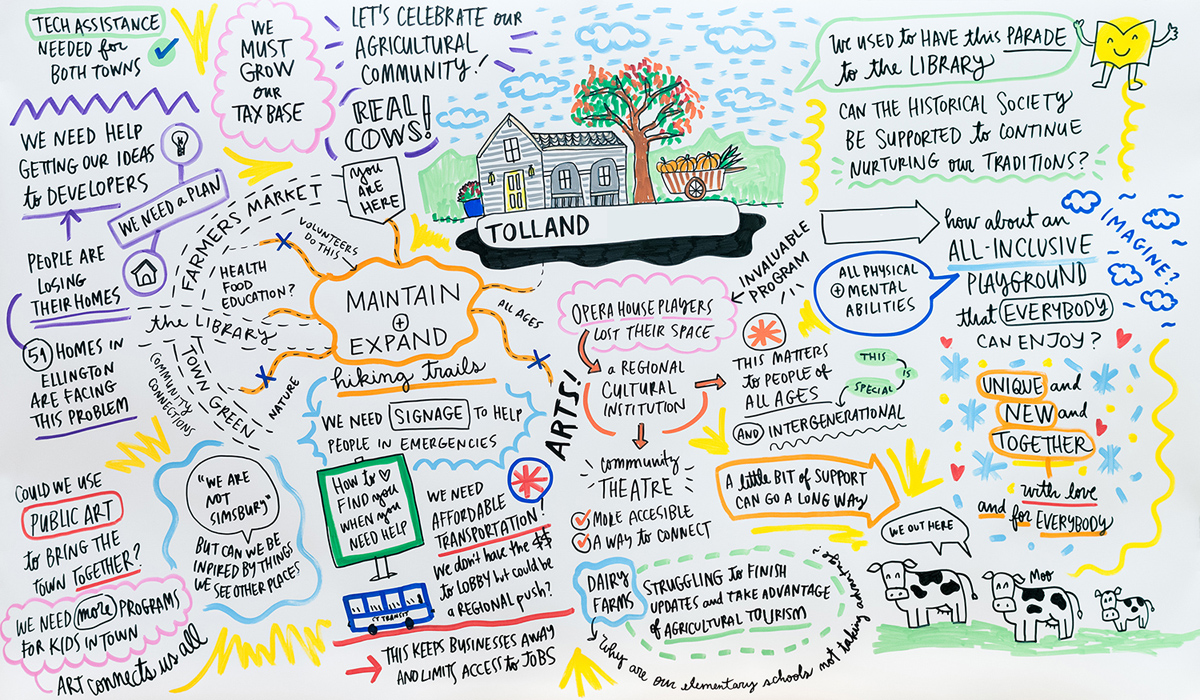 The Hartford Foundation for Public Giving has established a $100,000 Greater Together Community Fund for the Town of Tolland. $50,000 is available over a period of years for grant opportunities that serve Tolland. $50,000 remains in a permanent endowment. Donations can be made to the Tolland fund here.
The Tolland Greater Together Community Fund aims to:
support the community needs of Tolland residents.
encourage broad and inclusive civic engagement.

maintain a relationship between the Hartford Foundation and Tolland.
---
Announcing Call for Grant Applications
The Tolland Greater Together Community Fund Advisory Committee has announced an open call for grant applications. The goal is to award grants that will support programs addressing a need that improves the quality of life for the citizens of the Tolland community.
November 8, 2021 grant application is available
December 17, 2021 last day for acceptance of grant applications
March 11, 2022 notification of grant awards
March 25, 2022 funding becomes available
APPLICATION REQUIREMENT
Projects that primarily benefit Tolland citizens.
Non-profit 501(c)(3) organizations that serve the citizens of Tolland.
Tolland individuals or groups of citizens may submit an application in partnership with a registered non-profit organization that has agreed to serve as the fiscal agent for the proposed project.
509(a)(3) charities and private foundations are not eligible.
Religious organizations can apply for projects that benefit the broader community but are not for projects religious in nature.
GRANT AWARDS
Grant awards are for a minimum of $250 and a maximum of $5,000.
HOW TO APPLY
Please complete the online application shared below. Organizations can submit only one application.
---
Tolland Greater Together Community Fund Announces Inaugural Grant Awards
The following organizations were recipients of Inaugural Grant awards during May 2021:
Awarded organizations can use this online form at the end of their grant period to report on the use of their funds. ​​
---
Advisory Committee Members
An advisory committee of Tolland residents has been formed to manage a participatory process to identify Tolland's needs and allocate community funds. The advisory committee has organized and developed a process for providing grants to nonprofit organizations that serve Tolland residents.

The Tolland Community Fund Advisory Committee members include Patrick Coffua, Chris Coleman, Sarah Farrell, Carol Freedman, Jerry Griffin (co-chair), Celeste Senechal (co-chair), Peter Sartori, and Andrea Spak.

The purpose of the Advisory Committee is to:
learn about needs and opportunities in Tolland;
promote awareness to Tolland residents of community needs and opportunities;
decide on priorities for funding to meet those needs;
recommend grants to be made from the funds set aside by the Hartford Foundation for Public Giving;
inspire continuing growth in philanthropic giving and volunteer service in our town; and
solicit contributions to fund future grant awards.
---
Call for Advisory Committee Members
The Tolland Advisory Committee is now accepting applications for membership from interested residents. To be eligible, you must be a resident of Tolland, at least 14 years of age and not a current elected official of Tolland. Previous experience in community organizations or grantmaking is not required. We are welcoming and encouraging interested residents to apply!
The application (PDF document) can be emailed to hfpg4tolland@gmail.com or completed directly online through this link.
Find out more in the Advisory Committee FAQ and Advisory Committee Conflict of Interest Policy.
For media inquiries, please contact Chris Senecal, Senior Public Policy and Media Relations Officer at csenecal@hfpg.org or contact the Tolland advisory committee at hfpg4tolland@gmail.com.