Suffield Greater Together Community Fund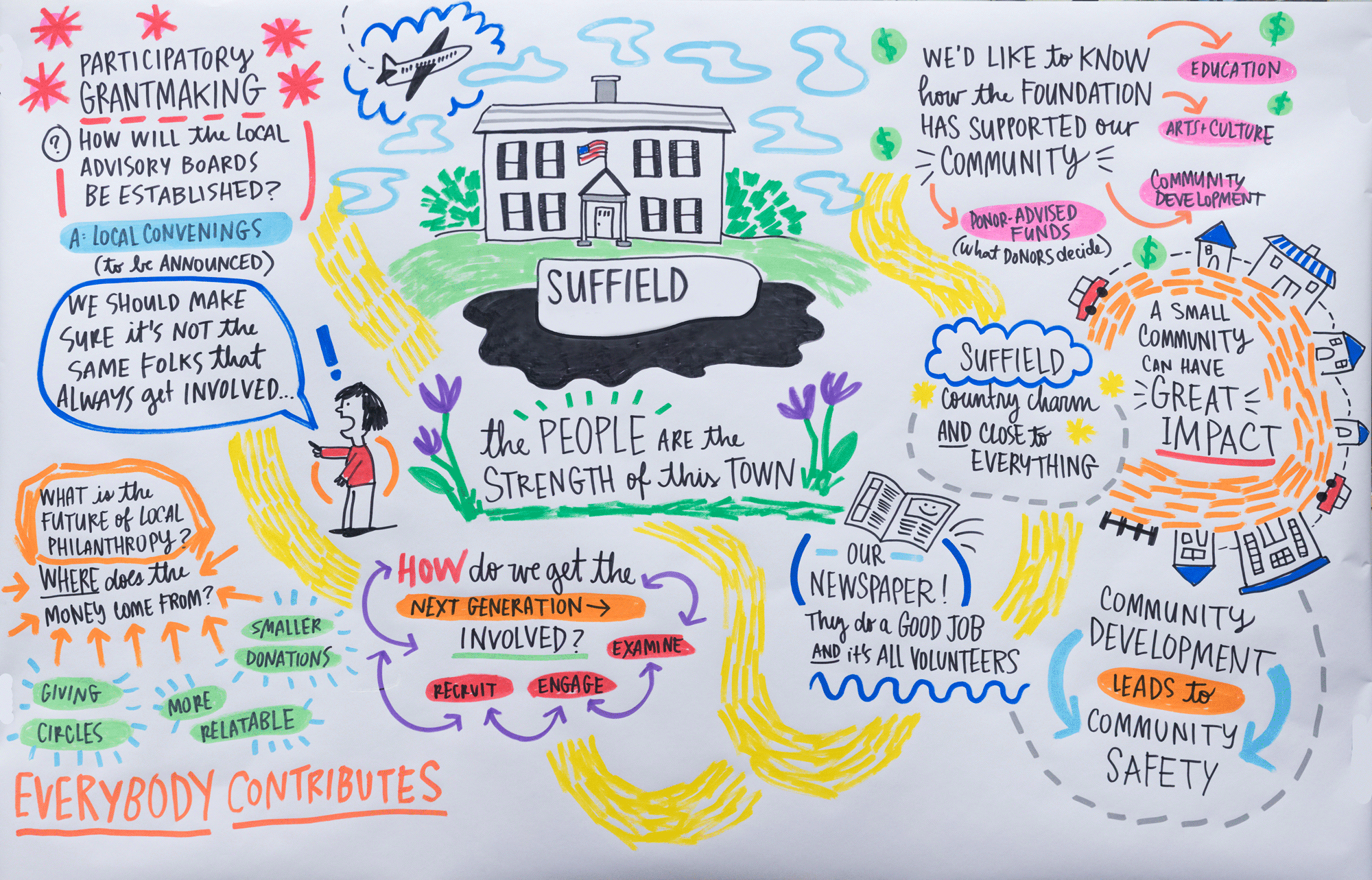 In 2019, the Hartford Foundation for Public Giving established a $100,000 Greater Together Community Fund for the Town of Suffield. The Hartford Foundation's Board of Directors recently approved additional funding for each town in 2022, contributing an additional $50,000 to the Suffield Greater Together Community Fund.
The purpose of the Greater Together Community Funds program is to:
support the community in taking ownership around the needs in their towns
encourage broad and inclusive civic engagement
anchor the Hartford Foundation in Suffield and 28 other towns in the region
---
Join the Suffield Advisory Committee
Suffield Greater Together Community Fund Advisory Committee is now accepting applications for committee members.

The Suffield Advisory Committee is looking forward to welcoming new members. To be eligible, you must be:
• a resident of Suffield
• at least 14 years of age
• not a current elected official of Suffield

Previous experience in community organizations or in grant-making is not needed. Individuals who have not previously participated in community organizations are welcome and encouraged to apply.

Individuals who are interested in applying can visit https://forms.gle/27Yki6nJxiHrCTPd7 to fill out an application. The deadline for applications is Wednesday, May 31, 2023.
---
Suffield Greater Together Community Fund Grant Awardees
The Suffield Greater Together Community Fund has awarded grants in its most recent grant cycle totaling $31,076.00 to nine different groups that support the Suffield community. The grant recipients, and the projects the funds will support, are:
ABAR Suffield, Inc. – Suffield LGBTQIA+ Pride 2023 & Suffield Commemorates Juneteenth 2023
Farmington Valley Trails Council – Support for Amenities Along the Trail in Suffield
Friends of Suffield Youth Outdoor Adventure, Inc. – Female Troop 262 Start-Up Gear
Nutmeg Senior Rides, Inc. – Volunteer Recruitment Project
Operation Fuel, Inc. – Emergency Energy Assistance for Suffield
Suffield Cooperative Preschool – Scholarship Fund Establishment
Suffield Garden Club, Inc. – Trees for Suffield Initiative
Suffield Volunteer Ambulance Association – Patient Advocacy Team Updates
The Friends of the Farm at Hilltop, Inc. – Painting the Big White Dairy Barn
The following organizations were recipients of inaugural grant awards during August 2021:
---
Advisory Committee Members
Suffield's inaugural advisory committee designed and led an inclusive process to identify the needs in your community. The committee then designed and led a grantmaking process aimed to ensure that the Greater Together Community Funds have the greatest impact for the benefit of town residents. Now, the Advisory Committee is filling vacancies of inaugural members who committed to a single year term.
The current Advisory Committee members for Suffield are:
Alice Arden, Animesh Chandra, Kacy Colston, Richard Deenihan, Ann Franczyk, Maria Norman, Carol Sue Scott, Michael Welch
Click here to read the Advisory Committee Conflict of Interest Policy. For more information about the advisory committee, please review the Advisory Committee FAQ.
For media inquiries, please contact Chris Senecal, Senior Public Policy and Media Relations Officer at csenecal@hfpg.org or Advisory Committee co-chairs, Rick Deenihan and Michael Welch at suffieldgtcf@gmail.com.
---