Hebron Greater Together Community Fund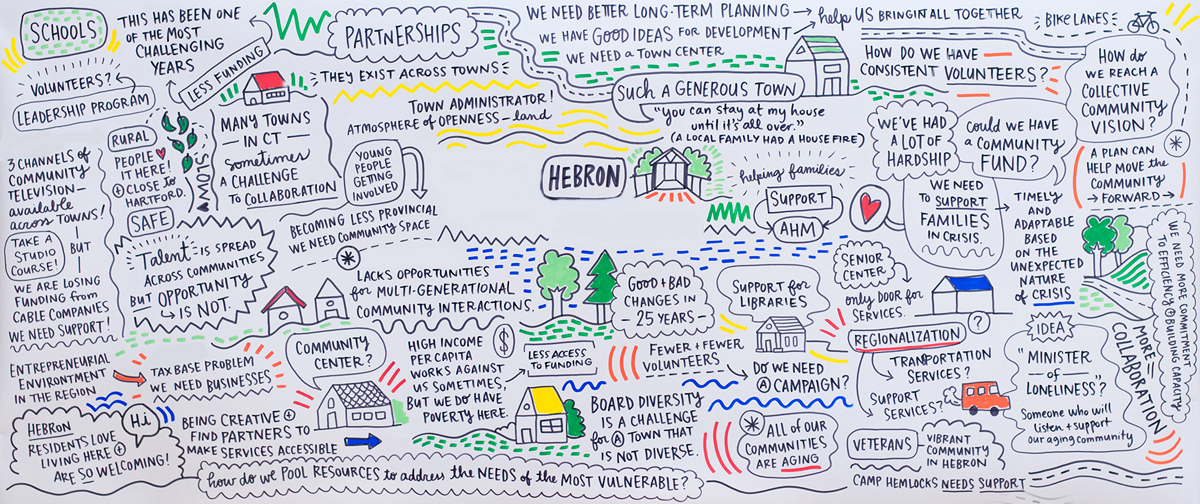 The Hartford Foundation for Public Giving has established a $100,000 Greater Together Community Fund for the Town of Hebron.
The purpose of the Greater Together Community Funds program is to:
support the community in taking ownership around the needs in their towns
encourage broad and inclusive civic engagement and
anchor the Hartford Foundation in each town.
---
Call for Letters of Interest (LOI)
The Hebron Greater Together Community Fund Advisory Committee is seeking Letters of Interest with the goal of awarding grants ($) to create new events, activities, services or special interest groups that improve the quality of life for the residents of Hebron. The deadline to submit an LOI is October 15, 2022. Grants of up to $10,000 will be awarded by the end of December, 2022.
The Committee will judge each Letter of Interest based on the 2022 Goal and Objectives of the Hebron Greater Together Community Fund.
Download the LOI to learn more
NOTE: Letters of Interest or questions should be emailed to hebroncommunityfund@gmail.com.
---
Grant Awards
In July 2021, the Hebron Greater Together Community Fund made inaugural grants to eleven community projects, $25,000 in total. These grants are to fund projects that improve or enhance the quality of life in Hebron or otherwise contribute to address a direct need in the town.
Friends of the Office of State Archaeology -$4,000 used "to foster a multidisciplinary collaboration focused on Hebron's Cesar Peters home site among RHAM Middle and High School staff, State Archaeologist Office, Hebron Historical Society, and the Witness Stones Project
Andover, Hebron, Marlborough Youth & Family Services - $1,000 for the CHORES project.
Easter Seals at Oak Hill Camp Hemlocks - $3,650 for the aquatics program.
HAMR Softball - $2,500 for improvements to the softball field at Veterans Memorial Park.
Senior Friends of Hebron - $1,500 for benches along trails and seminars.
Douglas Library at Hebron - $1,000 for an anti-racism/white supremacy education series.
UR Community Cares - $950 for a technology-supported program for seniors and people living with disabilities in Hebron.
RHAM Music Boosters - $1,500 for intergenerational music program with residents at Colebrook Village at Hebron.​​​​​​​
Hebron Interfaith Human Services - $2,500 for trauma-informed design improvements at the new food pantry on Pendleton drive.​​​​​​​
Hebron Interfaith Human Services - $2,500 for a student food pantry at RHAM High School.​​​​​​​
St. Peter's Church - $3,500 for Sacred Ground program building racial reconciliation.​​​​​​​
---
Advisory Committee Members
The role of the Advisory Committee is to design and lead an inclusive process to identify the needs in your community and design a grantmaking process aimed to ensure that the Greater Together Community Funds can have the greatest impact for the benefit of town residents.
The Advisory Committee members for your town are:
Pamela Krist Atwood (Corresponding Secretary), Dwayne Bruender, Althea Carr, Allison Heneghan (Deputy Chair), Jassette Henry, Heather Holbrook, Amy Nilsson (Recording Secretary), Christiane Hellner-O'Brien, Florence O'Sullivan, John Ostrout (Chair), David Rose, Timothy Smith and David Sousa.
Click here to read the Advisory Committee Conflict of Interest Policy
For any questions about the Hebron Community Fund, grant eligibility, or the membership application, please contact the Hebron Advisory Committee at hebroncommunityfund@gmail.com.
For media inquiries, please contact Chris Senecal at csenecal@hfpg.org.
---