Glastonbury Greater Together Community Fund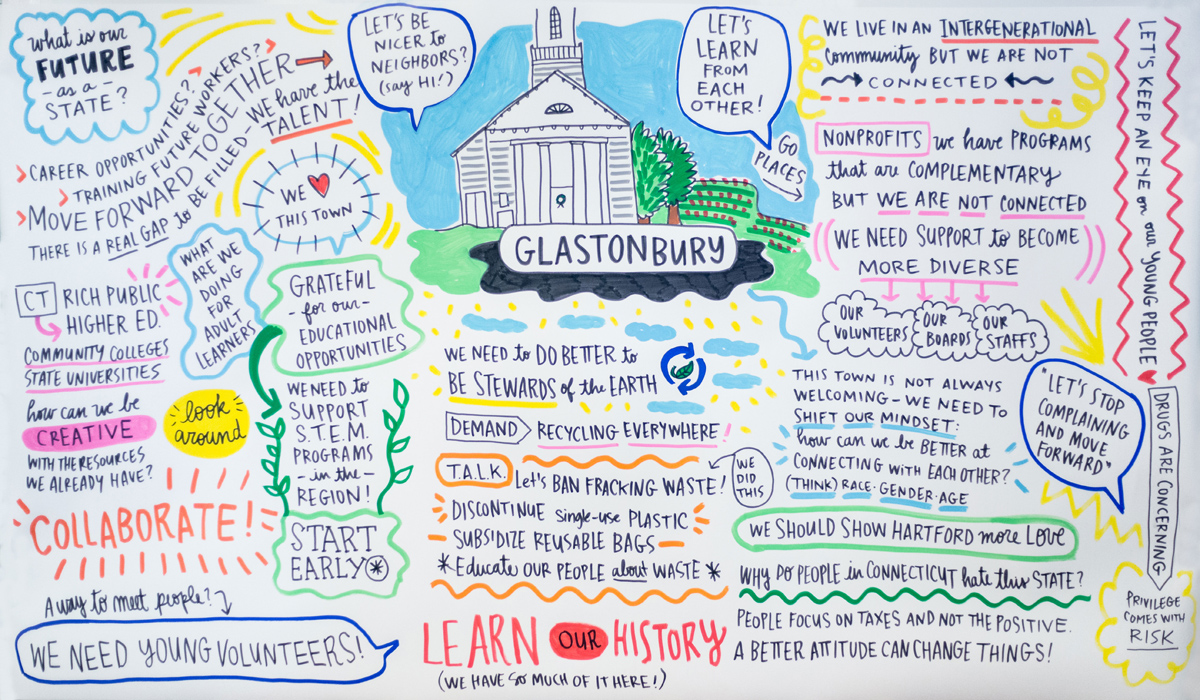 In 2019, the Hartford Foundation for Public Giving established a $100,000 Greater Together Community Fund for the Town of Glastonbury. In 2022, the Foundation added $50,000 to the Fund to continue to support community needs.
The purpose of the Greater Together Community Funds program is to:
support the community in taking ownership around the needs in their towns
encourage broad and inclusive civic engagement and
anchor the Hartford Foundation in each town.
---
Advisory Committee Members
The role of the Advisory Committee is to design and lead an inclusive process to identify the needs in your community, and design a grantmaking process aimed to ensure that the Greater Together Community Funds can have the greatest impact for the benefit of town residents.
The Advisory Committee members for your town are:
Beatrice Maslowski, Ellen Saunig (Secretary), James Hagen, James Estrada, Jon Brink, Kelly Gray, Kennedy Hudner (Co-chair), Kevin Savage, Laura Amenta (Co-chair), Laura Hecker, Margaret LaCroix, Niteesh Kalangi, Raghav Kale, and Steven Blau.
For media inquiries, please contact Chris Senecal at csenecal@hfpg.org.
Click here to read the Advisory Committee Conflict of Interest Policy.
---
Call for Student Advisory Committee Applications
At this time, the Glastonbury Greater Together Community Fund is seeking high school student applicants to serve on the Advisory Committee.
The Advisory Committee is seeking to recruit members from diverse backgrounds to ensure the committee has members that can bring different voices and experiences to the committee. Prospective applicants must be a resident of Glastonbury and be at least 14 years of age. Previous experience in community organizations or in grantmaking is not required. The commitment to serve on the committee includes monthly meetings for about an hour in duration, and sub-committee work between meetings.
All interested parties should complete the application via the link below. Applications will be evaluated on a rolling basis and will be accepted until June 1, 2023.
---
Glastonbury Greater Together Community Fund Grant Awards
In 2022, the Glastonbury Greater Together Community Fund made a second round of grant awards totaling $28,000 to eleven organizations to fund programs or projects that will "improve or enhance the quality of life in Glastonbury or otherwise contribute to address a direct need" of the Glastonbury community.
Community Health Resources, $4,500 to support Project Zero Suicide, an evidence-based suicide prevention training to support over three hundred Glastonbury residents at-risk of suicide annually.
Glastonbury Arts, Inc., $2,500 to support six symposiums (lectures/demonstrations/hand-on) of their Got Art Series.
Glastonbury MLK Community Initiative, $1,000 to support efforts to promote social justice and civil rights at the town-wide celebration of Dr. Martin Luther King Jr's Birthday in 2023.
Glastonbury Partners in Planting, Inc., $1,000 to support two projects: 1) The planting of pollinators at the Welles Turner Public Library to replace plantings destroyed from recent construction. 2) Building a Kiosk to provide community information/education at the Glastonbury Community Gardens.
Glastonbury River Runners, $1,250 to support the Rising Stars Youth Running Program which promotes health, wellness, and activity for nearly two hundred Glastonbury children, 4-12 years of age.
Hartford Interval House, Inc., $4,000 to provide life-saving services to Glastonbury residents who are victims of domestic violence through the Interval House's Victim to Survivor program.
Hawkwing, Inc., $4,500 to support the Youth Leadership and Giveback Experience – an innovative new program to develop Glastonbury youth leaders who are then tasked with making a positive and meaningful impact on Glastonbury's community needs.
Operation Fuel, Inc., $4,000 to provide emergency energy assistance for low- and moderate- income families living in Glastonbury, a growing need due to the current rising energy costs.
Special Olympics of Connecticut, $2,000 to support Glastonbury athletes with intellectual disabilities at the 2022 Glastonbury Special Olympics.
Town of Glastonbury (Fiduciary for Poetry in Public), $1,000 to support an innovative new effort to bring poetry alive in outdoor settings for people of all ages. This effort directly links to the Town of Glastonbury's Age Friendly Plan.
UR Community Cares, Inc., $2,250 to continue to support connecting Glastonbury's older and physically disabled residents with local volunteers who provide home-based assistance securely and at no-charge.
In its 2021 inaugural round of grants, the Glastonbury Greater Together Community Fund awarded $27,200 to six organizations; grants awarded ranged from $500 to $15,000.
---
Grant Reporting
Awarded organizations are requested to submit an accounting of the use of funds and a narrative evaluation of results achieved. Should your organization decide to apply again to the Glastonbury Community Fund in the future, you would be eligible after we receive a final report for the grant.
Awarded organizations can use the optional form (below) at the end of their grant period to report on the use of their funds.
Awarded organizations who wish to be considered for a 2023 grant should submit a grant report by April 15, 2023. The final report for all other awardees of 2022 grants is due by May 30, 2023.
DOWNLOAD THE GRANT REPORTING FORM
Please send the completed form, or any questions to the Glastonbury Advisory Committee at glastonburycommunityfund@gmail.com.