Glastonbury Greater Together Community Fund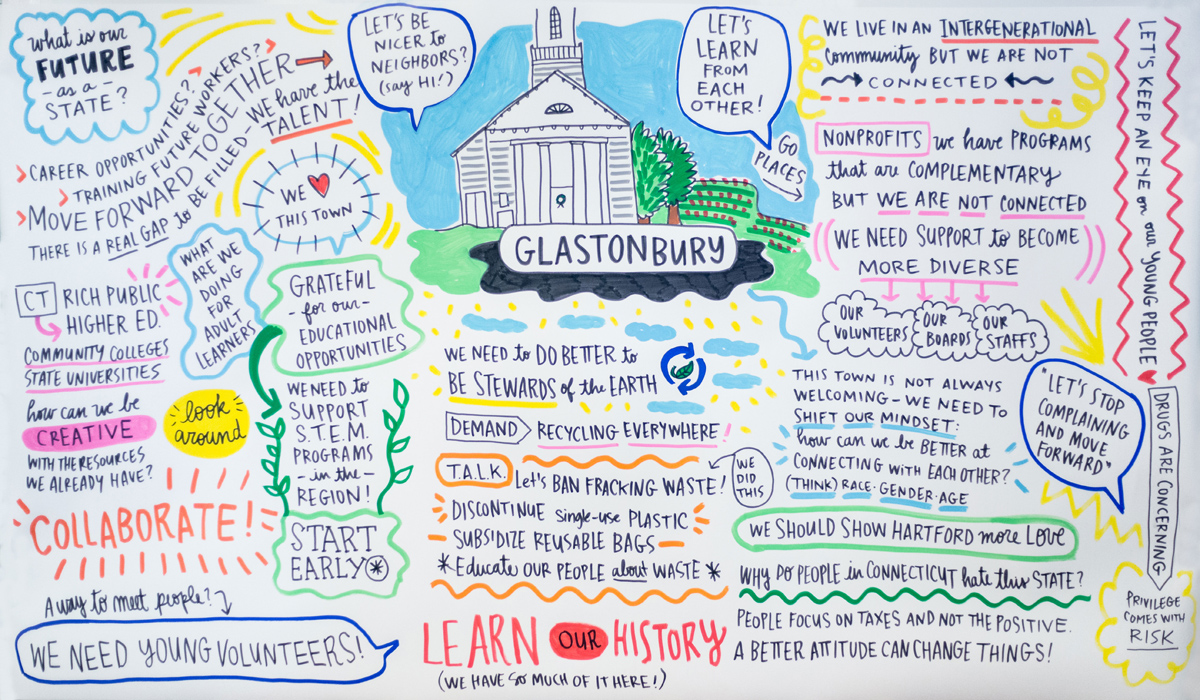 The Hartford Foundation for Public Giving has established a $100,000 Greater Together Community Fund for the Town of Glastonbury.
The purpose of the Greater Together Community Funds program is to:
support the community in taking ownership around the needs in their towns
encourage broad and inclusive civic engagement and
anchor the Hartford Foundation in each town.
---
Call for Advisory Committee Members
The Glastonbury Community Fund is now accepting applications for the Advisory Committee. To be eligible, you must be a resident of Glastonbury, at least 14 years of age and not a current elected official of Glastonbury. Previous experience in community organizations or in grant-making is not needed. Individuals who have not previously participated in community organizations are welcome and encouraged to apply!
The role of the Advisory Committee is to design and lead an inclusive process to identify the needs in your community, and design a grantmaking process aimed to ensure that the Greater Together Community Funds can have the greatest impact for the benefit of town residents.
The Advisory Committee members for your town are:
Laura Amenta, Jon Brink, James Hagen, Laura Hecker, ​​Kennedy Hudner, Raghav Kale, Susan Karp, Margaret LaCroix, Anusha Rodriguez, Barbara Rubin, Kevin Savage, Chris Silveira
Click here to read the Advisory Committee Conflict of Interest Policy
For media inquiries, please contact Chris Senecal at csenecal@hfpg.org.
---
Grant Awards
In May, 2021, the Glastonbury Greater Together Community Fund made inaugural grants to six community organizations to address pressing issues in their community and benefit Glastonbury as a whole.
Community Health Resources, Inc. has received a $6,000 grant for behavioral health services for children and teens.
Glastonbury Links Together (Congregation Kol Haverim Inc., sponsoring organization) has received a $15,000 grant to support the creation of a free choice food bank in Glastonbury.
Historical Society of Glastonbury has received a $1,700 grant to support accessibility to an exhibit on the Wangunk Tribe.
Resonate (Irvine Lights, sponsoring organization) has received a $500 grant to support music opportunities for students in Glastonbury with financial hardship.
Talk-Truth in Action With Love & Kindness has received a $1,000 to support the creation of pollinator pathways designed to connect pollinator species.
UR Community Cares, Inc. has received a $3,000 grant to support a home based service program, focused on older adult residents as well as residents with physical disabilities.
Awarded organizations can use the below form at the end of their grant period to report on the use of their funds.
Download the Grant Reporting Form
Please send the completed form, or any questions to the Glastonbury Advisory Committee at glastonburycommunityfund@gmail.com.
---