Ellington Greater Together Community Fund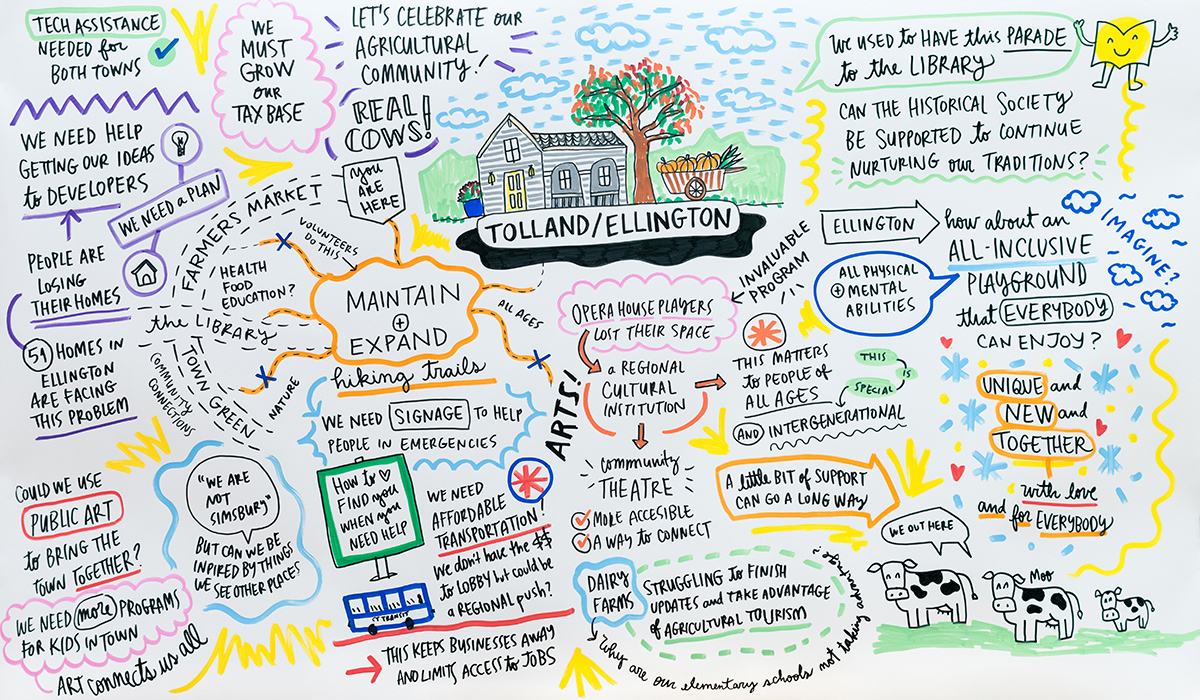 In 2019, the Hartford Foundation for Public Giving established a $100,000 Greater Together Community Fund for the Town of Ellington. The Hartford Foundation's Board of Directors approved additional funding for 2022, contributing an additional $50,000 to the Ellington Greater Together Community Fund.
The purpose of the Greater Together Community Funds program is to:
support the community in taking ownership around the needs in their towns
encourage broad and inclusive civic engagement and
anchor the Hartford Foundation in each town.
---
Call for Grant Applications
The Ellington Greater Together Community Fund is now accepting applications for projects that will benefit the residents of Ellington.
Eligibility
Organizations must be classified as a 501c3 (509a3 charities and private foundations are not eligible)
Organizations that are not classified as 501c3 may use a fiscal sponsor
Towns may serve as fiscal sponsor.
Funding must benefit residents of Windsor
Areas not typically eligible: sectarian or religious programs
Guidelines
The maximum grant award is $5,000.
A final report may be requested upon completion of the project
Application Process
Please complete the online application below. If using a fiscal sponsor, please provide their contact information in addition to the organization's contact information.
Complete the online application
---
Grant Awards
In May, 2021, the Ellington Greater Together Community Fund made inaugural grants to seven community organizations, $25,000 in total, to address pressing issues in their community.
Ellington High School (EHS) has received a $1,750 grant to support the High School Compost Project.
Ellington Volunteer Ambulance Corps, Inc. has received a $4,125 grant to support English As Second Language Emergency Services Training for ESL students in Ellington and surrounding communities.
Friends of Hall Memorial Library has received a $5,000 grant to support a consultant to examine diverse library service opportunities.
The Ellington Historical Society Inc. has received a $2,500 grant to support renovations and repairs to the Nellie McKnight Museum and property.
The Ellington Volunteer Fire Department Incorporated has received a $7,500 grant to support training the public how to properly use fire extinguishers.
Town of Ellington has received a $3,125 grant to support the high school's 'Safe Grad' event, an all-night, substance free event for all Ellington graduating seniors.
UR Community Cares, Inc. has received a $1,000 grant to support its Community Deeds Program which offers support for older residents and adults with physical disabilities.
---
Advisory Committee Members
The role of the Advisory Committee is to design and lead an inclusive process to identify the needs in your community, and design a grantmaking process aimed to ensure that the Greater Together Community Funds can have the greatest impact for the benefit of town residents.
The Advisory Committee members for your town are:
Ava Andrews, Sandra Andrews, Karen Fader, Megan Johnson, Cheryl Jones, Aaron Foster, Kesava Reddy Kapu, Sridhar Subramani.
Click here to read the Advisory Committee Conflict of Interest Policy
For questions about the Ellington Community Fund, please contact the Ellington Advisory Committee at ellingtonfunds@gmail.com
For media inquiries, please contact Chris Senecal at csenecal@hfpg.org.