East Hartford Greater Together Community Fund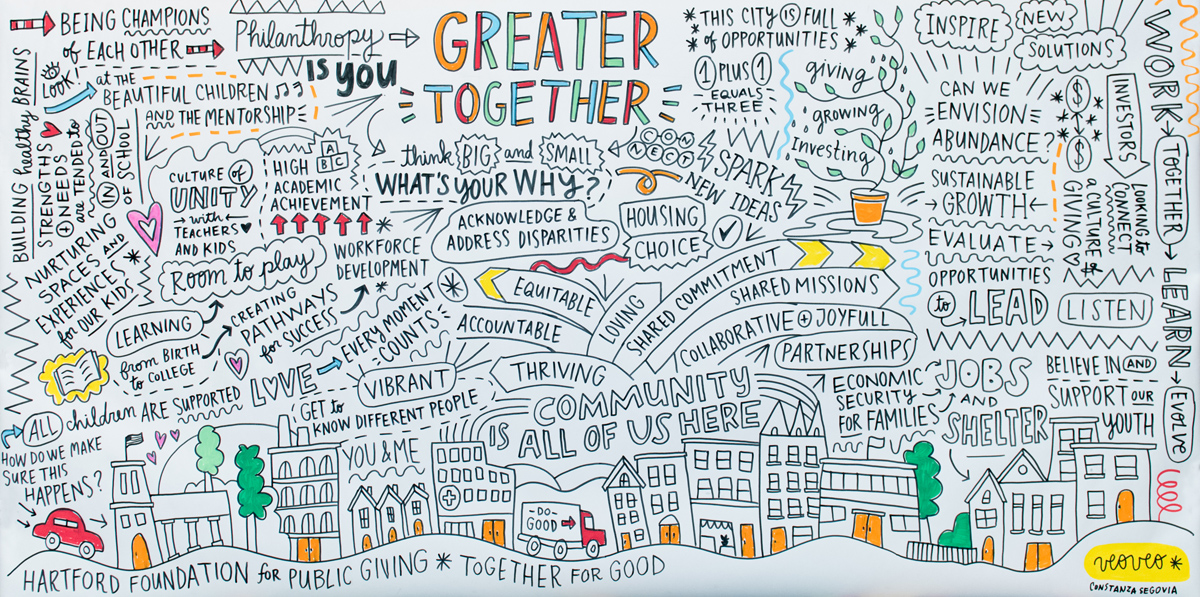 ---
---
About the East Hartford Greater Together Community Fund
The Hartford Foundation for Public Giving has established a $100,000 Greater Together Community Fund for the Town of East Hartford.
The purpose of the Greater Together Community Funds is to:
support the community in taking ownership around the needs in their towns
encourage broad and inclusive civic engagement and
anchor the Hartford Foundation in each town.
---
Announcing Call For Grant Applications
East Hartford's Greater Together Community Fund Advisory Committee is pleased to announce the availability of funding for projects directly benefiting the East Hartford community.
Project proposals must demonstrate the opportunity for all town residents to benefit without discrimination based on race, religion, or any other protected class. The minimum request for any proposal is $250 and the maximum request shall not exceed $2,500. A final report will be requested upon completion of the project.
Applications will be accepted until Friday, September 8, 2023. Each applying organization may only submit one proposal.
Eligibility
Organizations must be classified as a 501(c)(3) or use a fiscal agent/sponsor.

509(a)(3) charities and private foundations are not eligible.

Non-profit organizations that are not classified as a 501(c)(3) must use a fiscal agent/sponsor.

A fiscal agent/sponsor is an organization that receives, disburses and accounts for grant funds on behalf of another organization.
Towns may serve as a fiscal agent/sponsor.

Religious organizations can apply for projects that benefit the broader community, but not for projects that are religious in nature.
For-profit businesses are not allowed to apply under any circumstances.
For more information, see the East Hartford Greater Together Community Fund Request for Applications.
You can apply by completing an online form or by downloading, completing, and emailing the application to EHCommunityFund@gmail.com.
Click here for the online application form.
If you are not completing the online application form, click here for the downloadable pdf application form, and submit completed form to EHCommunityFund@gmail.com

If submitting the downloadable pdf application, please download the budget form, and submit the completed budget form to EHCommunityFund@gmail.com
Key Dates
7/24/2023: Grant applications available
9/8/2023: Grant applications due
October 2023: Grant applicants notified of decisions and funds distributed to recipients.
Questions? Please contact the Advisory Committee at EHCommunityFund@gmail.com.
---
Past Grant Awards
In August 2022, the East Hartford GTCF advisory committee awarded a total of $17,500 in grants to non-profit organizations to directly support the most pressing needs of the town and promote social change.
The non-profit organizations awarded were the following:
RiseUp ($2,500) - To support the East Hartfard Mural's Creative Leadership Program.
Gentle Love Diaper Pantry ($2,500) - This project supports 75 children of all genders between the ages of 0 to 3, with an emphasis on reaching Black and Hispanic/Latino children.
Special Olympics CT ($2,500) - 98 male and female athletes hailing from East Hartford and provides unified sports training to children and adults with disabilities.
Friends of East Hartford Senior Center ($2,500) - For the Senior Technology Center where there are over 1,500 active Seniors (ages 55 and over) using the center daily that will benefit.
Operation Fuel ($5,000) - Support with energy assistance for about 222 households, 566 individuals, all from East Hartford.
Remembering Rylan ($2,500) - A mobile food bank that delivers food to support our residents (a minimum of 4-6 families monthly) that cannot get to the mainstream food locations.
Advisory Committee Members
The role of the Advisory Committee is to design and lead an inclusive process to identify the needs in your community, and design a grantmaking process aimed to ensure that the Greater Together Community Funds can have the greatest impact for the benefit of town residents.
The Advisory Committee members for your town are:
Fabiana Aretusa Silva, Nasreen Al Omari, Mya Bynoe, Maura Callahan, Dana Chafiotte, Tabitha Harris, Claude Mayo, Deirdre Stolte, Ashley Tierinni, Wendy Whitt
Click here to read the Selection Committee Conflict of Interest Policy
For media inquiries, please contact Chris Senecal at csenecal@hfpg.org.
---