Canton Greater Together Community Fund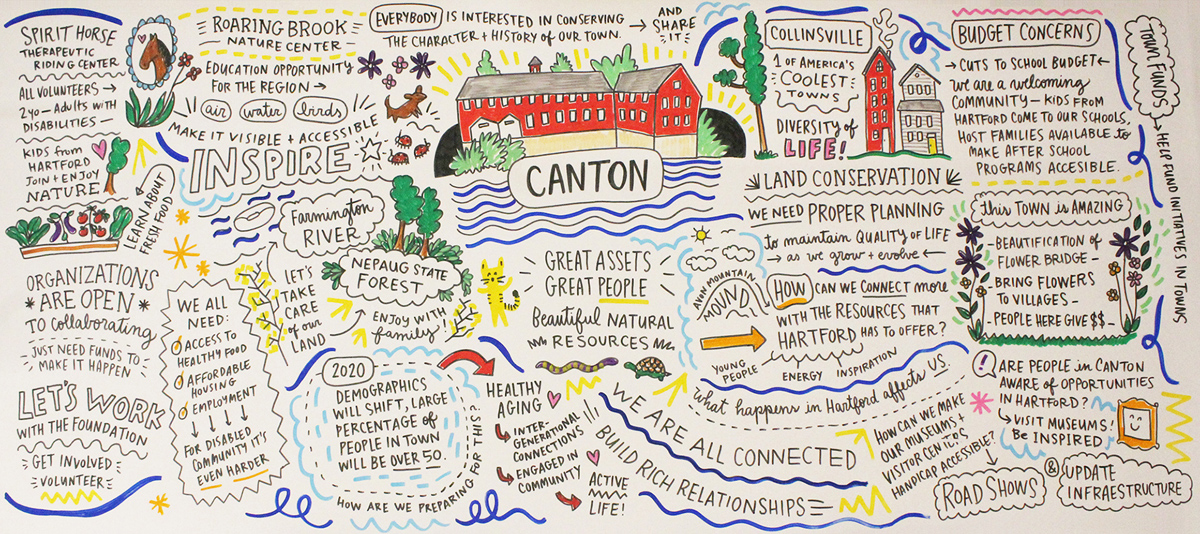 The Hartford Foundation for Public Giving has established a $100,000 Greater Together Community Fund for the Town of Canton.
The purpose of the Greater Together Community Funds is to:
support the community in taking ownership around the needs in their towns
encourage broad and inclusive civic engagement and
anchor the Hartford Foundation in each town.
---
Advisory Committee Members
In 2021, people who live and work in Canton selected, from a group of residents who volunteered to serve, Canton's Community Fund Advisory Committee. The role of the Advisory Committee is to design and lead an inclusive process to identify
the needs in your community, and design a grantmaking process aimed to ensure that
the Greater Together Community Funds can have the greatest impact for the benefit of
town residents.

The Advisory Committee members for Canton are:

Michael Jastremski, Jay Kaplan, Abigail Lombardi, Kimberly Marze, Penny Phillips,
Mary Tomolonius, Charlene Speyrere, Wendy Young
Committee co-chairs: Theresa Sullivan-Barger and Rie Poirier-Campbell
Questions? Please contact the advisory committee at
communityfundcantonct@gmail.com.
For more information about the Advisory Committee, please review the FAQ.
Click here to read the Advisory Committee Conflict of Interest Policy.
For media inquiries, please contact Chris Senecal at csenecal@hfpg.org.
---
Frequently Asked Questions around grant application
How can I apply for a grant as an educator? Can an organization serve as a fiscal sponsor for many applications?
You may apply for funding for a project with Canton Schools as your fiscal sponsor (or another 501c3 associated with the school such as a PTO or Booster Club). The applicant would answer questions 7 and 8 on the application with the information of your fiscal sponsor. A school may be the fiscal sponsor for many projects, but only submit ONE application of its own as well. For example, you may submit an application with Canton Middle School as your fiscal sponsor, Library staff may also submit one with CMS as their fiscal sponsor, and PE may also submit another with CMS as its fiscal sponsor. However, if CMS decides that it wants to submit an application for a school-wide project, then it may only submit that ONE application for itself in addition to the others that it is acting as the fiscal sponsor.
If participants from our programs are residents of many towns and not just Canton, are we able to apply for this grant in multiple towns?
Yes, you can apply to multiple towns' Greater Together Community Funds, but Canton Community Fund will only evaluate the application from the perspective of Canton residents. In addition, your organization must submit a budget that applies to Canton residents only. Last, be aware that other towns have different grant cycles.
Can a project be intended for a section of Canton and not for all of Canton?
Yes, but everyone that is served by a project should be served without discrimination.
If our nonprofit organization is located in Granby but serves Canton residents, can we apply?
Yes, as long as the intended recipients reside in Canton.
Is there a deadline for the completion of a project?
Projects should begin after June 1. Funds generally should be spent within a year but this can vary with the size and complexity of the project.
If an answer cannot be completely contained in the space provided, can we attach a separate page?