Bolton Greater Together Community Fund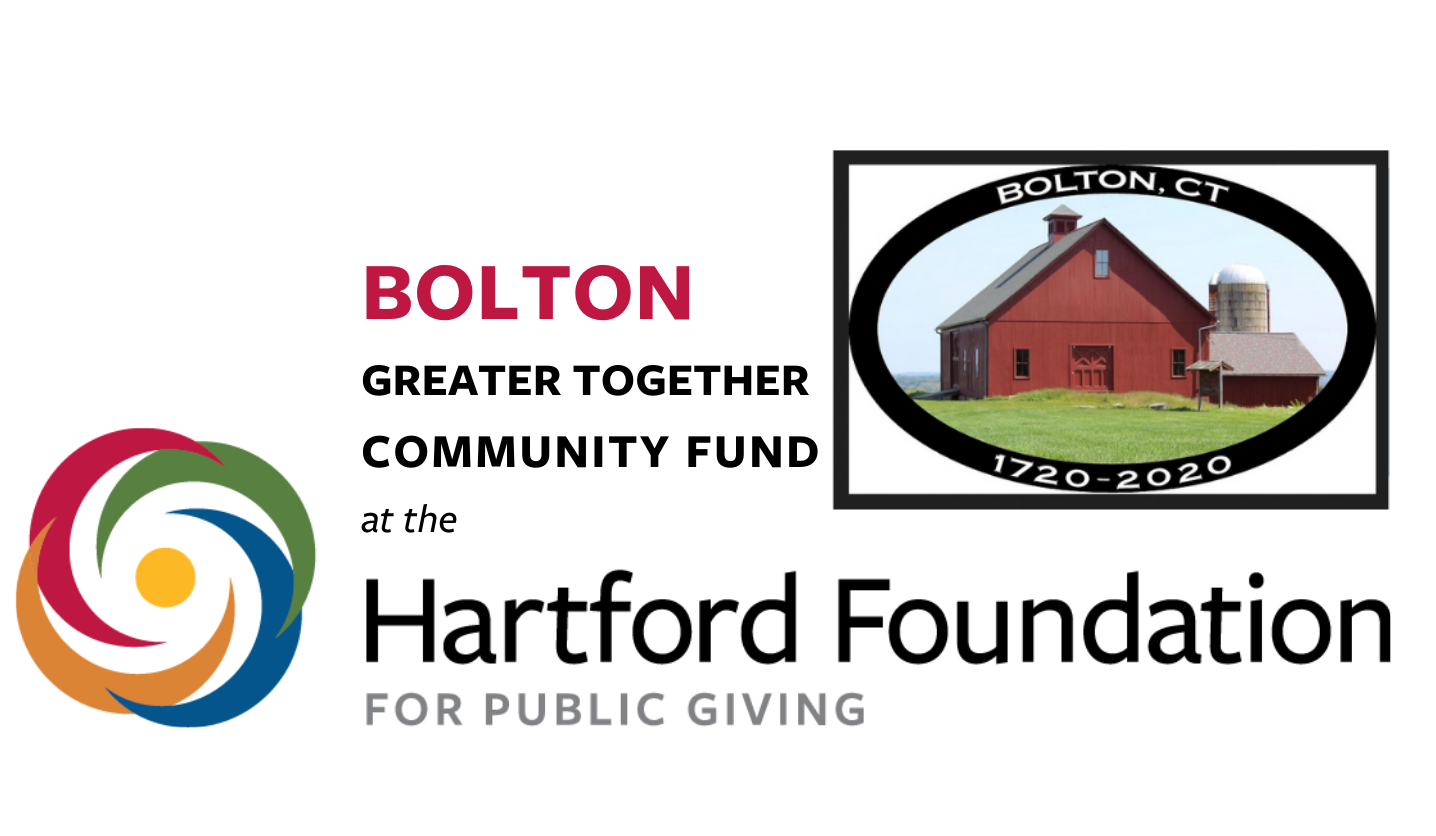 The Hartford Foundation for Public Giving has established a $100,000 Greater Together Community Fund for the Town of Bolton.*
---
Open Call for Applications- DEADLINE: September 1st, 2021
The Bolton Greater Together Community Fund Advisory Committee has announced an open call for applications. The goal is to award grants that will support programs addressing a need that improves the quality of life for the citizens of the Bolton community.
BOLTON GREATER TOGETHER COMMUNITY FUND OBJECTIVES
Improve the participation and impact of current programs.
Encourage the creation of innovative new initiative.
Develop enhancements to current programs.
APPLICATION REQUIREMENTS
Non-profit 501c3 organizations that serve the citizens of Bolton
Bolton individuals or groups of citizens may submit an application in partnership with a registered non-profit organization that has agreed to serve as the fiscal agent for the proposed project
Projects that primarily benefit Bolton citizens
GRANT AWARDS
Minimum grant: $500; Maximum grant: $5,000
HOW TO APPLY
Please email your completed application and any questions to BoltonCommunityFund21@gmail.com.
Download the Application

DEADLINE: September 1, 2021

REVIEW AND PROCESS
Applications will be reviewed by the Bolton Community Fund Advisory Committee.
Each applicant will be interviewed by a member(s) of the Committee.
The committee will evaluate the applications based on the Goal and Objectives.
Bolton Greater Together Community Fund 2021 Grant Award Announcements will be made by October 1st.
The Request for Proposals can be downloaded here.
A copy of the press release is also available for download, here.
Advisory Committee Members
The role of the Advisory Committee is to design and lead an inclusive process to identify the needs in your community, and design a grantmaking process aimed to ensure that the Community Funds can have the greatest impact for the benefit of town residents.
The Advisory Committee members for your town are:
Katharine Chambers, Donna M. Fitzgerald, Beth Ann Harney, Michele Laboy, Shepard Livingston, William Lugo, Christina Morra-Tiu, Amy E. Schack, Shandra Scott- Brown, Samantha Sondik, C. Wendell Wickersham, Melissa Wielandt
For more information about the advisory committee, please review the Advisory Committee FAQ.
Click here to read the Advisory Committee Conflict of Interest Policy
For media inquiries, please contact Chris Senecal at csenecal@hfpg.org.
---