Avon Greater Together Community Fund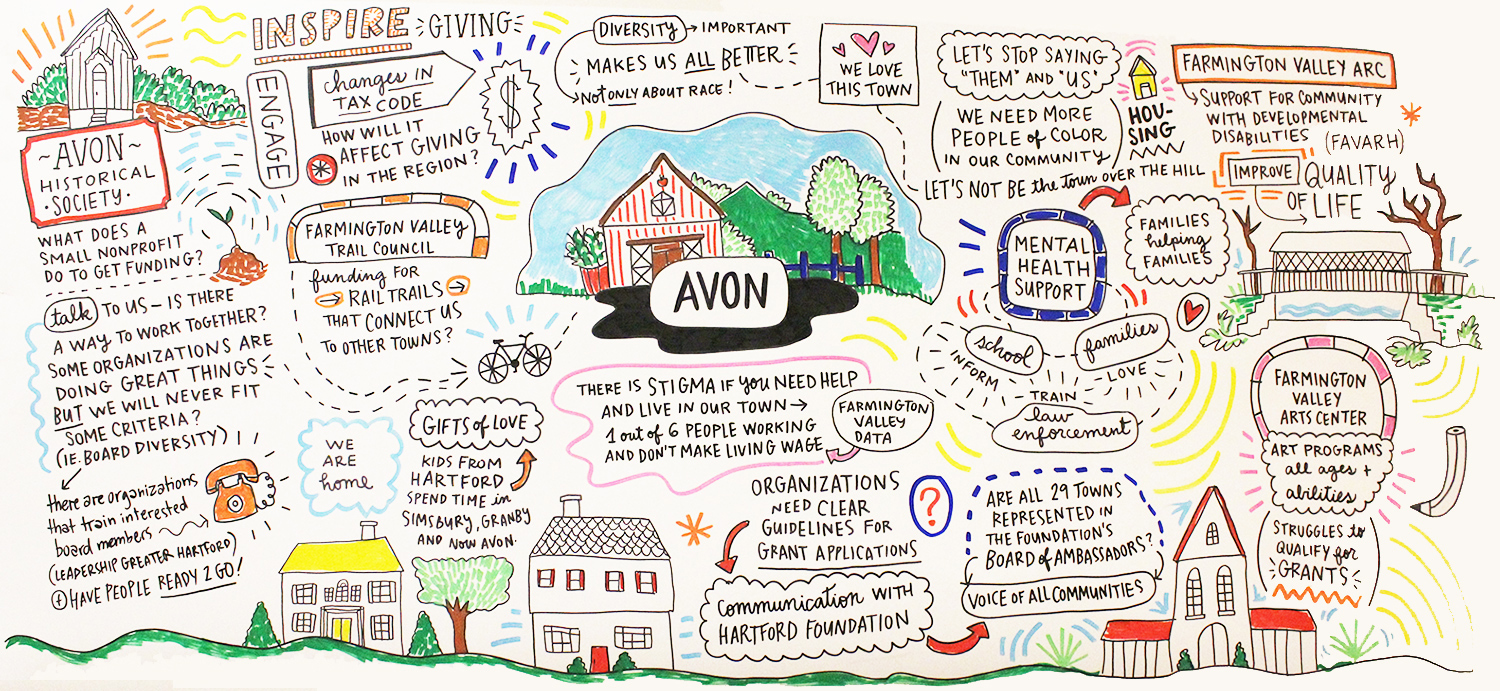 In 2019, the Hartford Foundation for Public Giving established a $100,000 Greater Together Community Fund for the Town of Avon. In 2022, the fund received another $50,000 totaling in an investment of $150,000.
The Avon Greater Together Community Fund Advisory Committee supports the community in addressing the needs in Avon, connects Avon to the Hartford Foundation for Public Giving, and encourages broad and inclusive civic engagement in Avon by striving to reach as many diverse groups as possible. This is accomplished by combining the input of a disparate group of committee members with the Avon community at large with the goal to deliver a stronger, more equitable Avon.
---
Now Accepting Applications!
The Avon Greater Together Community Fund Advisory Committee is pleased to announce its second open call for grant proposals. The committee will award up to $50,000 in grant funds to one or more nonprofits serving Avon residents. Project applications will be accepted until Wednesday, March 1, 2023. Only one application per organization is allowed.
---
Inaugural Grantee Reception
The Avon Greater Together Community Fund Advisory Committee hosted a reception on November 14, 2022 to honor the six 2021 inaugural grant award recipients. The event was open to all community members to celebrate the work of the recipients and learn more about Avon's Community Fund and its impact on Avon. The committee also shared information about future grant opportunities. Click here to see pictures from the event.
---
Avon Greater Together Community Fund Announces Inaugural Grant Awards
The following organizations were recipients of inaugural grant awards during 2021:
---
Advisory Committee Members
The role of the Advisory Committee is to design and lead an inclusive process to identify the needs in your community, and design a grantmaking process aimed to ensure that the Greater Together Community Funds can have the greatest impact for the benefit of town residents.
The Advisory Committee members for your town are:
Vincent Blea, Dorothy (Dee Dee) Dew, Carrie Firestone, Haleigh Guerrera, Gregory M. Jones, Aaradhya Kumar, Lisa Levin, Kathryn Mastandrea, Elizabeth Ann Pavlakis, Ursula Pfeiffer, Lori Shield
Click here to read the Advisory Committee Conflict of Interest Policy.
For more information about the Advisory Committee, please review the FAQ.
Questions? Please contact the advisory committe at avontogetherfund@gmail.com.
For media inquiries, please contact Chris Senecal at csenecal@hfpg.org.
---
Background Research
The Avon Greater Together Community Fund Advisory Committee conducted a survey in April 2022 in addition to their research in February 2021 to identify what was important to Avon residents. The surveys and focus group report are available here: