Action Fund for Racial Justice: 2022 Grants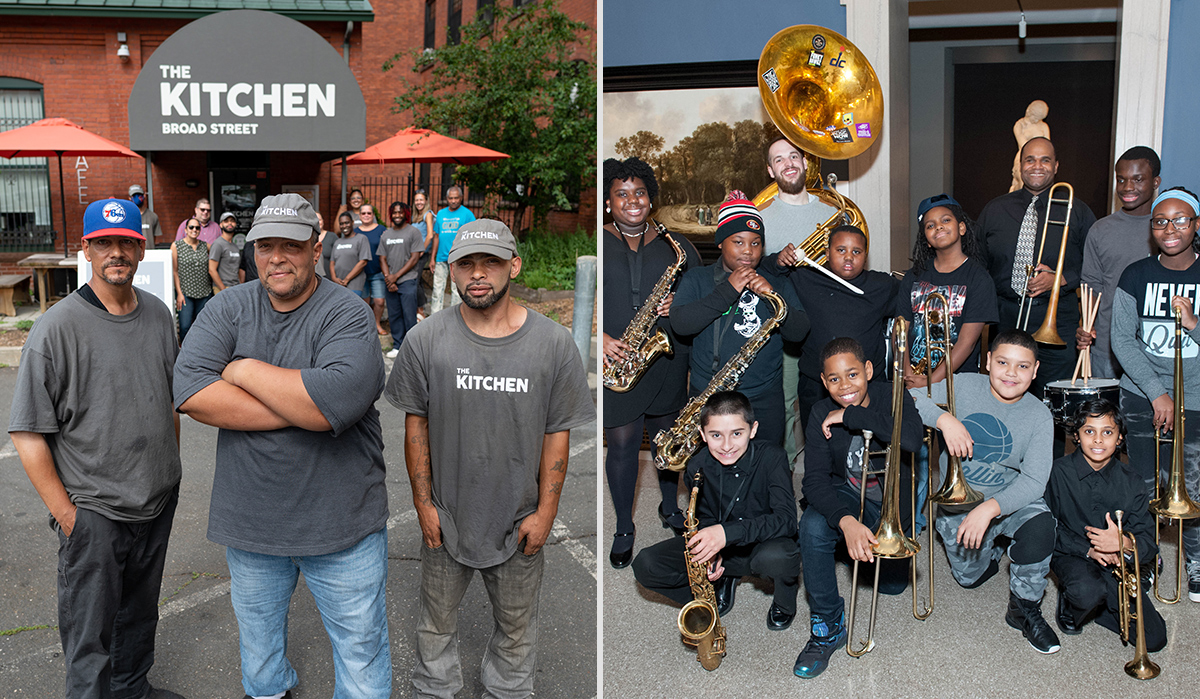 Photos, l-r: Forge City Works, Charter Oak Cultural Center
Thank you to everyone who supported the Action Fund for Racial Justice in 2022!
We launched the Action Fund for Racial Justice in 2021 as a way to bring together Greater Hartford residents to help with the long-term work of dismantling structural racism. This current use fund was designed to get money into the community quickly, addressing both immediate and ongoing needs.
Thanks to your generous support, we were able to make incredible progress toward this goal. In 2022, we awarded $526,263 in grants from the Action Fund to local nonprofits whose work was aimed at dismantling structural racism and advancing equity in social and economic mobility in Greater Hartford's Black and Latinx communities.
The grants supported areas of work including Employment, Community and Economic Development, Basic Human Needs, Civic and Resident Engagement and much more. Below you will find a full list of grants made from the Action Fund in 2022.
We appreciate your support of the Action Fund for Racial Justice. Though we recognize that this work requires a long time frame, we are encouraged about the future when we see the dedication of our nonprofit partners and the generosity of donors. Thanks for helping to make a positive impact in our region.
---
Action Fund for Racial Justice: 2022 Grantees
Name or description of supported program in italics
Boys & Girls Clubs of Hartford, Inc.
Diversity, equity & inclusion
Center for Latino Progress/CPRF
Youth Power - Making a Difference (YP-MAD)
Charter Oak Temple Restoration Association, Inc.
Making Charter Oak's Youth Arts Institute ACEs-Aware and Trauma-Informed
Chrysalis Center, Inc.
To support addressing food insecurity in Hartford Communities program
Community First School, Inc.
Putting Community First
Community Health Services, Inc.
To support the CHS Community Outreach program
CT Black & Brown Student Union
CT BBSU Community First Coalition
Connecticut Coalition for Achievement Now, Inc. (ConnCAN)
Community organizing to advance independent parent voice in education
Connecticut Institute for Refugees and Immigrants, Inc.
To support emergency services for foreign-born victims of trafficking and torture
Diaper Bank of Connecticut
To support the Supporting Our Neighbors program
End Hunger Connecticut!, Inc.
Core support for programming in Greater Hartford
Forge City Works, Inc.
For core support, for work engaging adults and youth in workforce development and other activities that promote inclusive socio-economic mobility, over one year
To support the Hartford farmers markets
Grace Episcopal Church, Hartford CT
To support A Place of Grace Food Pantry
Harriet Beecher Stowe Center, Inc.
2022 programming
Hartford Food System, Inc.
Grow Hartford Youth Program
House of Bread, Inc.
To support the 2022 Essentials program
International Hartford Ltd.
Racial Equity in Commercial Lending
Lawson Chapel/Urban Hope Refuge Church
Parents Unite to Reduce Chronic School Absenteeism (PURCSA)
Layavinyasa
Culture Matters
Literacy Volunteers of Greater Hartford
For core support to advance their mission through their identified strategic priorities, over three years
National Conference for Community and Justice
Let's Talk community conversations
Prejudice Reduction, Leadership Development School Partnerships
Nonprofit Accountability Group
Nonprofit Accountability lead organizer
Second Chance Re-Entry Initiative Program
To partner with Once Incarcerated Anonymous, to support housing policy and advocacy activities focused on justice-impacted communities
Spectrum in Motion Dance Theater Ensemble, Inc.
Core support
Trio New College Network, Inc.
For core support to launch a Trio Greater Hartford site that will serve Greater Hartford's BIPOC residents
Ujima African American Alliance
Juneteenth 2022 celebration