Higher Opportunity Neighborhoods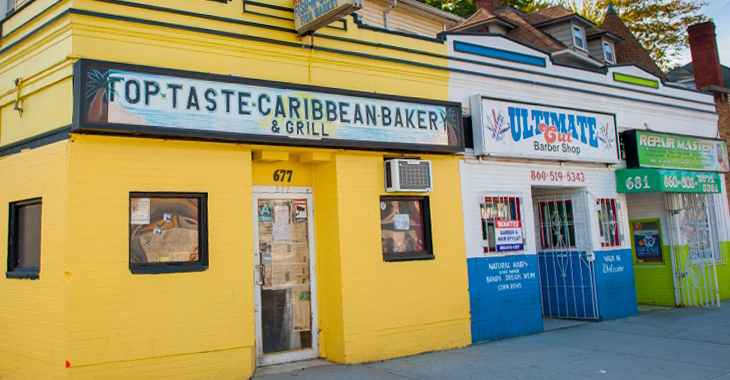 Outcome Area:
Increased number of Hartford residents living in higher opportunity neighborhoods in Hartford and the region
WHY THIS IS A PRIORITY
The Hartford Foundation seeks to increase the numbers of current Hartford residents living in higher opportunity neighborhoods both by increasing the opportunity level of Hartford neighborhoods and by increasing the ability of Hartford residents to choose to move to other higher opportunity areas throughout the Greater Hartford region.
High opportunity neighborhoods are defined by a variety of factors including low unemployment, better performing schools, lower crime and greater availability of quality, affordable housing stock. Children growing up in high opportunity neighborhoods generally have better opportunities for upward economic mobility, as well as better health outcomes and higher educational attainment.
In Hartford, low-income, people of color are disproportionately facing the challenges of living in low opportunity neighborhoods. This contributes to negative long-term educational, economic and health outcomes.
According to a 2015 federal study of 21 states, Connecticut had the second highest concentration of affordable housing in high-poverty neighborhoods, behind only Mississippi.1

Most affordable housing in the region is concentrated in the City of Hartford with relatively little affordable housing existing in the surrounding towns. While 38% of the housing stock in Hartford is affordable housing, 22 towns in the region have less than 10%.2

There are notable racial disparities in homeownership in the Hartford region.3

Homeownership rate for white households: 77%
For Black households: 41%
For Latinx households: 32%

One-third of households in the Greater Hartford region are housing cost-burdened, meaning they spend more than 30% of their income on housing. Severely cost-burdened households – those who pay more than 50% of their income on housing – are disproportionately located in Hartford.4

Housing instability disproportionately affects residents of color in the region.5 Percentage of adults who have moved in the last three years:

Latinx adults: 38%
Black adults: 25%
White adults: 16%

Housing quality and stability varies across the city of Hartford with the lowest housing stability and housing conditions found in the North End, Frog Hollow, Barry Square and Parkville. The most severe housing code violations are from Upper Albany, Clay Arsenal and Asylum Hill.6
WHAT WE'RE DOING
The Foundation, using our resources and working closely with our nonprofit partners and other stakeholders, will prioritize activities that:
Increase alignment of investment, and leverage additional investment, in Hartford neighborhood development.
Support increased availability and/or quality of affordable housing in Hartford and the region.
Support efforts to increase housing stability for Hartford renters at-risk of homelessness and/or displacement.
Efforts we support include:
Community engagement, design and implementation of Hartford 400, an effort to support a comprehensive, long-term regional vision for Greater Hartford.
Lead funder of the Hartford Neighborhood Development Support Collaborative, managed through Local Initiatives Support Corporation (LISC). The Collaborative provides operating support, technical assistance and capacity building to the region's Community Development Corporations.
Through its Innovation Grant Program, the Hartford Foundation funded the planning and piloting of the Building for Health, a cross-sector collaborative designed to link housing, health, and energy services with the goal of improving overall health of neighborhood residents.
Support to explore options and resident voice in bringing a high-quality, affordable grocery to Hartford's North end.