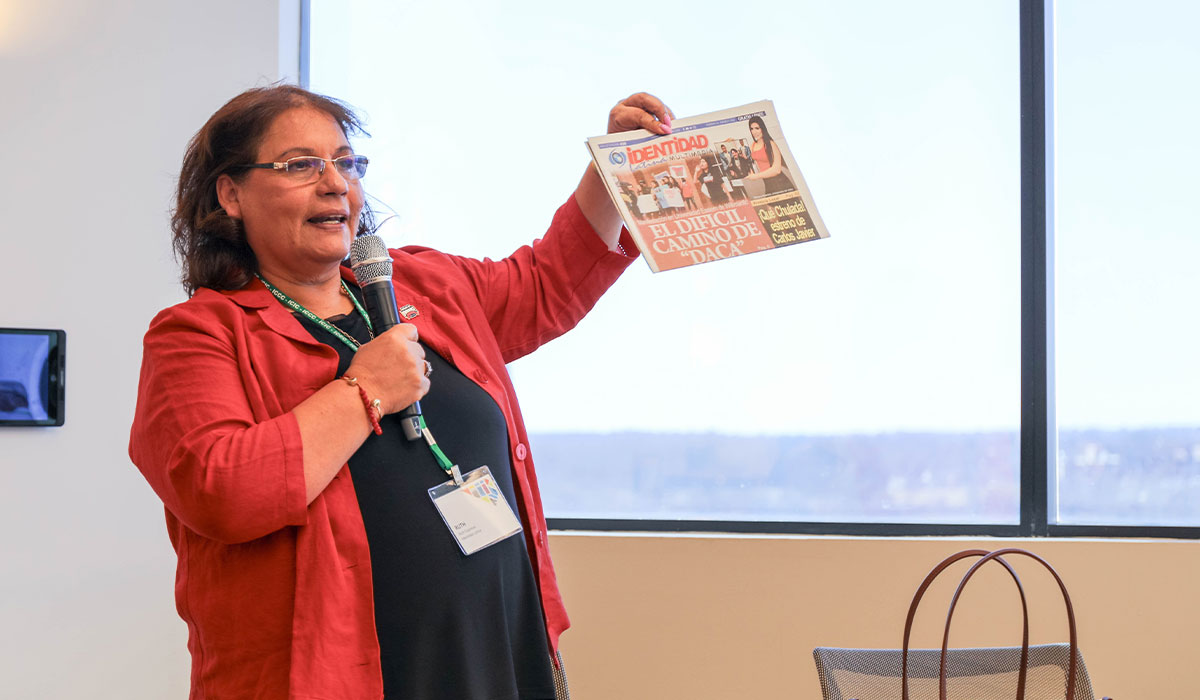 Outcome Area:
Employment Opportunities
As part of our efforts to dismantle structural racism and advance equity in social and economic mobility in Greater Hartford's Black and Latine communities, the Hartford Foundation seeks to increase stable employment opportunities for Black and Latine adults and youth in our region facing barriers to employment.
Our desired outcomes
Increased high school completion
Increased equity in educational systems and structures
Increased persistence and completion or attainment of post-secondary degree or credentialing
Increased quality employment and quality jobs (e.g., sustaining wages, stable hours, job security)
Increased equity in workplace systems and structures
---
Why this is a priority
All residents of our region should have access to employment that provides a sustaining wage. The Foundation supports programs that provide supports to ensure that youth, and specifically in Hartford, are engaged in school and other opportunities that enhance their potential for postsecondary persistence and training – whether that means academic programs or credential/certificate programs that can lead to sustained, livable wage employment. We also support adult workforce development with resources to ensure that adults have the wraparound supports necessary to increase their ability to engage in workforce training and sustainable employment.
Employment disparities are greatest by race and educational attainment. Black and Latine youth and adults face a number of barriers to consistent school engagement and employment – many of which are grounded in basic human needs such as housing stability, food security and even access to internet and digital technology.
What does the data tell us?
1 in 5 Black and Latinx children in our region live in poverty, compared to 1 in 100 white children, according to 2019 data.
The region's median income for white households ($84k) is twice that of Latinx households ($42k) and more than 1.5 times that of Black households ($50k), based on 2017 data.
Most employers and higher wage jobs require a HS diploma.
Latinx adults are 5x as likely as white adults to lack a HS diploma.
Six years after graduating from high school, only 51% of Greater Hartford public school students have a college degree.
In 2017, 15% of Hartford's Black youth ages 16-24 and 25% of Hartford's Latinx youth were neither in school nor employed.
In Greater Hartford, 32% of Black and 27% of Latinx adults report having a negative net worth, compared to 14% of white adults.
37% of Latinx residents report that at least one resident of their household lost their job during the COVID-19 pandemic, twice the rate of white residents.
24% of all Connecticut residents say they are either just getting by or finding it difficult to get by financially. For Black residents, that number is 55%.
---
What we're doing
Current or recent activities that support this outcome area:
Connecting Adults with Employment Barriers to Jobs: The Foundation awarded $299K to Capital Workforce Partners, in collaboration with community partners, to support the BEST Chance Partnership program, an Integrated Basic Education skills training program for citizens returning from incarceration.
Improving Community College Completion Rates for Low-Income Black and Latine Students: To address low completion rates for students enrolled in two-year public institutions in the region, the Foundation awarded five grants to support students at Asnuntuck, Capital, and Manchester Community Colleges, Goodwin University and Hartford Promise by leveraging a combination of wraparound supports.
See more of our Employment Opportunities work
Who will benefit?
Adults with barriers to employment, residents returning from incarceration, Black and Latine youth in high-need schools (Alliance Districts), Opportunity Youth.