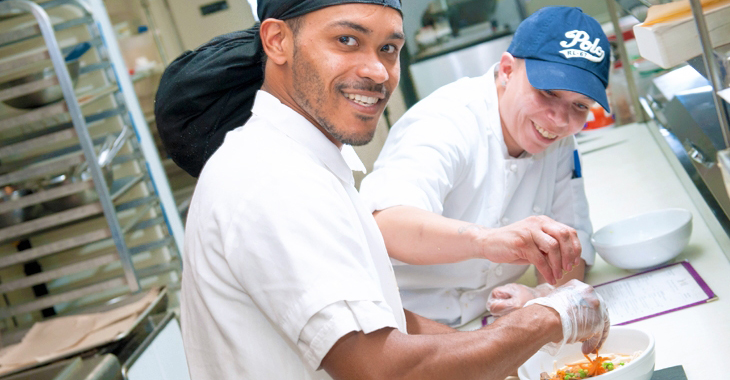 Outcome Area:
Increased employment opportunities for Black and Latinx residents in our region
WHY THIS IS A PRIORITY
All residents of our region should have access to employment that provides a sustaining wage. In Greater Hartford, there are a number of job openings, but there is misalignment between the skillsets required and the skills of the current workforce.
The Hartford Foundation supports programs that provide skills training and build career pathways for residents facing the greatest barriers to employment, so that those residents can go on to sustain employment.
In Greater Hartford, employment disparities are greatest by race and educational attainment. Black and Latinx adults face a number of barriers to employment. For instance, there are significant racial and ethnic disparities in terms of persistence in and completion of postsecondary education.
In Hartford County, there are demonstrable employment disparities by race/ethnicity.1 Percentage of residents who are unemployed:

Black: 8.7%
Latinx/Hispanic: 9.1%
White: 3.8%

The unemployment rate in Hartford is notably higher than the rates of the surrounding communities.2 Average unemployment rate from 2013 to 2017:

Outer ring suburbs: 5%
Hartford: 16%
North Hartford Promise Zone: 24%

Six years after graduating high school, only 51% of Greater Hartford public school students have a college degree.3 There are significant disparities by town:

Students from outer ring towns: 64%
Students from inner ring towns: 48%
Hartford students: 23%

Just 36% of high school seniors from low-income households in our region persist to their second year of college, compared to 59% of their peers from high-income households.4
WHAT WE'RE DOING
The Foundation, using our resources and working closely with our nonprofit partners and other stakeholders, will prioritize activities that:
Support and enhance college completion and vocational credential attainment opportunities.
Support and enhance student internship and summer youth employment opportunities.
Reduce barriers to employment.
Support Black and Latinx small business and entrepreneurship development and growth.
Efforts we support include: