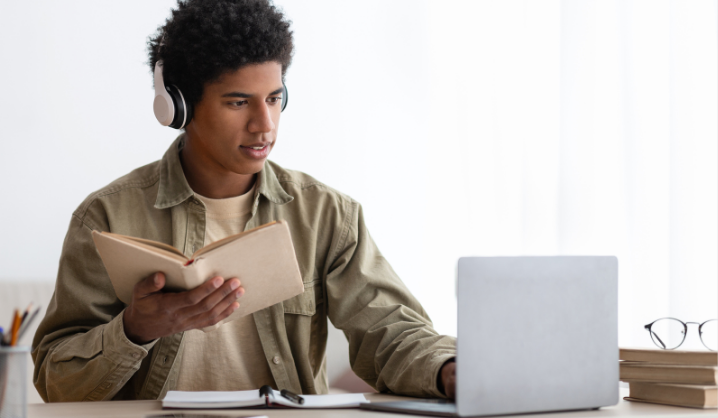 Hartford Foundation Awards Grants to Improve Community College Completion Rates for Low-Income Black and Latinx Students
Grants projected to improve persistence and completion rates for Hundreds of Low-Income Greater Hartford Students and Second Chance Pell Students in Enfield-area Correctional Facilities
Completion rates for students enrolled in two-year public institutions across the country remain low and Connecticut is no exception. In recent years, about one-third of Connecticut's students attending these schools complete their education. The COVID-19 pandemic has exacerbated many of the hurdles students face, and it has disproportionately impacted the health and economic well-being of low-income families.
In September 2020, the Hartford Foundation for Public Giving initiated a postsecondary persistence grant opportunity designed to improve persistence and completion rates as well as postsecondary employment rates, for low-income, Black and Latinx students currently enrolled in associate degree or certificate programs in Greater Hartford. The Foundation issued a call for proposals to all institutions offering associate degree or certificate programs to the target population and to nonprofits working with those institutions, in the Foundation's 29-town region.
The Hartford Foundation has awarded five grants, totaling $234,788 over one year. These five organizations seek to reach deserving students who have worked hard to advance their studies and are struggling to overcome the additional challenges that have arisen throughout 2020. Providing students with needed supports to complete their studies can promote economic mobility for themselves and their families as economy rebounds from the COVID-19 pandemic.
The agencies recommended for grants presented project requests designed to reach and support Black and Latinx low-income students already enrolled in two-year degree or certificate programs in Greater Hartford. All five initiatives leverage a combination of wraparound supports including: increased access to technology or related supports for remote learning; academic and social integration peer mentoring or coaching; microgrants to address basic human needs or enable access to books or academic materials; and stipends for students to replace lost income. These grants would advance the Foundation's goal of increasing the completion or attainment of post-secondary degree or credentialing as a means to increase opportunities for employment.
Asnuntuck Community College $45,485
Grant Purpose
Increase access to technology for Second Chance Pell (SCP) students (inmates) in the Enfield area to restart classes terminated due to COVID-19 and for students enrolled on campus unable to continue in remote learning environment.
Grant Activities
Distribution of laptops to students on campus and equip distance learning classrooms at Department of Corrections facilities.
Outcomes
Restart of classes for 199 SCP students; 25 students in need of laptop able to continue their education
Capital Community College $41,621
Grant Purpose
Improve retention for at least 32 students. Support for project coordinator; tutoring; and peer mentor stipends.
Grant Activities
Peer-based academic and social integration program: peer mentoring, coaching, and text messaging plus microgrants, technology and workshops on college success and personal finance.
Outcomes
Comprehensive participation of 88 percent of students in first year; a 25 percent increase in retention rate; and 50 percent (16) having a three-year graduation rate for associate degree or certificate program.
Goodwin University $50,000
Grant Purpose
Support for laptops, wi-fi hot spots, emergency financial assistance; training for mentors/coaches. Provide support services and resources such as laptops and wi-fi hot spots, microgrants for textbooks or other needs, and mentoring/coaching.
Grant Activities
Address unequal access to technology and other supports needed during current crisis and in remote-learning environment.
Outcomes
180 students to receive mentoring and coaching; Approximately 40 students who receive laptop and/or wi-fi hotspot to get case management; 65 percent of 180 retention and/or completion.
Hartford Promise $47,682
Grant Purpose
Support for laptops, books and stipends to replace lost income. Address immediate needs of 2-year degree Hartford Promise Scholar: computers, books and lost work study/income (due to COVID-19/remote learning).
Grant Activities
Respond to immediate needs identified by Hartford Promise scholars to promote successful learning and persistence in the virtual/remote learning environment necessitated by COVID-19.
Outcomes
Persistence for 50-60 Hartford Scholars enrolled at CCC or MCC; Sustain pre-COVID graduation rates.
Manchester Community College $50,000
Grant Purpose
Support 72 students with skills, coaching/mentoring and direct supports to successfully navigate college. Lecturers for college readiness class, stipends for student/peer mentors, mini-grants, travel costs and office supplies, and administration/overhead.
Grant Activities
College readiness and non-cognitive skills training and one-on-one peer mentoring and coaching during Spring and Fall semesters; mini grants for emergency expenses.
Outcomes
90 percent (64) of participants to persist through the next semester and 75 percent (54) to persist through an academic year.
Collectively, the five grants are projected to improve persistence and completion rates for more than 350 Black and Latinx low income students in Greater Hartford and nearly 200 Second Chance Pell students incarcerated in the Enfield area. The Foundation looks forward to working with Trinity College to measure the benefits of these grants for students in our community. Outcomes of recommended grants will inform future Foundation grantmaking designed to promote postsecondary persistence and completion and increased employment opportunities for Black and Latinx students in Greater Hartford.
"Promise Scholars are hundreds of talented, deserving, dedicated Hartford college students who have had to overcome many challenges, but this year has been particularly difficult for them, said Hartford Promise President Richard Sugarman. "Because most of our Scholars come from low income families, many do not have working computers or money to purchase books. Others have lost work study and jobs that provided them with money for basic expenses. These funds will make it possible to give Promise Scholars new laptops, money for books, and funds to replace lost income. It is impossible to overstate the importance of this grant and these funds. This is truly life changing for them."
The Hartford Foundation for Public Giving is the community foundation for Hartford and 28 surrounding communities. Made possible by the gifts of generous individuals, families and organizations, the Foundation has awarded grants of more than $785 million since its founding in 1925. For more information about the Hartford Foundation for Public Giving, visit www.hfpg.org or call 860-548-1888.