COVID-19 Response: For Nonprofits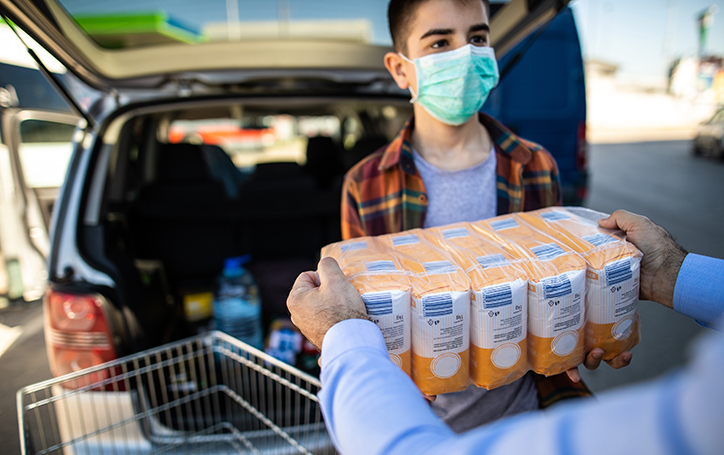 An update to our nonprofit partners in response to COVID-19:
The current COVID-19 outbreak has had, and will continue to have, a deep impact on organizations and the communities we serve, particularly the most vulnerable residents. We know many of our nonprofit partners are on the frontlines of addressing this crisis and most have been adversely affected. As we've heard from our partners over the past several days, we have developed the following approaches that focus both on stabilizing nonprofits and deploying dollars to support new and increased services responding directly to the COVID-19 pandemic.

1. Nonprofits with grants that have already been awarded
If you are a current grantee experiencing financial distress due to the outbreak, contact your Community Investments Officer to explore options for a) repurposing current grants including converting current project grants to general operating support, or b) expediting the payment schedule on your grant to meet current cash flow needs. If you are not sure who your Community Investments Officer is, please email applications@hfpg.org.
Information on reporting procedures and payment requests will be available from your Community Investments Officer.

2. Grant applications that are currently in the Foundation's pipeline
Based on the scope of the COVID-19 crisis and the urgency of the emerging need in our community, grant applications that are in process but have not been awarded will be reconsidered and reviewed using the COVID-19 guidelines. Please contact your Community Investments Officer to discuss the status of the grant and any changes that should be made as result of this public health crisis. If you have not yet been assigned an officer, please email applications@hfpg.org.
If your organization has been invited to complete an application for a Foundation grant but it has not yet been submitted, please contact your Community Investments Officer to discuss whether the request previously discussed still meets the current priorities of the Foundation and your organization. If you are unsure who your Community Investments Officer is, please email applications@hfpg.org.

3. New and recent inquiries
Given the immediate and prolonged impact of the current crisis, the Foundation is implementing a 60 day moratorium on grant inquiries that are not emergency in nature and/or do not respond directly to resident needs to manage the COVID-19 crisis. The Foundation may extend the moratorium as the crisis evolves.
The Foundation is prepared to respond to inquiries from nonprofits that are directly addressing resident needs during the crisis, as well as those experiencing significant financial distress due to the loss of revenue. Given the unprecedented need in our community, the Foundation will not be able to award grants to support every request, or may not be able to fund the full amount requested.

Additional Resources
COVID-19 Response Fund
The Hartford Foundation's COVID-19 Response Fund will deploy flexible resources to nonprofits in Greater Hartford that support residents who are most vulnerable to the health-related and economic impacts caused by the pandemic. The fund will also support grants to stabilize nonprofit organizations experiencing lost revenue during the crisis. Nonprofits seeking support are encouraged to submit a streamlined online Application. We will provide a response within one week. If your Application is accepted, there will be minimal documentation required, particularly for organizations that have received a grant from the Foundation in the past 24 months.
Nonprofit Revolving Loan Fund
The Foundation supports the Nonprofit Revolving Loan Fund (NRLF) at HEDCO to provide lines of credit for nonprofit organizations. If you have a current line of credit through HEDCO, note that interest has been suspended. The NRLF is also prepared to provide emergency lines of credit up to $50,000, with 0% interest to nonprofits in our region. Organizations can complete the Application process referenced above for the COVID-19 Response Fund and may be eligible for a combination of a grant and/or line of credit based on the organization's unique financial circumstances.
Capacity Building
We know that many of our nonprofits are seeking technical assistance and advisory services during this time. We will continue to provide support for organizational planning, technology and other needs during this critical time.
To learn more, please check out our FAQ and Grantmaking Rubric, which provides instructions for requesting funds and answers to the many common questions we are hearing from the community.
The Foundation requests that Nonprofits seeking support from the COVID-19 Response Fund funds please complete an Application. This form will be used to assess requests for COVID-19 Response Fund grants, lines of credit and capacity building support.
We will use our Grantmaking Rubric to assess and prioritize grant inquiries. Requests that score higher on this rubric may be considered for higher levels of support that allow the organization to maintain key staff and vital programming. Requests that score lower may still be eligible for funding but at a lower level of support.
Grant awards will be considered based on the needs presented and the Foundation's capacity to respond. Any grants awarded will prioritize response to urgent needs (over the next three months) with the opportunity to reassess support after June 30.