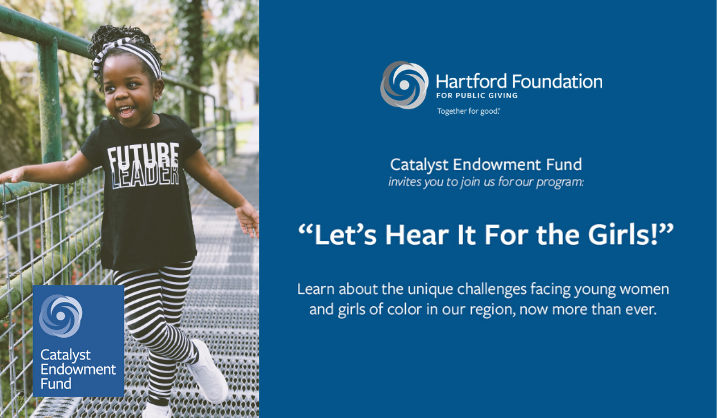 Catalyst Endowment Fund: 2020 Topic
Let's Hear It For the Girls!
If you look at the layers of challenges on our most marginalized populations, you'll see that young women and girls of color face an uphill battle. This year, we will learn about where the gaps in services and opportunities are, and ways that we can leverage our funds to support leadership and empowerment in an effort to help young women and girls reach their fullest potential. The COVID-19 crisis has resulted in economic challenges that disproportionately affect certain communities. Now more than ever, these girls need your help! In Hartford:

Click here for an overview of issues facing young women and girls in our region.
---
2020 Timeline
April 29, 2020 5:00 – 6:00 p.m. (Zoom)
Zoom with Jay Williams: the Hartford Foundation for Public Giving's Response to the COVID-19 Crisis
More than 50 Catalyst members and staff met via Zoom on April 29 for a presentation by Jay Williams on the Hartford Foundation's response to the current crisis through the COVID-19 Response Fund. Members were interested to learn how the nonprofit community is addressing large losses of income as many are also seeing increased need for services. Jay also discussed partnerships that have been formed with the City of Hartford, the United Way, and a number of corporate and individual donors to support individuals and the small business community during this time.
Watch the meeting here: https://www.youtube.com/watch?v=o6sQkpn5iEE&feature=youtu.be
May 19, 12:00 – 1:30 p.m. (GoToMeeting)
Aurora Women and Girls Foundation Women's Giving Circle – COVID-19 Rapid Response Fund Virtual Information Session
Catalyst members are invited to join local experts in a presentation hosted by the Aurora Foundation to learn how COVID-19 is impacting women and girls.
Contact marie@aurorafoundation.org to RSVP and to receive the link.
June 10, 5:00 - 6:00 p.m. (Zoom)
"Let's Hear It For the Girls"
Close to 100 Catalyst members, guests and Hartford Foundation staff attended an online program that provided an introduction to Catalyst's 2020 topic, "Let's Hear It For the Girls". Click here for a recap of the program.
October 28, 7:00 - 8:00 p.m. (Zoom)
Catalyst Grantmaking Meeting

On October 28, members of the Catalyst Endowment Fund will meet via Zoom to virtually vote on which programs to fund.
---
Visit the Catalyst Endowment Fund homepage for more information about the fund.
---
RElated Videos
Related Articles