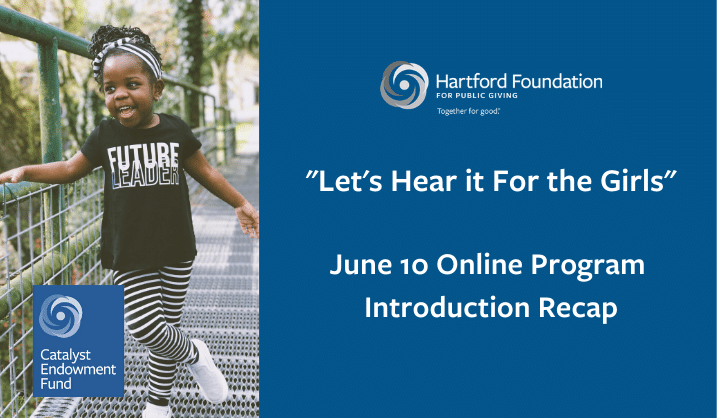 Catalyst Endowment Fund Introduces 2020 Topic: Let's Hear It For the Girls
If you look at the layers of challenges on our most marginalized populations, you'll see that young women and girls of color face an uphill battle. This year, members of the Catalyst Endowment Fund at the Hartford Foundation for Public Giving are learning about what the gaps in services and opportunities are, and ways that Catalyst can leverage its funds to support leadership and empowerment in an effort to help young women and girls reach their fullest potential. The COVID-19 crisis has resulted in economic and health challenges that disproportionately affect certain communities, making it more imperative to provide girls with the support they need.
On June 10, close to 100 Catalyst members, guests and Hartford Foundation staff attended an online program that provided an introduction to Catalyst's 2020 topic, "Let's Hear It For the Girls". The event featured two presenters who engaged the group in deep thinking and wide-ranging discussion around unique challenges for young women and girls caused by trauma, racism, bias, economic disadvantage, and certainly, further impacted by COVID-19. The group welcomed presentations by:
Ingrid Canady asked the audience to view these challenges from the perspective of Gianna Floyd, the six year old daughter of George Floyd, the man whose murder at the hands of a Minneapolis police officer sparked protests throughout the nation and the world. Canady also discussed how the public health and economic crisis brought on by COVID-19 has disproportionately impacted communities of color. These situations and the protests decrying systemic racism and police brutality have shined a light on the urgency to support young girls in these communities. Canady stressed that as the nation looks to recover from these crises, it is important to look how the system is supporting or failing to support young girls.
To emphasize this point, Canady referenced a fact sheet provided to participants prior to the event that illustrated some of the stark disparities experienced by young women and girls of color including:
40 percent of Latina women live in poverty.
Black and Latina girls are suspended or expelled at 3-5x the rate of their white counterparts.
Only six percent of Latina women & 16 percent of Black women have a college degree.
Canady provided the group with an introduction to some key concepts when discussing the challenges faced by girls in marginalized communities. The first of these concepts was Structural Racism - defined as a system in which public policies, institutional practices, cultural representations, and other norms work in various ways to perpetuate racial group inequity. Structural racism is not something that a few people or institutions choose to practice, but a feature of the social, economic and political systems in which we all exist.
Another term Canady shared was Intersectionality. Intersectionality is a term to describe how different forms of discrimination can interact and overlap, and why it is necessary to take into account the needs of women from a variety of backgrounds when considering social questions and issues. Although the term was originally used to describe how race and gender could intersect as forms of oppression, intersectionality has broadened to encompass a number of additional social factors — sexual orientation, nationality, class, disability and others.
Meeting participants were invited to view in advance a 4-minute excerpt of the documentary, "Pushout: The Criminalization of Black Girls in Schools". Canady discussed many factors that are a part of a girl's identity, and when they are not supported, it can result in "pushout" where a young girl may act out or appear to behave more like an adult. Girls of color are discriminated against based on the fact that they often look and act older, and are denied a childhood and access to opportunities young white girls take for granted. Without positive role models and the elimination of stereotypes reinforced at school and in other settings, young girls of color begin to believe the negative things people say about them and behave accordingly. This often sets girls on a path of involvement with juvenile justice authorities at a very young age.
During this tumultuous time of COVID-19, when young girls are not attending school and are no longer insulated from the outside world, Canady stressed the need to provide support, mentoring and modeling for girls and the need to put new systems in place to protect them.
Canady also introduced the terms Critical Interruption and Critical Interrogation. Critical Interruption refers to events that force people to pay attention to experiences and perspectives of people other than themselves. The current experiences of people of color in the time of COVID-19 and the different experiences of black men and women's interaction with law enforcement represent one of these moments in time. Critical interrogation refers to the act of willingly questioning one's own actions and beliefs and having an openness to embrace new perspectives. Canady stressed the importance of considering how the existing system's failure to support girls of color should lead to demands for increased accountability and critical changes.
Jennifer Steadman's presentation provide important data around young women and girls of color in our region. She discussed her work at the Aurora Women and Girls Foundation and the importance of practicing philanthropy with a gender lens. She discussed how Aurora's focus on women and girls is a recognition of the fact that when women have access to resources, 96 percent of these resources are reinvested back into their families and communities. Steadman also discussed the intersection of gender and racism and the lack of philanthropic investment in programs focused on women and girls - only receiving 1.6 percent of the $385 billion in charitable giving.
Founded in 2000, the Aurora Foundation has made more than $1 million in grants to 58 organizations for programs serving over 5,000 women and girls. Recognizing the connection between academic achievement and income, many of the larger Aurora grants have been focused on helping women obtain college degrees. These efforts have sought to respond to the specific needs of women including providing role models and mentors, tuition, and access to technology, transportation and child care.
Steadman also shared the Aurora Foundation's online data platform as one way to inform policy and reduce the wealth gap between women and men and particularly women of color. After it released its 2014 Needs Assessment for Women and Girls, the organization recognized the need to broaden the audience and expand access to data. To accomplish this goal, Aurora partnered with the Connecticut Data Collaborative and was one of the founding funders of the Connecticut Women & Girls Data Platform to share information and equip non-profits, government, and community members with information for the advancement of women and girls in the 21st century. An online, interactive tool, the platform provides access to publicly available data specific to regional, city, and statewide levels and aggregated for gender and race.
Steadman discussed how women are being lost in the conversation on COVID-19 in spite of the fact that women, and particularly women of color, have been disproportionately impacted by public health and economic impact of the crisis. This includes the fact that many of the jobs lost have been low-wage service sector jobs held by women. According to statistics, 67 percent of working women are in low-wage jobs. Approximately 43 percent of women of color work in jobs where they are at greater risk of becoming infected by COVID-19. When businesses started closing as a result of the virus, 63.8 percent of first-time unemployment claims were filed by women.
Steadman discussed how Connecticut women-owned small businesses make significant contributions to the Gross Domestic Product and employ close to 95,000 residents. Many of these businesses have been disproportionately impacted by the current crises. One of the hardest hit are child care providers with approximately 50 percent of all home-based child care providers saying they will not be able to open back up. This will result in a significant loss of child care access for low-income women-headed households, who need access to child care to go back to work.
Question and Answers:
Canady and Steadman responded to several questions posed by Catalyst members, including:
What would be one thing individuals could do to address issues of systemic racism?
Canady stressed the importance of taking a strength-based approach to these issues by identifying ways to maximize the skills and interests that girls of color have to offer.
What is one of the greatest needs of girls right now?
Canady discussed the need for social emotional support including ensuring that there are appropriate levels of support services offered at schools. She also emphasized the need for girls to feel like they are being heard and to have adults willing to listen to their truth.
What is the impact of increased trauma, including domestic violence, during this time of isolation?
Steadman took this opportunity to share a special session that The Village for Families and Children will be having around racial trauma in childhood next Thursday, June 18th.
Canady pointed out that systemic racism itself is traumatic and can erode one's soul. Often the impact is hidden but needs to be expressed to build a better understanding of what a person is going through and support them.
General comments around education, including concern about college completion time and the economic impact on women, and whether girls attending magnet or choice schools have a better chance of going to college.

Is there a role for white women to effectively mentor young girls of color?
Canady's experience as a woman of color was that having amazing mentors in her life made all the difference. It did not matter that many of these were white women, because they tried to understand her and to allow her to be her authentic self. So although we may not individually have the power to change the system, women in leadership positions can serve as role models because of their place in the system.
Next Steps:
The Catalyst Endowment Fund will release a Request for Proposals in July for area non-profits to apply to this year's grant cycle. Application review and grant decisions will be made by members in September/October.
For more information, or to learn more about the Catalyst Endowment Fund, contact Betty Ann Grady at BAGrady@hfpg.org or Megan Burke at MBurke@hfpg.org.