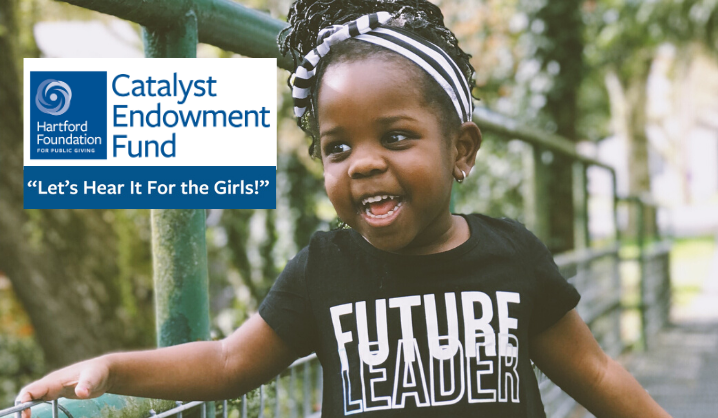 Catalyst Endowment Fund at the Hartford Foundation Awards Three Grants to Support and Empower Young Women and Girls of Color
On October 28, more than 60 members of the Catalyst Endowment Fund at the Hartford Foundation for Public Giving held a virtual grantmaking meeting to award grants to three nonprofit organizations for initiatives to support and empower young women and girls of color.
This year's Catalyst theme, "Let's Hear It for the Girls," explored the array of challenges young women and girls of color face as well as the gaps in services and opportunities they encounter. Catalyst members also sought to explore ways to leverage their funds to support leadership and empowerment to help young women and girls reach their full potential.
"Catalyst Endowment Fund members stayed true to our tradition of informed philanthropy this year, despite the obvious limitations imposed by the pandemic," said Catalyst Steering Committee co-chair Terry Schmitt. "Our focus was on the difficulties facing young girls of color, and each of this year's awardees addressed those difficulties in different and often unusual ways. These initiatives offer a rich palate of approaches that we hope will allow participants to paint brighter futures for themselves and for our region."
After releasing a Request for Proposals and receiving and reviewing 16 applications from local nonprofit organizations, Catalyst members recommended three grants to support the following projects:
Center for Children's Advocacy, "Speak Up", $7,500
The Center for Children's Advocacy's proposal engages a video producer who will work with juvenile justice system-involved girls to develop a video about how girls in the system feel about talking to system personnel, and how past traumas impact their interactions and inhibit their voices. Connecticut's Court Support Services Division has agreed to use this video, which will be told from girls' perspective, in its trainings of juvenile court judges, probation offices, public defenders and other system staff.
"We are grateful to the members of the Catalyst Endowment Fund for helping us elevate the voices of girls in social justice advocacy," said Center for Children's Advocacy Executive Director Martha Stone. "We would not be able to carry out this project without Catalyst's support, and we are excited to partner with them to place girls' voice at the center of juvenile justice reform."
Girls for Technology, "Building the Next Generation of Young Women Entrepreneurs," $25,000
Girls for Technology's "Building the Next Generation of Youth Entrepreneurs" will prepare senior high school students' mindset and skills for entrepreneurship over a ten-week program. This singular project focuses on preparing young women for entrepreneurship by teaching entrepreneurial mindset, technical competencies, and skills. Participants will have the opportunity to present the projects they develop to friends, family and invited employers.
"We are excited to receive funding from the Catalyst Endowment Fund to offer the next generation of talent opportunities to shape the new world through entrepreneurship and innovation," said Girls for Technology's Founder, President/CEO Sabrina Tucker-Barrett. "Through this process the youth will engage in creating a business model canvas, pitching their start-up, branding and marketing and how to pivot a business during uncertain times."
Charter Oak Amateur Boxing Academy, "Girls Rise to Become Champions of Life," $24,700
Charter Oak Boxing Academy's (COBA) programs offer a safe, fun place to learn, grow, and succeed during out-of-school hours. With boxing as the central "hook," it offers youth and young adults the opportunity to become dedicated athletes and "Champions of Life". This project will assist at-risk girls of color in developing psychological and physical strength, build confidence, self-esteem, assertiveness and trust. With the assistance of mentors, the program will also help them to engage in healthy relationships and lifestyles; better resolve conflicts; and learn effective coping strategies. Available funding from the Catalyst Endowment Fund fell short to fully fund COBA's project, but a Hartford Foundation donor advisor and Catalyst member stepped forward privately and offered to fund the remaining $2,295 from their donor-advised fund.
"I cannot tell you what this grant means to these young ladies and to our organization," said Johnny Callas, MSW, COBA's Founder, Executive Director and Head Coach. "Now is one of the most important moments in this country's history, a time to end racial violence and sexual discrimination once and for all. A time to recognize that strong, confident, educated girls represent the future of our community and our city… When girls rise, we all rise!"
The Catalyst Endowment Fund provides opportunities to learn about the critical issues facing our region, meet new people who share your commitment to community, and determine grants to help tackle those issues. Since 1993, when a small group of volunteers came together to create the fund, this Giving Circle has worked together to make a positive impact in Greater Hartford. The fund's endowment is now more than $1 million, and the fund has awarded more than $800,000 to dozens of nonprofits. For more information, contact Betty Ann Grady at bagrady@hfpg.org or visit hfpg.org/catalyst.