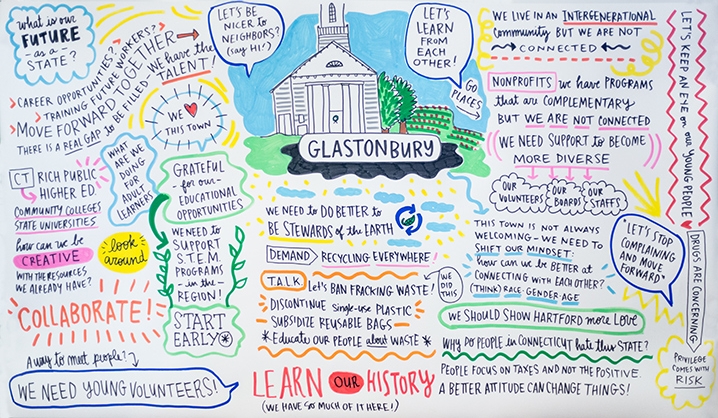 Sestero Fund Supports Glastonbury Little League Field Lighting and Other Glastonbury Projects
While most youth athletic leagues keenly focus on their specific sport, the Glastonbury Little League (GLL) places emphasis on building courage, loyalty, character and self-confidence among the players. In keeping with this philosophy, GLL provides boys and girls ages 4-18 the opportunity to learn and play baseball and softball with every child getting equal playing time at bat and in the field, regardless of the player's skill level. Volunteer coaches are recruited for the 110 teams in the league's, summer and fall seasons. GLL is a charter member of Little League Baseball in Williamsport, PA.
When the 28 year-old lighting system at the Richard H. Ross Field started to fail, Don Longtin, the long-time GLL President, reached out to the Hartford Foundation for Public Giving to apply for a grant from the Norma and Natale Sestero Fund. The Foundation has approved a $50,000 grant to add to the league's fundraising of more than $30,000 to purchase energy-efficient LED lighting, supporting equipment and installation.
"As a volunteer-led organization, raising funds for this project was extremely challenging, and we are incredibly grateful to receive this support from the Sestero Fund at the Hartford Foundation," Longtin said. "This new lighting system will not only be more energy efficient, but will also be more reliable and even brighter, allowing our kids to play in a safer environment."
Funding to support the GLL lighting project was among nearly $457,000 in grants awarded to 18 nonprofits serving Glastonbury residents through the Sestero Fund at the Hartford Foundation.
Norma and Natale Sestero were longtime residents of Glastonbury who established the fund through their charitable remainder trusts. Their fund supports organizations that benefit people and institutions in Glastonbury in the areas of culture, health, education, social welfare, and the environment, including town beautification and preservation of heritage.
Other grants awarded were:
The Hartford Foundation for Public Giving is the community foundation for Hartford and 28 surrounding communities. Made possible by the gifts of generous individuals, families and organizations, the Foundation has awarded grants of more than $758 million since its founding in 1925. For more information about the Hartford Foundation for Public Giving, visit www.hfpg.org or call 860-548-1888.