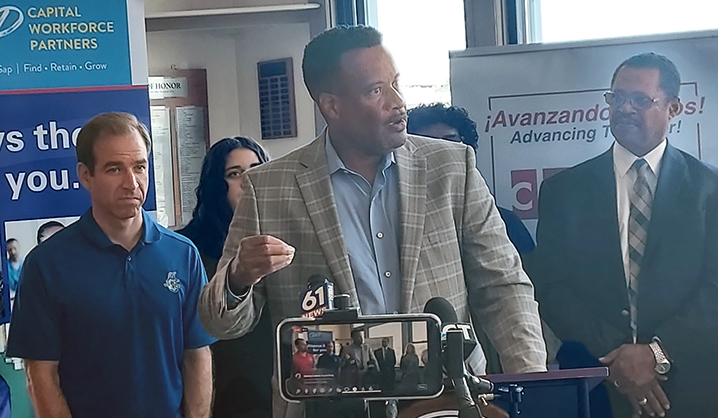 Initiatives Support Hartford's Future Talent Pipeline with Youth Employment and Career Readiness Investments
Responding to the rising workforce needs in the Hartford area by business and industry, Capital Workforce Partners (CWP), the City of Hartford along with the Hartford Foundation for Public Giving and other public/private investors are collaborating to increase the future talent pipeline access to career opportunities, summer employment and support services for Hartford youths. According to the Connecticut Business and Industry Association, the state's labor force is now the smallest it's been since September 2021—down 16,700 workers in 2022 and down 45,800 over the last 12 months. With an estimated 104,000 job openings, the state has a significant need for workers. Two efforts in Hartford are focused on connecting youth to career readiness and employment opportunities to help meet the region and state's ongoing workforce needs.
Capital Workforce Partners, in partnership with the United Way of Central and Northeastern CT, the City of Hartford, and other critical Hartford leaders, has been working for a year to develop the Hartford Youth Navigation System. This program helps young adults navigate their career options and achieve sustainable employment. Initiated by the Nutmeg Foundation, with significant United Way of Central & Northeast CT, JPMorgan Chase Foundation, the Hartford Foundation for Public Giving supported the final matching funds supporting a Career Navigation System Coordinator, which will help youth organizations and leaders manage the network of outreach workers, mentors, teachers, and case managers that support them as they move toward engaging careers.
While all young adults can benefit from career navigation, opportunity youth (young people aged 16-24 who face barriers to education and employment) have the greatest need for these services. The investments by the Hartford Foundation and others responds to the 'call to action,' elaborated further in the recent report released by the Campaign for working CT, 'CT Pathways to the Future.'
Impacted severely by the pandemic, the Hartford opportunity youth population has grown to 8,000 (or 25% of Hartford's youth), as part of the 40,000 statewide, creating a greater need to be served by the city's career navigation agencies. By increasing cross-agency communication, improving training and professional development for Career Navigation System Coordinators, and investing in Outreach Workers and youth Peer-to-Peer Mentors, Hartford's career navigation system can connect more at-risk youth to gainful career paths and enrich the Hartford region's economy.
"These Investments will increase Hartford young adults' access to quality career pathways in demand by Hartford area's business, industry, public and non-profit organizations," noted by Alex Johnson, President & CEO of Capital Workforce Partners.
In addition, Capital Workforce Partners 2023 Summer Youth Employment and Learning Program (SYELP) will also connect many youths to their first substantive work experience further building the Hartford future talent pipeline. This initiative also connects youth across the Hartford region with paid summer jobs. More than 1,100 young people between the ages of 14 and 24 will gain career readiness experience across various industries including retail, education, health care. The program began on July 5 and runs through August 31.
SYELP is made possible by the generous support of stakeholders committed to helping Hartford-area youth develop career-readiness skills, including:
The State of Connecticut Department of Labor and Department of Children and Families
The City of Hartford
Hartford Foundation for Public Giving
Bank of America Foundation
Participants in SYELP are residents ages 14-21 living in a north-central Connecticut community or Hartford residents aged 14-24. Wages range from $14 to $18 per hour, depending on program placement and the participant's age. Participants are supported with services through Blue Hills Civic Association, Center for Latino Progress, Community Renewal Team, Our Piece of the Pie (OPP), Boys and Girls Club, YWCA, and the Hartford Public Library.
"The Summer Youth Employment and Learning Program gives young people a really important opportunity to earn a paycheck, build skills and work experience, and get connected to mentors and a network of support," said Mayor Bronin. "The City of Hartford has made significant investments in youth employment, including in the summer jobs program. I'm grateful to Capital Workforce Partners for administering this program, and we are proud to be a partner in helping launch the Hartford Youth Navigation System, which will continue to build strong support networks for our young people."
Building on work initiated during the 2022 program, this year's SYELP will offer a wide array of support: mental health services, preventive education, skill-building measures, and treatment to improve mental well-being.
CWP will offer additional resources to SYELP partners, including provider training, a referral process to connect participants to behavioral health services, and youth workshops focused on building self-care skills and reducing the stigma of mental health care. In addition, CWP will provide mental health information on the Hartford Opportunity Youth Collaborative's dedicated website.
"The Hartford Foundation is proud to support the Hartford Youth Navigation System and the Summer Youth Employment and Learning Program efforts which create real-world opportunities to future career success," said Hartford Foundation Senior Community Impact Officer Joel Hicks-Rivera. "The Youth Navigation effort will promote cross-agency data and information sharing about services, job opportunities, and referral requirements in a coordinated way. The Foundation is also pleased to be supporting the effort to provide mental health supports for SYELP participants and to engage older youth who have had few employment opportunities."
SYELP is also increasing outreach to private-sector employers and bringing in more guest speakers to increase career awareness in several growth sectors.
The program continues its work with Hartford Public Schools' College/Career Readiness leadership to connect guidance counselors and career specialists to support the active recruitment of youth for SYELP opportunities, and connection to school year career pathways and activities.
To learn more about SYELP, please visit https://capitalworkforce.org/syelp/
Watch Mayor Bronin's Facebook live video coverage of the announcement.
The Hartford Foundation for Public Giving is the community foundation for Hartford and 28 surrounding towns. Through partnerships, the Foundation seeks to strengthen communities in Greater Hartford by putting philanthropy in action to dismantle structural racism and achieve equity in social and economic mobility. Made possible by the gifts of generous individuals, families and organizations, the Foundation has awarded grants of more than $948 million since its founding in 1925. For more information about the Hartford Foundation for Public Giving, visit www.hfpg.org or call 860-548-1888.