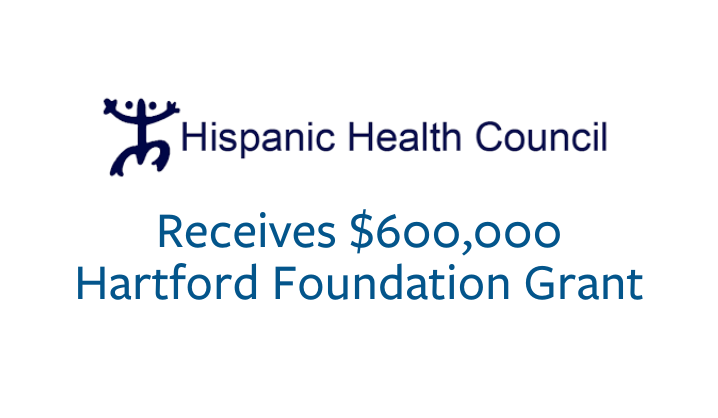 Hispanic Health Council Receives $600,000 Hartford Foundation Grant
Core Support grant will provide flexible funding to support Council's efforts to promote equity and address health disparities for Hispanics, Latinos, and other vulnerable communities.
Since its founding in 1978, the Hispanic Health Council (HHC) has been a leader in promoting equity and addressing health disparities for Hispanics, Latinos, and other vulnerable communities through research, advocacy, and culturally resonant services.
To support these efforts, the Hartford Foundation for Public Giving has awarded HHC an 18-month, $600,000 core support grant. This grant will provide flexible resources to support HHC's mission and strategies to provide integrated health care through its Family Wellness Center, community-based services, research, and advocacy.
Half of this grant was funded by the Hartford Foundation's Action Fund for Racial Justice which was created in June 2021 to engage donors in supporting local organizations on the frontlines of advancing racial justice. The Action Fund is a current use fund designed to address immediate and ongoing community needs. Grants from the Fund are awarded to nonprofits that are working to dismantle barriers to opportunity for communities of color, rebuild more equitable systems, and support those adversely affected by systemic racism.
"The Hartford Foundation for Public Giving's acknowledgement of the Hispanic Health Council's impact through this incredible grant is humbling," said Hispanic Health Council CEO Ken Barela. "The Council is committed to equitable care, service integration, and collaboration. The Greater Hartford Region is lucky to have a Foundation that is so committed to embracing the diverse and unique construct of our community."
HHC is the largest, longest-standing Hispanic serving organization managed and governed by Hispanics. Core support from the Hartford Foundation will support HHC's work to provide integrated, accessible, and culturally responsive behavioral and primary care, community-based participatory research, and advocacy that can contribute to social justice and health equity including HHC's:
Family Wellness Center located at 590 Park Street in Hartford, an evidence-based integrated healthcare model that serves as a resource for holistic wellness services addressing physical, intellectual, occupational, spiritual, social-emotional, financial, and environmental health.
Integrated healthcare cooperative provides psychiatry, therapeutic counseling and medication adherence, and free clinic for STDs and health screenings.
Community outreach and community-based research and advocacy involves community members in the design and implementation of research projects to influence policy changes to address social determinants of health and increase health equity.
Research that has established an analytical framework to educate HHC staff about the root causes of health and social challenges impacting community members, diminishing attitudes of blame, and enhancing HHC's social justice perspective.​​​​​​​
Research and advocacy to promote system and policy changes contributing to health equity.
Some of the key goals for HHC's work over the next 18 months include:
Expanding the Greater Hartford Latino and Afro-Latino population's access to safe, quality, affordable housing – this work includes screening households for homelessness or being at risk of homelessness, providing case management support for families needing housing assistance, and helping family households to secure stable housing or housing assistance.
Expanding the Greater Hartford Latino and Afro-Latino population access to healthy foods – this work includes screening individuals and families for food insecurity and providing individuals and families with food and nutritional support.
Improving equity through community engagements such as community participatory action research and creation of a community advisory committee – this work includes engaging volunteers to serve on a community advisory committee, recruiting residents to participate in listening sessions, providing cross-cultural inclusiveness and diversity training, developing research projects focused on improving equity in the community, and developing and disseminating reports based on feedback from the community advisory committee, listening sessions and research including implementation plan and policy recommendations.
All of HHC's programs and services support the Foundation's overarching strategic priority to help dismantle structural racism and advance social and economic mobility for Greater Hartford's Black and Latino/a/x residents. This includes support for basic human needs including providing mental and physical health services, food and nutrition support and reducing evictions of vulnerable residents.
"The Hartford Foundation has long supported the Hispanic Health Council's vital work to provide equitable access to essential health and human services," said Hartford Foundation President/CEO Jay Williams. "The Council has been a leader in engaging residents and families in the effort to develop strategies and recommendations to promote meaningful policy changes that increase the health and well-being of Greater Hartford's Latino/a/x residents. The Foundation is proud to provide this long-term, flexible funding that will allow the Council to deepen its efforts towards solving Connecticut's healthcare equity challenges."
The Hartford Foundation for Public Giving is the community foundation for Hartford and 28 surrounding towns. Through partnerships, the Foundation seeks to strengthen communities in Greater Hartford by putting philanthropy in action to dismantle structural racism and achieve equity in social and economic mobility. Made possible by the gifts of generous individuals, families and organizations, the Foundation has awarded grants of more than $948 million since its founding in 1925. For more information, visit www.hfpg.org or call 860-548-1888. ​​​​​​​