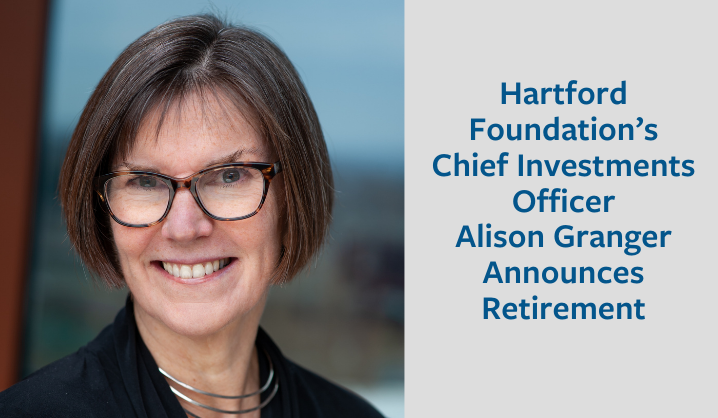 Hartford Foundation's Chief Investments Officer Alison Granger Announces Retirement
Greater Hartford's Community Foundation launches National Search for Successor
After nearly 17 years of guiding Hartford Foundation for Public Giving's endowment and planned giving investments, chief investments officer Alison Granger has announced her retirement. During her tenure at Connecticut's oldest and largest community foundation, the organization's corporate and trust portfolio has grown by more than 75 percent, from approximately $550 million in 2003 to $986 million, as of August 2020. After the recent birth of their first grandchild, Granger and her husband have decided they want to spend more time with their children in Pittsburgh and Seattle. She will remain at the Foundation until spring of 2021.
"My time at the Hartford Foundation has been the most rewarding and interesting part of my career," said Granger. "I feel privileged to have worked with such caring and competent colleagues, board and investment committee members, representatives of the Trustee and consultants, world-class investment managers, and generous donors. We have collectively delivered strong investment results as the portfolio has grown significantly even as we have continuously drawn funds from it to provide grants to the nonprofits in our region. I am particularly satisfied that we were well positioned to readily provide these funds during the two global financial crises, the Great Financial Crisis and the more recent pandemic, which occurred during my tenure."
The search for Granger's successor has already begun as the Foundation seeks an investment professional to provide comprehensive oversight of the organization's endowment and planned giving investments. Working closely with the Foundation's Investment Committee and investment consulting firm, the chief investments officer monitors the overall performance of each of the Foundation's externally managed funds and individual managers to achieve long-term investment results that preserve the future spending power of the endowment. The Foundation is looking to identify a successor who can join the organization in January 2021 and work alongside Granger for several months to ensure a smooth transition.
"Alison's contributions to the Hartford Foundation go well beyond managing our endowment to ensure we have the resources to support our community in perpetuity," said Hartford Foundation President Jay Williams. "Alison possesses a unique ability to collaborate with our investment consultants, donors and staff and is adept at clearly articulating our investment philosophy in such a way that anyone can understand our approach. Thanks to her leadership, the Foundation has weathered major fiscal storms in recent years, and she will leave the organization much stronger than when she joined us."
The Hartford Foundation for Public Giving is the community foundation for Hartford and 28 surrounding communities. Made possible by the gifts of generous individuals, families and organizations, the Foundation has awarded grants of more than $795 million since its founding in 1925. For more information about the Hartford Foundation for Public Giving, visit www.hfpg.org or call 860-548-1888.