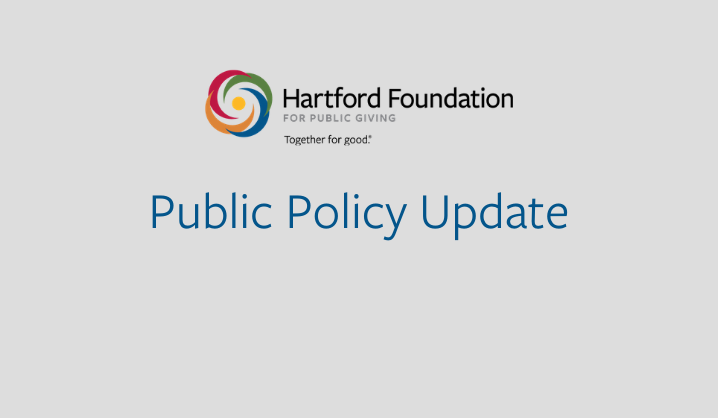 Hartford Foundation Submits Testimony in Support of House Bill 6563, An Act Eliminating Administrative Barriers to a Community's Participation in the Federal Emergency Assistance Food Assistance Program
Read the Foundation's Testimony
On Thursday, March 11, the Hartford Foundation for Public Giving submitted written testimony to the legislature's Human Services Committee in support of House Bill 6563, An Act Eliminating Administrative Barriers to a Community's Participation in the Federal Emergency Assistance Food Assistance Program.
As part its efforts to dismantle structural racism and improve social and economic mobility for Black and Latinx residents of Greater Hartford, the Hartford Foundation supports basic human needs in our region. This work includes increasing food security, increasing homeless diversion and ensuring accessible and stable vital human services including food, shelter, physical and mental health and the internet.
Since the COVID-19 outbreak, our nonprofits have needed to take on additional financial burdens in order for them to work remotely and purchase personal protective equipment to protect the health and safety of their staff and clients. The pandemic has also highlighted the invaluable role smaller, neighborhood-based nonprofit organizations play in providing services to some of our most challenged residents. State funds must reach not only larger multiservice organizations but these smaller organizations as well. The state should also seek ways to support not only programs but nonprofit capacity building including technical support for data collection, analysis and coordination and evaluation.
Each year, the Foundation provides more than $2 million in Basic Human Needs grants to support both regional and local agencies in Greater Hartford. Grants are awarded to agencies for use in food programs to support current needs as well as food services during the holidays. Other services supported by the grants include emergency housing, fuel assistance, medical and dental services, employment counseling, clothing and other personal care items. The Hartford Foundation's COVID-19 Response Fund has made more than 230 grants, distributing more than $9.6 million, since the start of the pandemic. The fund initially focused on basic human needs as a result of health and economic impacts of the pandemic, and then transitioned to supporting a wide variety of nonprofits to provide services safely, including personal protective equipment (PPE), cleaning costs, technology and minor building enhancements. In 2021, the COVID-19 Response Fund will continue to address some of the most urgent needs in the Greater Hartford community in a proactive and focused way.
Based on our work with nonprofits providing residents with access to food, the Hartford Foundation offers its support of House Bill 6563, An Act Eliminating Administrative Barriers to a Community's Participation in the Federal Emergency Assistance Food Assistance Program.
Even with the significant support the Hartford Foundation is able to provide, we recognize that the role of public sector funding is critical and even more substantial and we are pleased to partner so that we may each bring our relative and complementary strengths to bear.
In January, the Foundation partnered with the City of Hartford, Hartford Public Schools and five nonprofit organization to support the Hartford Remote Learning Hubs program which offered free and safe in-person remote learning options for Hartford students in Kindergarten through third grade. When the sites first opened, it was assumed that the participating nonprofit organizations could offer students meals through Hartford's school lunch program. This program does not require individual paperwork for each student as all Hartford students qualify for free breakfast/lunch given the percentage of low-income families overall. Unfortunately, only those nonprofits that already had established relationships with the school nutrition program could access these resources. The sites which didn't have these relationships required significant assistance from the City of Hartford to receive funding through the USDA's Children and Adult Care Food Program, which requires every single family to complete an income eligibility form. This was a challenge as some of the nonprofits didn't have enough time to collect the forms and were not accustomed to asking about families' income which could deter some families from participating. On some occasions the City had to find alternative ways to provide specialized assistance for families to complete the paperwork.
By requiring the Department of Social Services to reduce paperwork requirements for participation in the federal Emergency Food Assistance Program by community providers, we can reduce unnecessary barriers to providing all of our residents with access to food in times of crisis. We can also reduce the burden on those who are providing critical services, allowing them to redirect critical staff resources to offer individualized supports to residents in need, as they may work to build a path to a more independent future.