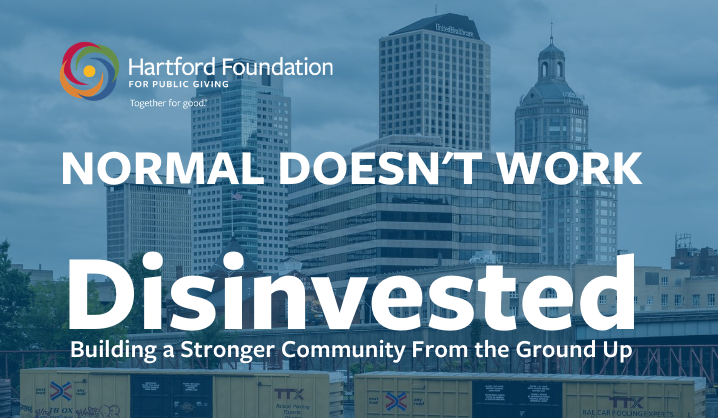 Hartford Foundation Special Episode of "Disinvested" Podcast Focuses on How COVID-19 and Social Justice Protests Have Exposed Longstanding Racial and Economic Disparities
In November 2019, the Hartford Foundation for Public Giving launched its first-ever podcast series to engage a broader audience on the challenges and opportunities facing the Greater Hartford region. Entitled, "Disinvested: Building a Stronger Community from the Ground Up," featured more than 80 interviews from Greater Hartford and beyond, including residents, journalists, elected officials, and nonprofit leaders which included discussions on Economic and Community Development, Community Safety, Workforce Development, Basic Human Needs and Education.
The Foundation has now produced an eighth episode of "Disinvested" that examines how the COVID-19 crisis and the protests around social justice have exposed generational racial and economic disparities in Greater Hartford and across the country. In addition to raising key issues, the episode highlights proactive steps that may enable us to rebound from the pandemic as a stronger and more resilient community.
"The initial purpose of the Disinvested podcast was to tell the story of the resilience of an American city and how we can build a stronger and more inclusive community from the ground up," said Hartford Foundation President Jay Williams. "The COVID-19 public health and economic crises and recent protests calling for social justice have shined a spotlight on the systemic disparities based on race/ethnicity, zip code and income. There are disparities that have existed for generations but have not been met by the urgency required to make real change. As we look to rebuild and create a "new normal," we have the opportunity to tackle issues that have been ignored for far too long. This series discusses some of the work needed to create a more equitable and prosperous future for all of us."
The eighth episode of Disinvested, "Normal Doesn't Work," features (in order of appearance):
Christine Stuart, Editor and Journalist, CT News Junkie
Jacqueline Rabe Thomas, Journalist, CT Mirror
Jason Rojas, State Rep. for Connecticut's 9th Assembly District, representing East Hartford and Manchester
Jay Williams, President, Hartford Foundation for Public Giving
Dr. Peniel Joseph, Barbara Jordan Chair in Ethics and Political Values and Professor of History at the University of Texas at Austin / author of "The Sword and the Shield: The Revolutionary Lives of Malcolm X and Martin Luther King, Jr"
Nikole Hannah-Jones, Pulitzer Prize-winning reporter covering racial injustice for The New York Times Magazine and creator of the landmark 1619 Project
Cortney Sanders, policy analyst for the Center on Budget and Policy Priorities
Binyamin Appelbaum, lead writer on business and economic issues, NY Times editorial board
Disinvested is available in Apple Podcasts, Google, Spotify, Stitcher and Disinvested.com. Click here to listen to Disinvested: Episode Eight "Normal Doesn't Work."
The Hartford Foundation for Public Giving is the community foundation for Hartford and 28 surrounding communities. Made possible by the gifts of generous individuals, families and organizations, the Foundation has awarded grants of more than $795 million since its founding in 1925. For more information about the Hartford Foundation for Public Giving, visit www.hfpg.org or call 860-548-1888.