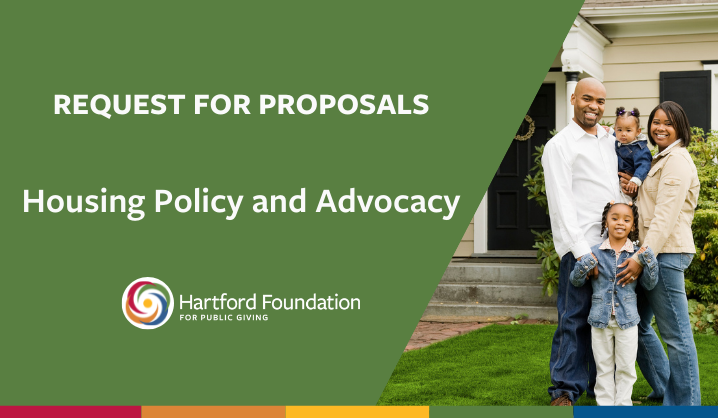 Hartford Foundation Seeks Applicants for Grants to Support Housing Policy and Advocacy
The Hartford Foundation for Public Giving is announcing a new grant opportunity focused on supporting policy and advocacy activities. Proposals can include work related to administrative advocacy, state legislative advocacy and/or municipal advocacy aimed at preventing/addressing homelessness and creating pathways to more accessible, affordable, stable, and higher quality housing for residents of color, low-income residents, and/or residents experiencing unique housing barriers (such as returning citizens).
In January 2021, the Foundation offered its first ever support for legislative advocacy by nonprofits and community members, awarding $200,000 in grants to eight nonprofits to support a broad range of state and local public policy and advocacy work. Among these organizations was the Hartford Land Bank, Inc. which used its grant to engage key stakeholders and legislators to pass legislation to support efforts to redevelop disinvested properties with an eye towards homeownership and community wealth building. Hartford Land Bank's efforts eventually led to the creation of a new $20 million fund allocated through Urban Act Funding programs to support homeownership and revitalization of small mixed-use and single- and multi-family development in urban communities.
In this second round, the Foundation welcomes requests of up to $25,000 for activities to be implemented over the course of the next year or sooner, particularly activities focused on the 2023 legislative session. Grant applications are due on Friday, September 9th (11:59pm) and grant awards will be announced by end of October 2022. Use this link to download a copy of the Request For Proposal. A virtual information session will be held on August 2nd at 11:00am, please register here.
"We know that policy and advocacy are essential to making meaningful systems change to meet the substantial housing needs of underserved populations," said Hartford Foundation Senior Community Impact Officer Erika Frank. "The Hartford Foundation is proud to support community-based advocacy work being done by nonprofits, particularly those efforts that engage residents with lived experience in policy development."
Since 2014, the Hartford Foundation has been a been a registered lobbyist in the State of Connecticut, providing testimony and engaging with legislators and state agency staff on key issues. Through its work, the Foundation has learned that the public policy ecosystem relies upon a diverse variety of voices, and the combined contributions of these different entities ultimately shape public policy that more closely represents the community. The history of structural racism in housing is long and multi-faceted, and its effects have been exacerbated by the COVID-19 pandemic. Addressing inequitable housing policy is key to supporting social and economic mobility of Black and Latinx residents; consequently, the Foundation chose this as its first funding opportunity for policy-related activities, including legislative lobbying.
The Hartford Foundation for Public Giving is the community foundation for Hartford and 28 surrounding towns. Through partnerships, the Foundation seeks to strengthen communities in Greater Hartford by putting philanthropy in action to dismantle structural racism and achieve equity in social and economic mobility. Made possible by the gifts of generous individuals, families and organizations, the Foundation has awarded grants of more than $894 million since its founding in 1925. For more information, visit www.hfpg.org or call 860-548-1888.