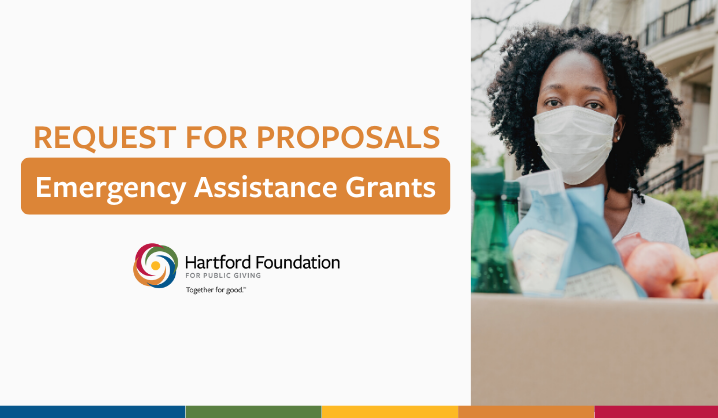 Hartford Foundation Seeking Applications for Basic Human Needs Emergency Assistance Grants
The Hartford Foundation for Public Giving has opened a competitive grant opportunity for nonprofits seeking to increase access to emergency services and immediate assistance for basic human needs for Greater Hartford residents.
The Foundation welcomes requests of $1,000-$15,000 for individual projects and up to $20,000 for collaborative projects for items and/or services to be provided during a one-year time-period. Items and services can include:
Food or food assistance
Emergency clothing needs (e.g., shoes, school uniforms, coats)
Personal care items (e.g., deodorant, diapers, sanitary products)
Emergency financial assistance (e.g., rent and/or mortgage assistance and utility expense assistance, childcare assistance, bus fare/tokens, gas money)
Emergency medical aid or immediate expense assistance (e.g., dental, medical, mental health supports, and prescription expenses)
Aftercare programs for victims of domestic violence
Emergency and/or informal case management services
The Hartford Foundation is continuing its longtime support of emergency aid and basic needs throughout its 29-town service area in alignment with the Foundation's Basic Human Needs desired outcomes to increase food security, decrease homelessness, and improve the physical and emotional wellbeing of residents. This work supports the Foundation's strategic focus of creating lasting solutions that result in vibrant, resilient, and inclusive communities for all Greater Hartford residents. To achieve this, the Foundation seeks to advance equitable economic and social mobility and dismantle structural racism.
Grants will be awarded twice a year. Applications received between April 4 and the Round 1 deadline: May 16 will be awarded no later than late July. Applications received between August 1 and the Round 2 deadline: September 19 will be awarded no later than late November. Applicants are allowed to submit one application each round but may only receive one grant a year.
The deadline for Round 1, which is open now is May 16th. The deadline for Round 2 is September 19th.
The online application is available here.
For more information, potential applicants can review a fact sheet or contact Cierra Stancil at CStancil@hfpg.org
The Hartford Foundation for Public Giving is the community foundation for Hartford and 28 surrounding communities. Made possible by the gifts of generous individuals, families and organizations, the Foundation has awarded grants of more than $948 million since its founding in 1925. For more information about the Hartford Foundation for Public Giving, visit www.hfpg.org or call 860-548-1888.