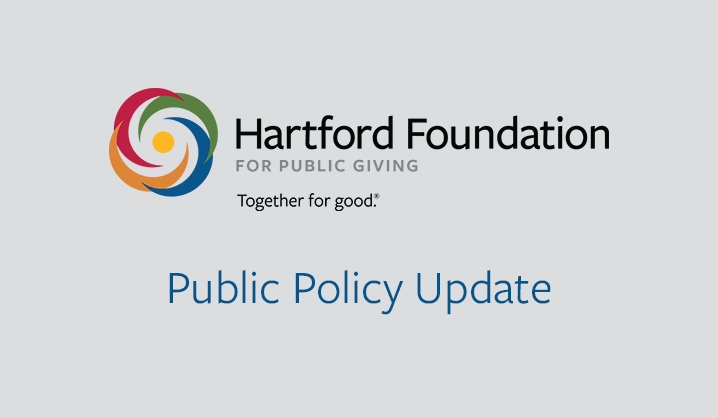 Hartford Foundation for Public Giving Submits Testimony in Support of "Clean Slate" Legislation
On Monday, March 9, the Hartford Foundation submitted testimony to the General Assembly's Judiciary Committee in support of Senate Bill 403, An Act Concerning the Board of Pardons and Paroles, Erasure of Criminal Record for Certain Misdemeanor and Felony Offenses And Prohibiting Discrimination Based on Erased Criminal History Record Information and House Bill 5019, An Act Concerning Fair Futures Following Erasure of Criminal Records.
The Hartford Foundation for Public Giving is the community foundation for the 29-town Greater Hartford region. As a community foundation, we manage, grow, and distribute approximately $1 billion in assets to promote equitable opportunity for all residents in our region. Since 2007, our work has included support for our region's returning citizens. Recognizing that 95 percent of those who are incarcerated in Connecticut eventually return to the community.
The Foundation has funded critical reentry supports to help returning citizens succeed, including pre­ employment training and job placement assistance offered through the Reentry Welcome Center in Hartford and the BEST Chance Program, which provide individuals with access to basic services and referrals to programs. Our investments in supporting returning citizens have reinforced the need to acknowledge key issues including:
• The stigma of incarceration undermines the ability of returning citizens who seek housing, employment, and successful reentry into the community undermines their rehabilitation.
• Individuals can become contributing members to their families and community, and their success should be recognized and rewarded.
The Hartford Foundation for Public Giving supports Senate Bill 403 and House Bill 5019 and other efforts to decrease the stigma that many individuals with previous criminal records face long after completing their sentences. Removing past criminal records is a thoughtful solution to ensure that returning citizens, who do not reoffend after release after an appropriate time period, get the second chances they deserve.
In addition, the Foundation strongly supports Senate Bill 403's inclusion of an appointment of a deputy warden to serve as director of reentry services. We all recognize that much more must be done to provide additional pre-release planning to connect returning citizens to vital services including stable and secure housing, mental and physical health care treatment, and access to job training and employment opportunities. The Department of Correction has made great strides in supporting individuals and their families prior to release and having a senior DOC official direct this work could prove invaluable to that effort.
The Foundation also supports Senate Bill 403's creation of a reentry employment advisory committee to support the alignment of education and job training programs offered by the Department of Correction with the needs of employers in the community. Through our own work in Best Chance and efforts to create career pathway that integrate education and job training, we know it is vital to develop programs that engage employers to inform the training so graduates have the skills that employers need.