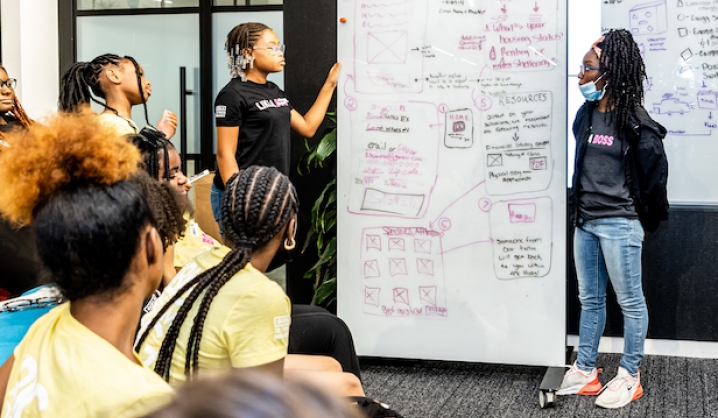 Girls for Technology Receives $300,000 Core Support Grant from Hartford Foundation
Like wealth, poverty is passed down from one generation to the next, driven by racial inequity, underinvestment, and structural barriers in our communities. Seeking to help remove these barriers, Sabrina Tucker-Barrett and Anthony Barrett created Girls For Technology (GFT) to provide professional development and training on innovative use of technology for women and girls. GFT seeks to propel underrepresented girls and women of color through educational attainment and pursuit of STEM careers and increase their representation in tech and engineering fields.
To help advance this work, the Hartford Foundation for Public Giving has approved a $300,000, 18-month core support grant to Girls for Technology. This grant will provide flexible resources to support GFT as it continues to expand its holistic and immersive programming.
GFT's programs are designed to be a catalyst for economic empowerment among women of color, offering crucial training, resources, and support in tech, entrepreneurship, and leadership. The organization's comprehensive approach provides career learning opportunities that empower girls and women with the skills needed to excel in the workforce.
"Our mission at Girls For Technology is to bridge the opportunity gap for underrepresented youth and women in the tech and entrepreneurship sectors," said Tucker-Barrett, who serves as GFT's CEO. "This grant from the Hartford Foundation will enable us to continue and expand our vital work, ensuring that more young girls and women have access to the tools and knowledge needed to succeed in these high-demand fields."
One of GFT's flagship programs, the "Pipeline 4.0" workforce training initiative is specifically designed to empower 18 to 29-year-olds who are disconnected from school or work, often referred to as "opportunity youth." This comprehensive program spans 10 weeks and provides intensive training across multiple high-demand areas, including information technology support, cybersecurity, project management, and UX/UI design.
Participants in "Pipeline 4.0" experience a simulated work environment where they receive hands-on training and coaching, equipping them with the skills and knowledge needed to excel in today's competitive job market. Notably, this program goes beyond theoretical education; it immerses participants in real-world scenarios, ensuring they are prepared for the challenges of the tech industry.
Moreover, as part of GFT's commitment to preparing individuals for meaningful careers, participants in this program have the opportunity to earn industry-recognized credentials. GFT's strong partnerships, such as its collaboration with Galaxy Solutions, a Hartford-based IT consulting company, offer participants pathways to practical experience and potential job placements. Through this initiative, GFT is actively breaking down barriers and fostering opportunities for personal and professional growth.
The "Building for Equity" program is designed to support Black and Latine women-led tech and e-commerce small businesses in Connecticut. This intensive six-week accelerator and pitch competition aims to bridge resource gaps for these businesses, promoting their sustainable growth and success. Ten women business owners receive one-on-one mentorship during the program, culminating in the Building For Equity Pitch Competition, where successful participants can secure up to $20,000 in funding.
GFT's commitment to education and empowerment extends to its "K-12 Youth Initiative," which offers immersive after-school programs, college tours to historically black colleges and universities (HBCUs), and the exciting SparkHart Hackathon. This initiative seeks to advance students of color in STEM fields.
GFT is collaborating with Otis Elevator Company on the "Building Dreams - Girls Mastering Elevator Engineering" event on Wednesday, September 13th. This event aims to ignite curiosity and passion in girls from grades 4 through 8 by exploring elevator engineering with the guidance of GFT's seasoned mentors. Those interested in signing up a student to participate in the program can register at https://bit.ly/GFTBuildingDreams.
"The Hartford Foundation is committed to supporting in efforts to provide good quality jobs for Black and Latine adults and youth in our region facing barriers to employment," said Hartford Foundation President/CEO Jay Williams. "Girls For Technology's work exemplifies the type of holistic and pragmatic approach to providing access to training and education that offer people the opportunity to obtain quality employment in high-demand fields that provide family-sustaining wages."
Girls For Technology is a non-profit organization founded in 2015, dedicated to empowering underrepresented women and girls through professional development and training in technology, entrepreneurship, and leadership. GFT's mission is to break down racial inequities and provide opportunities for educational attainment and STEM career pursuits.
The Hartford Foundation for Public Giving is the community foundation for Hartford and 28 surrounding towns. Through partnerships, the Foundation seeks to strengthen communities in Greater Hartford by putting philanthropy in action to dismantle structural racism and achieve equity in social and economic mobility. Made possible by the gifts of generous individuals, families and organizations, the Foundation has awarded grants of more than $948 million since its founding in 1925. For more information, visit www.hfpg.org or call 860-548-1888.