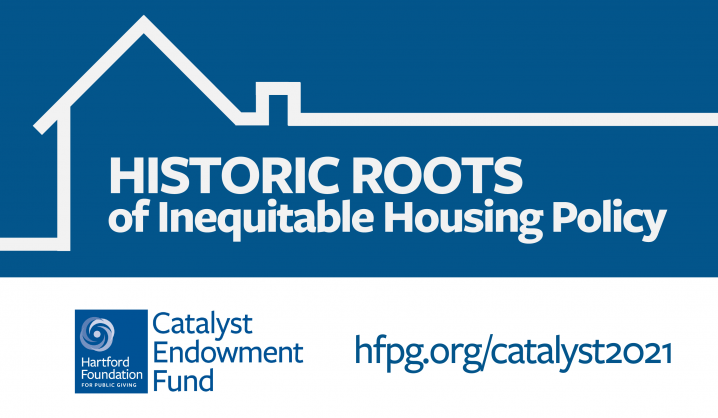 Catalyst Endowment Fund 2021 Topic: Historic Roots in Inequitable Housing Policy
This is the resource page for Catalyst's 2021 topic. For the resource page on their 2022 topic, ABC's of Mental Health, click here.
Stable housing is fundamental to family success, community stability, health outcomes, educational achievement and economic growth. Historic housing policies such as redlining set in motion decades of community disinvestment that has plagued many neighborhoods since and has concentrated poverty in urban areas. In Hartford, an eviction crisis was underway even before COVID-19; this is expected to get worse with a surge of evictions in 2021, disproportionately impacting the estimated 140,000 low income renter households in Connecticut.
With Black and Latinx families overrepresented among renters in Connecticut, and more than 60 percent of Black and Latinx families renting, the impending housing crisis is also seen as a civil rights issue. What can policies of the past tell us about housing challenges today?
"Eviction is a cause, not just a condition, of poverty." ― Matthew Desmond, Evicted: Poverty and Profit in the American City (2016)
"It was federal, state and local policies, explicitly racial, that created the segregation that we know today." ― Richard Rothstein, The Color of Law: A Forgotten History of How Our Government Segregated America (2017)
2021 Timeline
---
Upcoming Related Events
RELATED ARTICLES AND REPORTS
A list of current housing articles can be found on The CTMirror website here.
Transit Oriented Development Efforts Should Leverage CT's Walkable Cities (Connecticut by the Numbers,

Recorded Zoom Webinar: The History of Housing Segregation in West Hartford (Open Communities Alliance, December 9, 2021)

With Black homeownership low in CT, new programs aim to remove barriers (CT Insider, October 25, 2021)

The Two Connecticuts: Conversations about Race and Place
Session II: Housing | Learn more about the series and review the suggested readings

This is our time to address disparities in Connecticut housing policies and practices (CT Mirror, October 6, 2021)

What is redlining? (The New York Times, August 17, 2021)

Learn more about the Catalyst Endowment Fund's 2020 grantee, Charter Oak Boxing Academy: Chasing dreams, one round at a time (Hartford Courant, July 19, 2021)


The HB 6107 zoning bill myths vs 'facts' vs the reality (CT Mirror, June 1, 2021)

Boston Fed and CT community foundations fight for inclusive recovery (CT Mirror, May 31, 2021)

Explained | Racial Wealth Gap (Netflix Video)

CT's civil rights enforcement agency: segregation has 'particularly deadly effect' amid pandemic (CT Mirror, May 24, 2021)

Housing segregation in Woodbridge echoes a pattern of inequality across the state; not enough people care (Hartford Courant, May 9, 2021)

Fresh Take: Racism & the Fight for Racial Justice (Pilot episode presented by The Connecticut Forum and The Undefeated)

Making Hartford Home: The push for equitable home ownership (Hartford Foundation for Public Giving, April 26, 2021)

If You Care About Social Justice, You Have to Care About Zoning (The New York Times, April 19, 2021)

His final wish: Donating his home to create a more diverse Cambridge (Real Estate by Boston.com, April 14, 2021)

Affordable Housing Bills Advance With Some Changes (CT News Junkie, April 5, 2021)

Connecticut is divided into largely white suburbs and cities where more people of color live. Here's how advocates want to rewrite local zoning rules to change that (Hartford Courant, March 31, 2021)

How the home appraisal gap makes homeownership more difficult and costly for Black families (Bankrate, March 23, 2021)

Your Home's Value Is Based on Racism (The New York Times, March 20, 2021)

Hartford Foundation Submits Testimony in Support of Zoning Changes to Promote Expanded Opportunities for Lower Cost Housing (Hartford Foundation for Public Giving, March 15, 2021)

Housing and zoning laws up for debate at state capitol (WTNH, March 15, 2021)

West Hartford is mostly white, while Bloomfield is largely Black; how that came to be tells the story of racism and segregation in American suburbs (Hartford Courant, February 19, 2021)

America's racist housing rules really can be fixed (Vox, Febraury 17, 2021)

Dismantling white privilege starts with undoing racist housing policies (Brookings, January 14, 2021)

Separated by Design: How wealthy towns keep people with housing vouchers out (CT Mirror, January 9, 2020)

A 'Forgotten History' Of How The U.S. Government Segregated America (NPR, May 3, 2017)