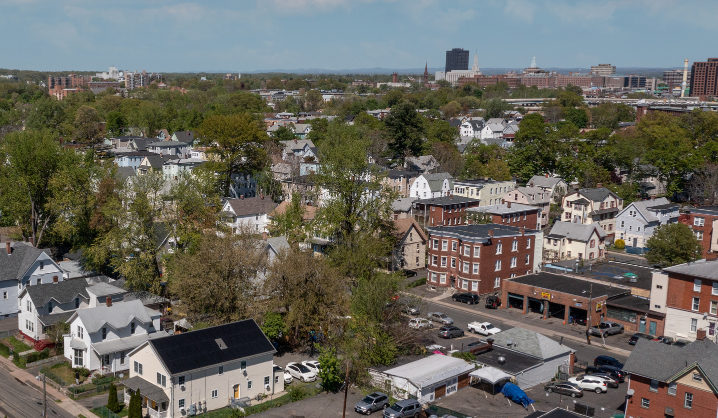 Catalyst Endowment Fund Awards Three Grants to Support Community Engagement and Education Around Inequitable Housing Policies
Stable, affordable, and quality housing is fundamental to health outcomes, family success, educational achievement, community stability, and economic growth. But historic housing policies in Greater Hartford, such as redlining, set in motion decades of community disinvestment and concentrated poverty in urban areas. With the end of state and federal eviction moratoriums that were put in place during COVID, rising housing costs, and pressure on housing stock across the state, there is a renewed sense of urgency around creating more equitable housing policies and solutions.
Throughout 2021, members of the Catalyst Endowment Fund at the Hartford Foundation for Public Giving have been learning about the historic roots of discrimination in housing access, quality, and stability, as well as potential interventions. On October 26, members of the Catalyst Endowment Fund attended a virtual meeting and awarded $53,705 to three nonprofit organizations. Each works in unique ways to educate, inform and mobilize residents and key stakeholders to reform existing policies and create more equitable access to stable, quality, affordable housing.
"In spite of the obstacles created by the pandemic, Catalyst Endowment Fund members were able to meet and learn about housing policies that were created intentionally and resulted in significant racial disparities in wealth-generating opportunities for communities of color, ultimately preventing them from building generational wealth.," said Catalyst Steering Committee vice-chair Amanda Aronson. "These three proposals offer creative grassroots strategies to inform and engage residents in correcting some of the inequitable policies to help create a more equitable future."
After releasing a Request for Proposals in August and reviewing six applications from local nonprofits, Catalyst members recommended grants to support the following projects:
Desegregate Connecticut: Creating Equitable Transit-Oriented Communities in Greater Hartford, $23,705
This grant to Desegregate CT will support efforts to educate the public about how equitable transit-oriented communities are critical to desegregation and housing affordability. It will also support creating communication tools for residents to advocate for zoning changes at the state and local levels, including an animated video. The grant will also enable Desegregate CT to host walk audits and workshops (with the Center for Latino Progress/Transport Hartford) around specific Greater Hartford transit stations. This is the first attempt in Connecticut to create grassroots support for equitable transit-oriented zoning reforms.
This grant to the Keep The Promise Coalition will support its work in leveraging education and advocacy strategies to mobilize and empower community members most affected by discrimination, both inside and outside Connecticut's systems of mental health and housing supports and services. KTP's members will create and deliver trainings on grassroots self-advocacy, housing rights and leadership with principles of equity and accessibility.
Open Communities Alliance (OCA): Fair Share Campaign for a More Equitable Connecticut, $15,000
In response to Connecticut's dual housing crises (a lack of affordable housing and deep residential segregation), Open Communities Alliance will use this grant to launch a statewide campaign to educate citizens and stakeholders about the Fair Share planning and zoning process. Already successful in New Jersey, Fair Share is centered in the recognition that there is a role for every town in meeting its region's affordable housing needs, and such needs can be addressed with proper planning and enforcement. Working in collaboration with other partners, OCA will seek to inform residents how the adoption of a Fair Share zoning process would lead to the establishment of measurable housing production goals and an enforcement mechanism.
The Catalyst Endowment Fund provides opportunities to learn about the critical issues facing our region, meet new people who share your commitment to community, and determine grants to help tackle those issues. Since 1993, when a small group of volunteers came together to create the fund, this Giving Circle has worked together to make a positive impact in Greater Hartford. The fund's endowment is now more than $2 million, and the fund has awarded more than $1 million to dozens of nonprofits. For more information, contact Betty Ann Grady at bagrady@hfpg.org or visit hfpg.org/catalyst.
The Hartford Foundation for Public Giving is the community foundation for Hartford and 28 surrounding towns. Through partnerships, the Foundation seeks to strengthen communities in Greater Hartford by putting philanthropy in action to dismantle structural racism and achieve equity in social and economic mobility. Made possible by the gifts of generous individuals, families and organizations, the Foundation has awarded grants of more than $849 million since its founding in 1925. For more information, visit www.hfpg.org or call 860-548-1888.