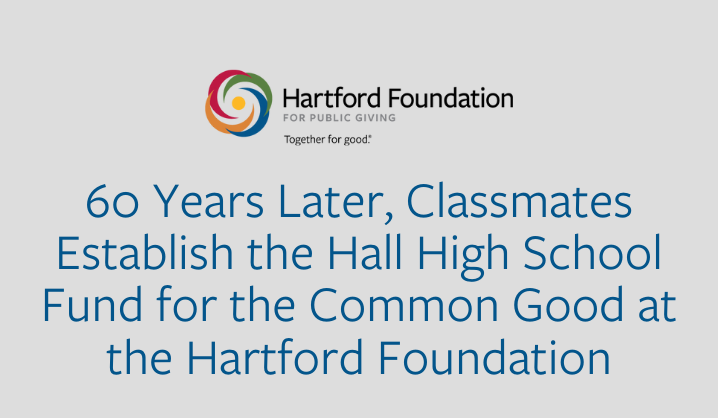 60 Years Later, Classmates Establish the Hall High School Fund for the Common Good at the Hartford Foundation
During his remarks to the 2021 graduating class of Hall High School in West Hartford, Principal Dan Zittoun emphasized respect and service on behalf of "the Common Good," thanking students for how they responded to the stresses and uncertainties brought on by the pandemic by putting family and community above personal interests. He noted that this did not come as a surprise as they had demonstrated their commitment to others through numerous philanthropic and community-based activities during their years as students, which was in keeping with the core values and traditions of Hall High since its very beginning.
As evidence of this point, he surprised those in attendance with the announcement of a legacy gift established by a group of Hall graduates from more than six decades ago, who came together during the pandemic to create the Hall High Fund for the Common Good at the Hartford Foundation. Founded by members of the Class of 1960, the Fund is designed to support the interests and ideas of students that go beyond their educational requirements through engaging in collaborative initiatives in service to community.
The Fund is a collaboration among the Founders of the Fund, Hall High School, and the Hartford Foundation for Public Giving. Representatives of the Founders have been working with Hall High to craft an annual grant program to engage student-led philanthropic activity directed at making the world a more just, equitable, and livable place for all people, a world which acknowledges every person's right to a life of opportunity, hope, and dignity. In this spirit, grants will reflect how students define and plan to engage with a community they hope to influence positively, be that local or global in nature.
The financial underpinning for the Fund is an endowment under the auspices of the Hartford Foundation. As one of the oldest community foundations in the nation, the Foundation is dedicated to improving the quality of life in the Hartford region, stewarding donations to be used exclusively for charitable purposes. A donor-designated Hall High Fund for the Common Good has been established at the Foundation from which annual distributions will be made to Hall High to be used exclusively to fund grants to student groups. To date, more than $60,000 has been raised from 54 members of the Class of 1960. Currently, approximately $2,500 will be awarded each year to Hall High for grants to student groups embarking on philanthropic projects. The Fund is expected to grow through additional donations and might be augmented during a given year with other funds. In addition to managing the endowment, the Foundation will provide advice and guidance on the program.
"We are honored to collaborate on this special initiative," said Deborah Rothstein, the Foundation's Vice President for Development. "While many of the Founders of the Fund no longer live in the Hartford area, they all spent some of their formative years in our community, benefitting from all that it has to offer. Their fondness and gratitude for Hall High and their hometown community has inspired them to give back; we hope this can serve as a model for others to support their high school alma maters across the Hartford region."
Grants will emphasize both action and learning components, and while Hall Juniors and Seniors will play a prominent role in the grant program, groups comprised of students from all four classes are eligible to receive grants. "For the Common Good" has been established as the theme for the inaugural academic year starting September 2021, allowing student groups to submit grant applications for projects across a wide spectrum of purposes. A review committee comprised of Hall High students, faculty and administrators will be organized to oversee the program launch, with a representative of the Founders serving as a non-voting member. The committee will issue a call for proposals in September and aims to select the inaugural grant recipients by the end of October. Director of Student Activities, Amy Shaffer, has administrative responsibility for the program. Annual reports on the Fund's performance as well as reports on the individual grants, will be submitted in May of each year, and become part of a growing repository of learnings which will form a cornerstone of the educational component.
"Consistent with Hall High School's commitment and vision for its students, the Fund for the Common Good serves as a vehicle to encourage and support students to become engaged and responsible citizens who contribute collaboratively and innovatively to the common good," added Hall High principal Dan Zittoun. "We appreciate that the Fund's Founders have not been prescriptive about how the Fund must operate; they have established a framework of enduring ideals and principles within which the Fund must conduct its programs but have left it to student leaders to decide what is most relevant and impactful to carry out the Fund's purpose. This is an important challenge and lesson for our entire student body."
In reflecting on the Fund, Barrie Butler Gleason, a member of the Class of 1960 and the Fund's liaison with Hall, noted, "Giving back to Hall High was just the right thing to do. While our time at Hall was short compared to the lives we have lived, those years made a profound impact in shaping the people we have become. We are thanking all who taught us, not only what we learned in the classroom, but about life itself, and want to acknowledge with gratitude the dedication and talent that teachers and administrators continue to bring to educating and inspiring their students. It also is our way of sharing with students our collective belief in the potential within each of us to help make the world a better place, and how that potential is magnified when we work together. We hope other classes at Hall might do something similar."
For further details about the Fund for the Common Good, please contact:
Hall High School - Dan Zittoun, dan_zittoun@whps.org
Hartford Foundation for Public Giving, Deborah Rothstein, DRostein@hfpg.org
Fund for the Common Good Committee, Barrie Gleason, gleasonbarrie@gmail.com
The Hartford Foundation for Public Giving is the community foundation for Hartford and 28 surrounding towns. Through partnerships, the Foundation seeks to strengthen communities in Greater Hartford by putting philanthropy in action to dismantle structural racism and achieve equity in social and economic mobility. Made possible by the gifts of generous individuals, families and organizations, the Foundation has awarded grants of more than $849 million since its founding in 1925. For more information, visit www.hfpg.org or call 860-548-1888.
West Hartford, a predominantly residential suburb of 63,000, is a socio-economically diverse community with access to the resources in and around the capital city of Hartford. Within the West Hartford Public School System are eleven elementary schools, three middle
schools and two high schools. West Hartford is noted for its high-level public services, including an outstanding education system. Hall High School is one of two public high schools in the district. Total enrollment in grades 9-12 is approximately 1501 students. Recognized
as one of America's top high schools in the U.S. News & World Report's 2021 National Rankings, Hall High School is accredited by the New England Association of Schools and Colleges. Hall High School offers an extensive array of programs and opportunities for its diverse student population. Levels of study can vary to meet student needs and include Advanced Placement, Honors and Standard. Students can enroll in cooperative programs with local colleges and universities. Directed Independent Study, under the supervision of a faculty instructor, is an option for all students. Articulation programs are also available with area magnet schools. English for Speakers of Other Languages and Transition English are courses designed to assist non and limited English-speaking students. Nationally recognized select ensembles I Giovani Solisti, Solo Choir, and Concert Jazz Ensemble are offered for students pursuing advanced study in music.
The Founders of the Fund are all members of the Hall High Class of 1960. They went on to diverse, successful careers in the nonprofit sector, business, education, healthcare, philanthropy, the arts, ministry, and civic engagement. Today they are spread from the east to west coasts of the United States and abroad. While many had not seen or communicated with one another since graduating from Hall High, they all feel a deep sense of gratitude to those who touched their lives as students and the community they called home.